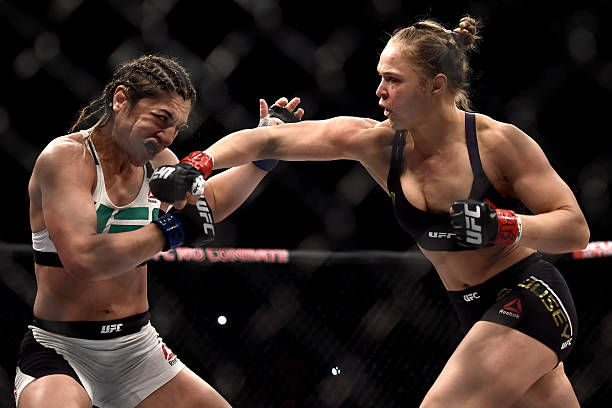 Ronda Rousey. The 28-year-old has only really been under the media spotlight recently, namely with recent movie appearances. But behind the charm and elegance to which she's handling herself in the public eye, there's a dominant star underneath the beautiful exterior waiting to burst out; silencing critics, asserting her dominance as one of the best in the business ever.
On the pathway to greatness
To be honest, she's not far off doing just that.
The sport of UFC in itself is not particularly appreciated by a wide audience.
The majority of those who watch it, enjoy some sort of wrestling or entertainment, and will happily pay money for the sheer adrenaline of watching both male and female athletes at the peak of their physical condition slug it out to try and beat one another in-front of thousands.
Just four years ago, the company's president Dana Whitewas asked a thought-provoking question. When will we ever see women in the UFC? At the time, he said never.
Women headlining a masculine event – who'd have known? 
Fast forward to the current day and well, two female athletes are headlining the UFC event on Saturday night television. Pay-per-view, granted. Dana's got to rack in the profits somehow, especially with a bulging net worth of $300million to his name.
Admittedly, there are stereotypes over the sport in general.
It's too messy, aggressive, at times feels staged and has been accused of being over-the-top to try and gain attention from a worldwide audience.
If you ask many followers of the sport now, they'd most probably tell you it has not been as intriguing since when Ronda initially stepped into the Octagon, believe it or not.
The sport being stereotyped as messy and unattractive
Since she made the switch from judo to MMA – or mixed martial arts, she's become the outright cover star as well as a cash cow which attracts more income as a result of the buzz around her.
Although women's sport is beginning to pick up in terms of popularity, you'd be naïve to think they earn half as much as their male counterparts do. So naturally, they have to earn a living somehow. Sponsorship deals, endorsements, modelling agencies, photography, you name it.
At the end of the day, an athlete's worth is not solely focused on what they can do in their chosen sport. It's also about how marketable they are to the public and improving their image.
Having maintained a rather impressive unbeaten record of 11-0-0, Ronda was hungry for her next opponent. Bethe Correia stood in her way next, and obviously there was going to be a lot of media attention attached to the fight – all things considered.
First of all, it would take place in Rio de Janeiro, Brazil. Not only was it Ronda's most successful venue in terms of eyecatching victories, but on a more personal note, it is Bethe's home country.
To give brief background into the story, Rousey's biological father sadly committed suicide when the American was still young growing up. What transpired next, in the pre-bout comments, was unthinkable. Correia not only mocked Ronda's upbringing, but she said "I hope she does not kill herself later on" – a direct parting shot at her father, which added more than just fuel to the fire.
This was not billed as any ordinary fight. It was now personal. Attracting crowds is one thing, but saying things in such a manner is another. Although, Bethe got exactly what she wanted in the first place. Attention. She also called Rousey a "fraud", who is focused on "movies and books" as opposed to flat-out fighting. Maybe it was to get people talking, because they certainly did.
Perhaps the Brazilian felt she'd get into Ronda's head and manage to stifle her emotionally, leaving her vulnerable to be attacked. It had the opposite effect.
Ronda's previous three fights lasted little over 90 seconds in total. She's a character, unpredictable at the best of times, which makes her all the more intriguing to watch as an athlete but also as a person. You never know what's coming next.
Having been previously advised that the fight would start around 3AM UK time, the long undercard of male fighters delayed the bout for a few hours yet.
Anticipation and nervousness was etched across fans' faces, as they eagerly awaited the encounter they'd been waiting months to see.
An intense, unrelenting atmosphere was in the horizons. Just what Ronda thrives off.
The customary heckles and boos before the fight were also greeted by cheers of delight as both women entered the Octagon and the referee was gearing up for the unpredictable, unexpected, beast of a bout. Then, 34 seconds later, it was all over. No joke.
A succession of punches and a swift few jabs were evidently too much to handle for Correia, who had no answer to the brute strength and agility shown by the opponent she had no trouble mocking beforehand. UK enthuasiasts, like me, stayed up to 6.30AM to watch it.
It was more than worth it.
STAT: Rousey is now the only female bantamweight champion in the UFC with a 12-0 record, no losses to her name. Just like Serena Williams on the tennis court, Ronda is at the top of the game. And at the minute, no-one seems able to stop her just yet.
Picture source: Getty Images