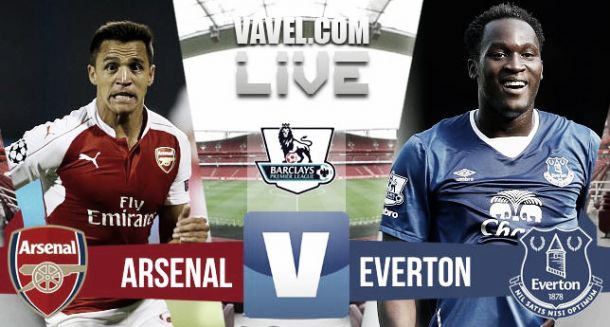 Thank you all, for joining me for this evening's action in the Premier League! I hope you enjoyed following along as I much as I did commentating – make sure to stay tuned to the latest on my blog, where the football never stops! From me, I'll be back soon, have a goodnight!
FT: Everton provided the hosts with a few scares here-and-there, but did not enjoy a consistent spell of pressure or attempts on-goal to really stretch the Gunners' backline, when they needed to most.
FT: The eagerly-anticipated Manchester Derby commences tomorrow afternoon, and City will be hoping to win the battle for supremacy – even without the influential figures of Sergio Agüero and David Silva within the squad featuring.
FT: Arsenal leapfrog title challengers Manchester City, to go top of the Premier League – at least for the rest of this evening.
90+4: FULL-TIME! Arsenal 2-1 Everton. A joy to savour, end-to-end football at its finest, and there should have been a lot more than just three goals too!
90+3: FANTASTIC TACKLE! Gabriel celebrates his sliding tackle as if the final whistle's just gone, quite some scenes.
90+2: SENDING OFF! Gareth Barry is given his marching orders after his second bookable offence, and the Toffees are down to ten with a minute or so to play now..
90: The fourth official signals for FOUR minutes of stoppage time.. Arsenal supporters will be pleading for the final whistle now!
89: CLOSE! Özil does excellently in-and-around the box to create a chance out of seemingly nothing, and patiently waits for space to open up – before rifling a swerving low effort goalwards.. Howard is beaten, but his strike crashes back off the post as Everton are handed another lifeline!
88: Arsenal SUB – Alexis Sánchez OFF, Kieran Gibbs ON.
87: Just before that, Arsenal could have been three-one up! A teasing delivery by Alexis finds its way into the path of Flamini, with only Howard to beat from close-range, but his headed effort is straight into the goalkeeper's midriff as he's able to smother the ball in-between his gloves.
86: EXCELLENT SAVE BY CECH! Deulofeu fires goalwards from close-range, and the Arsenal supporters collectively hold their breath as Cech makes a fine diving stop to his left, parrying away the effort as the Gunners scamper the ball clear once more.
85: Özil finds Flamini in a yard of space to his left… oooh! narrowly wide by the experienced Frenchman, who apologetically looks at his teammates.
84: The Gunners break with speed and intent as Alexis leads the charge, before Cazorla switches the play into the path of Özil and the momentum, dare I say it, has shifted slightly in the hosts' favour once more.
83: Monreal with a smart clearance, out for an Everton throw-in as the visitors pile on the pressure..
81: A smart decision made by Wenger, taking off The Ox after a productive eighty minutes under his belt – important that he keeps all of his players fresh, especially with Ramsey being ruled out for a month after a hamstring injury, which was arguably the result of being overworked by too many matches. He got himself more involved in the evening's action as the match continued, and could have had an assist or two, if only Giroud had a yard or two more to get by..
80: Arsenal now making their first alteration – Alex Oxlade-Chamberlain OFF, Mathieu Flamini ON.
78: OFF THE CROSSBAR! Lukaku heads goalwards, and his effort flashes off the top of the crossbar after an aerial battle with Koscielny in the box… still 2-1!
77: Free-kick to Everton, in a dangerous position as Monreal accidentally clips Deulofeu's heels – who goes down in a tumble to the turf.
75: Fifteen minutes left to play, and there's only one goal in it! Can Arsenal hold on? Will Everton recover to seal a point, or even three?
73: A perfect cross deep in the area for a Blue shirt by James McCarthy, whose delivery eliminates Cech from the equation – but between Lukaku and Galloway they hesitate, and the latter's headed effort flashes wide of the near post, hitting the advertising boards behind the goal.
72: Lukaku is pictured limping in some discomfort afterwards, replays show that this knock has stemmed from a sliding challenge by Koscielny near the byline prior to his cross a minute ago.
71: A no-nonsense clearance from Oxlade-Chamberlain behind his own goal after Lukaku's cross into the box spells danger – but for an important but risky intervention by the young Englishman there.
70: Everton making their second substitution of the game now – Aaron Lennon OFF, Kevin Mirallas ON.
69: Giroud is booked for a laboured challenge, before rattling the crossbar with a curled effort goalwards, with Howard getting nowhere near!
65: Ironic jeers from the home supporters as Gareth Barry is booked, for a cynical tug on Mesut as he evaded his initial challenge in midfield. Barry's third yellow card this term, second booking of the match.
62: You get the feeling this could be a nervy finish.. Arsenal are doing everything right apart from score, whilst Everton are posing a real threat on the counter-attack and can strike at any time.
59: Two chances in quick succession for Olivier Giroud, both from Oxlade-Chamberlain, none of which meet the back of the net! First, he spots the movement from Olivier in-behind the Everton backline and fires a low through ball towards his path – but the zip of the ball evades Giroud and he gives up midway through his sprint to retrieve the ball, before Alex applies pace on a low delivery into the area, but Giroud slides an inch or two away as he fails to connect with it!
57: Theo Walcott and Arouna Kone are amongst the respective substitutes warming up, hoping to get some sort of game time this evening..
56: Chants of "Come on Arsenal" reverberate around the Emirates as the Gunners' supporters spur their team on – they know one goal will change the complexion of this whole fixture.
55: SAVE! Howard is equal to Giroud's acrobatic effort from close-range, after some unselfish play from Oxlade-Chamberlain sees the ball floated into the Frenchman's path, but his effort swerves towards the near post and Howard makes a good diving save to react.
52: Everton SUB – Jagielka OFF, Funes Mori ON.
51: On the touchline, Ramiro Funes Mori is reportedly getting ready to come on in an alteration for Jagielka, who will not be able to continue any further.
50: Coleman opts for a long-distance effort, which stings the gloves of Cech, but nothing more.
48: Ouch! Jagielka lands awkwardly with trying to perform a sliding challenge to block Oxlade-Chamberlain's advances towards goal – the ball trickles out for a corner-kick, but the English centre-back is feeling worse for wear..
No substitutions from either side, as the second-half begins!
HT: Barkley's deflected effort on the stroke of the half-time interval now, means this game is nicely poised at two-one..
HT: Despite this though, you cannot take anything away from the hosts. Having started brightly, they are fully deserving of their lead – although it could be a wider margin than current viewing.
HT: Questions will be asked of Howard, as he could and probably should have done better with both of Arsenal's two goals..
45+2: HALF-TIME! Arsenal 2-1 Everton, plenty still left to play for in the second-half.
45+1: Replays showed there was NO contact, and if anything, Deulofeu should have been booked for simulation.
45: The fourth official signals for just two minutes of stoppage time to play – as Deulofeu is visibly frustrated with the referee's decision not to award a free-kick in his favour, after an adjudged challenge on him by Monreal..
And just like that, the tide has turned. Two-nil down, with half-time fast approaching, plenty of Everton players and supporters were looking understandably glum. But now, courtesy of a freak deflection off Gabriel, Barkley fires home and the Toffees have halved the deficit!
43: GOAL! EVERTON, IN A FLASH, BACK IN IT! ROSS BARKLEY!
41: Martinez and his side look glum, but it's certainly not over by any stretch of the imagination. Arsenal defensively, are not the most convincing – test them, as they've done rather infrequently, and you can create a chance or two to score.
40: Thankfully though, it's not too serious, and he's back in the thick of the action once more.
39: Galloway receiving treatment by the physios, after a nasty-looking thump in the face as he galloped forward on the counter-attack, probing the Arsenal backline there..
37: GOAL! QUICK-FIRE DOUBLE! LAURENT KOSCIELNY, THIS TIME! Santi Cazorla fires a free-kick into a dangerous position, and Laurent Koscielny is first to it – heading goalwards past Howard, who again, should do better, but the Gunners are two goals ahead now!
36: In fairness though, the replays show the inevitable – Howard should have done better there, as opposed to standing tall and commanding his box, he is deceived by the flight of the ball, missing it completely with a flapping dive. Arsenal will take it, though!
35: GOAL! ARSENAL AHEAD! OLIVIER GIROUD BREAKS THE DEADLOCK! A similiar delivery to Özil's free-kick, he curls the ball into the area and Giroud has the simple task of heading home from close-range!
33: CLOSE! Excellent delivery by Özil, but it proves frustrating as no-one's on the end of it!
32: Arsenal have a set-piece in a dangerous area, as Lennon is penalized for a cynical bodycheck on Sánchez to halt the Chilean's run towards the edge of the area.
27: CHANCE! SQUANDERED! Lennon weaves his magic on the edge of the area, before curling an effort goalwards. Cech is equal to it, but the ball bobbles on the turf and he's only able to parry it – straight into a danger area with the goal gaping – but Stones is first to the ball, and fires narrowly wide with a first-time finish.
25: Not particularly sure that I've mentioned Romelu Lukaku or Ross Barkley as much as I should have, yet. Just shows how the visitors are yet to really utilise two of their most influential players..
24: The first yellow card of the match, met by a chorus of boos, is for Francis Coquelin. An honest sliding challenge on Galloway, it was undeniably a foul, but the follow-through took out the English full-back, and the referee gives the defensive midfielder his third booking of the season.
20: CLOSE! An excellently disguised pass by Mesut Özil after roaming through midfield, finding the movement from Sánchez to his right, but he's unable to take a shot on-goal at the last second..
19: The rain is really starting to pour down now… it'll be interesting to see how the turf manages to hold up, whether it'll change the way in which either side approach the game, at least attacking-wise.
18: A free-flowing, intriguing match this has been so far. More of the same, please.
15: CHANCE! Özil's one-on-one opportunity is thwarted by the quick reflexes of Howard, his outstretched leg enough to divert the effort wide of the near post – but it would not have counted regardless! Giroud penalized for an overzealous aerial challenge on Stones in the build-up, much to the Frenchman's displeasure.
14: Sánchez showing another side to his all-impressive bow of qualities, his defensive contribution as well as his work-rate. Chasing back to help with his side out of possession, the Chilean forward does well to shrug off the advances of Coleman on the far side, and win the ball for his team.
13: The resulting set-piece fails to materialise for the hosts, but they've continued to pile on the pressure towards Howard's goal nonetheless.
12: Oooh..! Bellerín swings a great delivery into the box, and luckily Stones manages to partially clear the danger, out for another corner!
11: Arsenal have started rather brightly today, Everton struggling to create much in the final third, having to do a lot of defending at the moment too.
10: WIDE! Gabriel Paulista looks on with regret as he angled his header wide of the mark, not troubling Howard in-between the posts despite getting himself in a good position to head goalwards..
9: An excellent sliding challenge by Francis Coquelin, greeted by a warm round of applause from the Emirates faithful as Bellerín advances towards the edge of the box – his cross is promising but a block by Galloway sees Everton have another set-piece to contend with.
7: CLOSE! Giroud fires narrowly wide from the resulting corner-kick, as the towering Frenchman was unmarked in the area and Roberto Martinez will not be happy with his side's distinct lack of marking there..
6: Arsenal awarded a corner-kick as Oxlade-Chamberlain flexes his muscles on the flank and beats one defender for pace, before Brendan Galloway does well to make a last-ditch tackle as the ball trickles out for a set-piece.
5: A good one-two between Romelu Lukaku and Seamus Coleman on the far side; the latter of which fires a deep cross towards the area, but Aaron Lennon is unable to latch onto it, as Hector Bellerín sees the ball out of play. Goal-kick to come for the hosts.
4: Oooh! Arsenal pressing a high line, almost results in an early opener – as Tim Howard is forced into clearing the ball in his six-yard box, which is blocked by the path of Olivier Giroud. The ball fizzes into the path of Sánchez who does well initially to control it down in one touch, but John Stones does well to dispossess the Chilean and clear the danger away from goal in the process.
1: Gerard Deulofeu already causing a few problems for the Arsenal backline with his bursts of speed and agility down the right-hand side, he'll be certainly one to look out for this evening.. Today marks the Spaniard's third start since his return to English football with the Toffees, after a successful loan spell two seasons ago.
KICK-OFF! Arsenal vs Everton, and it's live!
Just five minutes left until kick-off now! Amongst some of the results from earlier across the division, defending champions Chelsea succumbed to their fifth league defeat of the campaign – after just ten fixtures – with a 2-1 away defeat against West Ham, courtesy of goals from Mauro Zaraté and Andy Carroll.. another shock in London on the cards perhaps?
EVERTON: Howard; Coleman, Jagielka, Stones, Galloway; Barry, McCarthy; Lennon, Deulofeu, Barkley and Lukaku. Subs – Joel; Funes Mori, Osman, Cleverley; Mirallas, Naismith and Kone.
ARSENAL: Cech; Bellerín, Koscielny, Gabriel, Monreal; Coquelin, Cazorla; Oxlade-Chamberlain, Özil, Sánchez and Giroud. Subs – Macey; Debuchy, Gibbs, Chambers; Flamini, Campbell and Walcott.
CONFIRMED TEAM LINE-UPS!
Everton – WDWWDL
Arsenal – WWLWWW
FORM GUIDE, as follows:
EVERTON: Mohamed Besic, Steven Pienaar (both hamstring),Leighton Baines (ankle) and Tony Hibbert (knee) are all sidelined for the visitors. Tom Cleverley is expected to feature – but not for the full 90 – on his return to first-team football after a nasty challenge during their goalless draw with Tottenham over a month ago.
ARSENAL: Danny Welbeck, Tomas Rosicky, Jack Wilshereand Aaron Ramsey (hamstring) are all out of contention to feature this evening, as well as former Blue Mikel Arteta, who suffered an ankle issue during training on Thursday afternoon. The striker debate will be called into question once more – Theo Walcott or Olivier Giroud up-top?
Ahead of kick-off today, here's the team news from both sides..
I pass on my sincere condolences to Kendall's family, as well as the Everton hierarchy – who'll no doubt be trying to deal with a tough time at the moment.
As for the visitors, they'll be hoping to bounce back from a disappointing defeat last weekend against Manchester United – just hours after they'd heard of the tragic passing of club legend, Howard Kendall, aged 69.
After a morale-boosting victory over Bundesliga giants Bayern Munich in midweek, the Gunners will be hoping for more of the same as they entertain Roberto Martinez's side today.
My name is Mosope Ominiyi, and I'll be delivering all of the build-up as well as the live commentary on the intriguing affair in north London.
Hello and welcome to my live minute-by-minute commentary of tonight's Premier League fixture – between Arsenal and Everton at The Emirates.