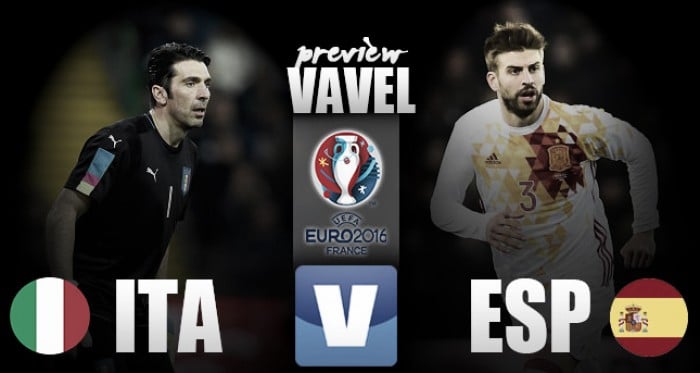 After both sides suffered narrow defeats in their final Group game respectively, they're set to go head-to-head for a place in the quarter-finals on Monday afternoon in Paris. Who will prevail and who'll tumble out of the competition?
Going into the tournament, there was an element of doubt as to whether Italy and Spain would show their quality or falter on the big stage – something that has happened in recent international competitions.
Following the first two group games, both teams had six points each. So, after defeats against Republic of Ireland and Croatia respectively in their final group encounters, they find themselves in a tricky situation: battling against each other with a place in the quarter-finals up for grabs.
All things considered, it makes Monday's fixture a difficult one to predict. Spain thrashed Italy 4-0 in the 2012 final, but Antonio Conte's side will want to give their supporters and Conte himself something to look back on with pride and happiness as the boss is set to join Premier League side Chelsea after the conclusion of the tournament itself.
Plenty at stake for both sides
Italy themselves have instilled a side filled with hard graft and players working for each other – a real show of togetherness, whilst Spain love to take control of possession but have struggled for a clinical edge in-front of goal.
An intriguing battle is set to commence, too. Álvaro Morata, one of three players leading the Golden Boot chase alongside Wales' Gareth Bale and France forward Antoine Griezmann, is set to go up against his former team-mates. The defensive trio of Andrea Barzagli, Giorgio Chiellini and Leonardo Bonucci – all of which play for Juventus – the side he had been at for two seasons – before Real Madrid exercised their buyback clause to re-sign the Spaniard.
Team news and possible line-ups
Conte's experiment against Ireland failed to pay off, and as a consequence, he's expected to make several changes to his starting XI this time out. Disclipine will be important for the Italians, especially with four players all carrying a yellow card – another booking will see them miss the following round, if they progress. Morata is set to start once more whilst Bayern's Thiago Alcantara will be hoping he's given an opportunity to start over Chelsea playmaker Cesc Fábregas in midfield.
Italy possible XI: Buffon; Barzagli, Bonucci, Chiellini; Parolo, de Rossi, Insigne, Florenzi; Giaccherini, Eder and Pellé.
Spain possible XI: de Gea; Juanfran, Pique, Ramos, Alba; Busquets, Fábregas, Silva, Iniesta; Nolito; Morata.
Stats and prediction
Italy have used more players than any other team at this year's European Championships (22) – whilst Spain have won the last two Euros (2008, 2012), which had previously never happened before in the history of the competition. On paper, both sides are strong although Spain have the more underlying talent in comparison. That won't mean much in the grand scheme of things though, because talented players can often have bad games in matches of magnitude.
You can have all the possession you want, but if you're unable to break the opposition backline down, how do you react? Against Czech Republic, Spain were fortunate to grab a late winner, even though they enjoyed the lion share of possession. Italy relish the defensive element of the game and players like Morata will have to be visually aware and sharp to avoid getting bullied away from the ball.
It'll be an intriguing watch, one where either side can prevail. Players like Andrés Iniesta and Daniele de Rossi are important in games such as these, though. Who'll progress, and who will tumble? Time will tell.