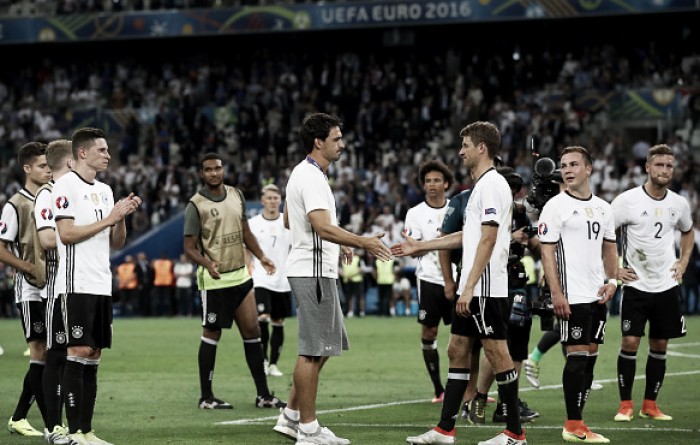 They were tactically outdone by a France side spearheaded by a brilliant Antoine Griezmann – who seemed to embrace the pressure, as opposed to crumble underneath it.
Ignore the fact that Germany are World champions for a few minutes. Going into Thursday's semi-final, as I have done for every France game throughout the tournament, I've been quietly assured that Les Bleus would pull off another victory. After all, it is their tournament. Before the competition began, people seemed to forget how the significance of being the host nation could help the players perform to an even higher capability than critics and supporters alike give them credit for.
Germany were unfortunate, but France triumph at home
A prime example of this, was Newcastle's Moussa Sissoko. The box-to-box midfielder was preferred to Leicester's N'Golo Kante from the first whistle by Didier Deschamps, and justified his inclusion to good effect. When the focus shifted toward the magic of Arsenal's Mesut Özil, Juve's Paul Pogba and others, Sissoko was quietly doing the job asked of him – with an admirable level of effort.
Often tracking back to play alongside Matuidi and the aforementioned Pogba showed his willingness to help the team out-of-possession. Germany could retain 90% of the ball and at times on Thursday, still wouldn't have been able to score.
Inspired performers elsewhere within France side
Hugo Lloris had an inspired evening in-between the posts and the centre-back pairing of Samuel Umtiti and Laurent Koscielny was an impressive one. Antoine Griezmann, the hosts' match-winner, has enjoyed an excellent tournament and Atlético Madrid will be glad they tied the forward down to a new contract extension midway through the tournament.
Bastian Schweinsteiger showed flashes of why he was included, but they were too infrequent. Emre Can grew as the game continued but his significance petered out as the Germans were searching for an equaliser in the second-half. The only midfielder who really created much, was Özil. Having fallen short with the north Londoners domestically last term, he has managed to do the same once more – this time on the international stage.
With all of that being said, Germany can keep their heads high. Leroy Sané, Julian Weigl, Joshua Kimmich and Julian Draxler all represent the next generation of talent within the German ranks – but this defeat just highlights the fact that you can't win all the time.