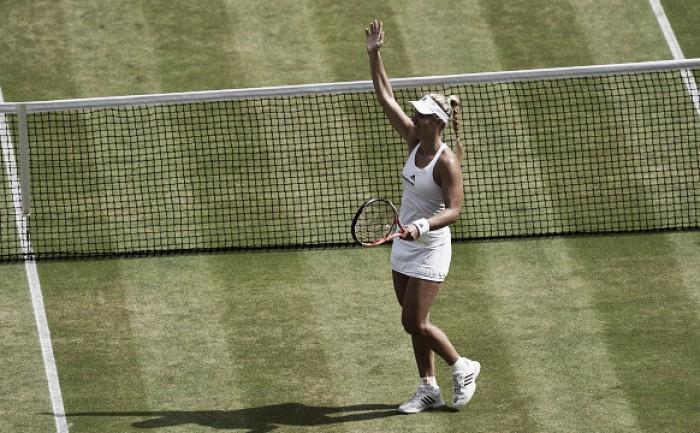 In an intriguing rematch from their encounter at the Australian Open, Kerber will be hoping that history repeats itself – and she can upset the world number one once more to win another Grand Slam title.
Angelique Kerber has said she'll be eager to use the experience gained from the Australian Open final to good effect when she faces off against Serena Williams once more this afternoon. Kerber, who has looked impressive throughout the tournament at SW19 this year, provided a real shock to prevail over the American six months ago. Since then, Serena has another defeat in the final to look back upon: 22-year-old Spaniard Garbiñe Muguruza in a straight-sets loss back at Roland Garros – denying her the opportunity to seal her 22nd Grand Slam trophy.
Critics eager to highlight Serena's shortcomings
Plenty of critics have suggested Serena's reluctance to adapt her game in order to counteract her more tougher opponents, such as Muguruza and Kerber, mean that she's less of an unstoppable force as more players are proving troublesome tasks for her to defeat.
Despite her strong performances, Kerber remaining focused
Despite her win in Australia, Kerber is keen to avoid complacency against the world number one. As quoted by BBC Sport, the 28-year-old German said she's aware of how well Serena herself is playing at the moment, but the fact that she has "a lot of experience" means she'll be able to give her best performance in the final itself.
The presence of big-game experience could prove pivotal for Kerber, as it did for Muguruza last month. Having already played Serena before, the occasion and Centre Court itself could play a significant part in how she does perform – whether she's able to maintain a good level of consistency throughout the match, or if she does fade away, how can she react positively to keep Serena guessing?
Crowds at Wimbledon love following an underdog, and as the Grand Slams continue to roll on, questions will continually be asked of Serena: How long can she remain at the top? It seems like a psychological issue as opposed to a physical one, but is definitely something that opposition players can pick up on by her body language and the way she acts after losing fairly straight-forward points.
The final itself will be an interesting watch, provided it's not a comprehensive victory for either player. I'll have a detailed match report after the result at SW19 tomorrow, so make sure to stay tuned for the latest proceedings as this year's Wimbledon tournament draws to an eventual close this weekend.