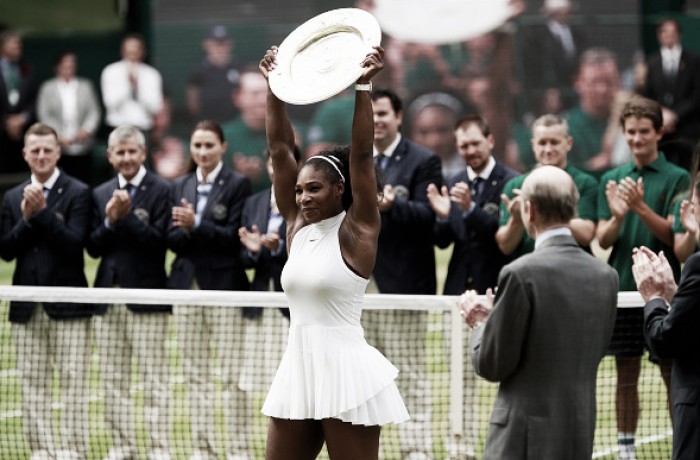 Serena Williams made history once more at SW19, to equal Steffi Graf's 22 Grand Slam title record – in a high-quality final against an admirable opponent in Angelique Kerber.
Serena Williams won her 22nd Grand Slam title with a 7-5, 6-3 victory over Angelique Kerber in a high-quality final on Centre Court. Plenty of pressure was placed upon Serena' shoulders in the pre-match analysis, especially considering she's lost her last two Grand Slam finals and at 34, she's not getting much younger.
Kerber won her first Grand Slam title in Australia this year, at the expense of Serena in a gripping three-set final. The 28-year-old German, who has been in impressive form, would be hoping for a fast start against the world number one. From the first rally of the opening game, you could tell it would be an intriguing battle between two players eager to assert their own quality on the highest stage – but Serena's serving power was utilised to good effect as she overpowered her opponent in the early stages.
Intriguing battle between the two in the early going
As the commentators themselves stated, the longer the rally continued, the more chance Kerber had of landing some points on the board. She did just that, but Serena's movement seemed one step ahead as she forced the German into some hard running at times to keep the rally going.
A collective groan from the crowd at SW19 was heard shortly after Kerber registered the first double fault of the match when she herself was in a promising position to chalk up her first game of the final – but she defended three break points and eventually levelled the scoring once more.
Scores remain close as Kerber does well to frustrate
Even with the likes of Beyoncé and Jay-Z in her player box, Serena appeared nervy and it showed during Kerber's second service game. With a few return errors, an off-balance backhand shot and another unforced error into the net, it would've made for frustrating viewing by her coach Patrick Mouratoglou.
One of her many strengths, the Serena serve, was reliable as usual because it allowed her to dictate points or score aces. Having hit 62 aces before the final itself, it was obvious that Kerber had to have done her homework to try and counteract the power. Easier said than done, although Kerber's backhand slices were performed with both precision and efficiency – frustrating the Williams forehand approach to good effect.
Two games apiece quickly became three-all, then four-all and with 30 minutes played, it was definitely more even than most of Serena's previous matches: this wasn't straight-forward by any means. There were a few notable rallies, Kerber performed an exquisite drop shot winner whilst Serena cruelly lost her footing mid-point, but the pressure shortly continued to mount as Angelique served to stay in the first set at 5-4 down.
Serena takes first set, 7-5
At 40-0 up, it seemed inevitable that Kerber would once again level the scores – she did so, and along came another round of applause from the supporters. They didn't want to see a Serena walkover, or a particularly short final, and they got their wish. Serena looked tense but used her powerful serve to get her out of another tight spot where she could've found herself 6-5 down, with three consecutive points.
The stats were in stark contrast: Kerber had only totalled 5 winners (Williams had 23), but had 3 unforced errors to Serena's 14. It just showed the level of consistency needed to win, not only one notable point, but to keep going throughout – something that Serena had struggled to do in previous finals. Despite some admirable resistance and one saved set point, Kerber couldn't take the set to a tiebreak and ultimately lost 7-5 in the first.
Kerber's style becomes more attacking in set two
She knew that the longer she could remain in the points, and prove her never-say-die attitude was ever-present even when potentially staring defeat in the face, Kerber would most definitely have a good chance of frustrating Serena further.
At 1-0 down in the second, she played an excellent forehand down-the-line to win a point and send Serena virtually sprawling toward the big scoreboard on the far side. It was soon 1-1, but 2-1 in Serena's favour at an even quicker rate. Her serves were too powerful and you could see in the way Kerber reacted, there was virtually no stopping them.
She had to attack on a more frequent basis to push her opponent back, and make her apply more power onto the forehand – which could in turn, create further unforced errors. It seemed to work as the German was hitting more impressive winners, and her shots were excellently placed, giving Serena limited opportunity to get to balls deep in her half of the court.
It was about balancing risk with reward for Kerber, as she was reluctant to give away free points on Serena's service games but also needed to push the world number one out of her comfort zone too. Her tireless work-rate was evident for everyone to see and it seemed like it was only a matter of time before it would pay dividends. Serena had already hit an eyewatering 11 aces by the time it was 3-3 in the second set, but a succession of unforced errors meant Kerber had a golden opportunity to win her first break point of the final.
Kerber's resistance ultimately broken as Serena is too strong
As previously stated, Serena's ability to get her out of tight spots was present once more. Two back-to-back aces gave herself advantage point and the momentum from then on was too strong. A remarkable rallying point (4-3 Serena) could've changed the complexion of the second set itself but instead, Kerber's succession of unforced errors meant Serena had the opportunity to serve for the championship.
And serve, she definitely did. A mix of power and placement was just too much for Kerber, meaning that Serena has now equalled Steffi Graf's record of 22 Grand Slam titles – just two off the all-time record, Margaret Court's 24.