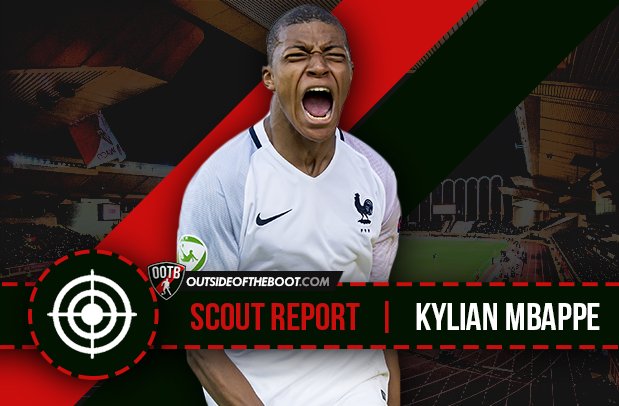 Despite financial firepower adding questions over the competitive edge between PSG and their main rivals at the top in Ligue 1, there's no disputing the sheer number of talented youngsters within France's top tier. Kylian Mbappé, who flourished as France's under-19 side enjoyed glory in the European Championships over the summer, is expected to feature on a more regular basis at club level – after bursting onto the scene last term.
Who is Kylian Mbappé?
The 17-year-old can play either in a central forward position, or on either wing. Right-footed with a clinical eye for goal, he broke Thierry Henry's record to become Monaco's youngest ever goalscorer (17yrs, 62 days) during a cameo appearance against Troyes back in February.
He has already been earmarked as one of the talented youngsters to watch out for in France during the current 2016/17 campaign, just highlighting the fact his efforts over the past few months haven't gone unnoticed. Given the financial restrictions, Monaco have been focusing their energies on developing players of their own within the youth ranks, and there's no doubt Mbappé is definitely one of their best in terms of both quality and potential.
Style of play, strengths and weaknesses
Mbappé is a player who loves the challenge when taking defenders on, and it allows him to make the winger position his own. Explosive pace, quick feet and excellent dribbling are all key attributes that make him a nuisance to defend against, especially as he's capable of shooting with both feet and likes to cut inside before creating a chance.
He's also unselfish and is always looking for movement ahead of him from team-mates in better goalscoring positions near the final third. Unafraid to use skills and equally agile, he can be often deceiving – although not as physically strong in comparison to his counterparts, the low centre of gravity he possesses is utilised to good effect alongside his rapid acceleration both on and off-the-ball.
His tactical awareness is also another important asset as he's able to keep possession in key areas of the pitch, allowing other team-mates to get involved with counter-attacking moves and provide support when he's under pressure from opposition players.
His range of passing is excellent and an under-rated attribute, one where he can pass his way out of a tricky situation and also has enough composure to find team-mates in space across dangerous areas.
In terms of his main weaknesses, he needs to work on his defensive contribution when out of possession. It's a skill that is becoming increasingly important in the modern game and having a winger that can help support his full-back when in danger could be the difference between keeping a clean sheet and conceding a late goal for instance.
In addition to this, Mbappé knows he needs to perform at a high level on a more consistent basis. Take the U19 European Championships for instance – he was excellent throughout but during a league campaign, usually has one fantastic game and three average displays afterwards.
If he's to consistently start over more experienced players in the Monaco side, he needs to show qualities that he possesses which other players cannot. It's important that Mbappé acclimatises to the competitive nature of regular first-team football properly, because it's a steep jump coming from youth level straight into the professional game – so it'll be interesting to see how manager Leonardo Jardim utilises him.
Last season he played eleven times for the first-team, but made substitute appearances on nine of those occasions. Impressing during a second-half cameo in the UEFA Europa League group stages against Tottenham last term, Monaco's quality in depth will be tested as they prepare for Champions League football this time around. With that as well as leaving a lasting impression last term in mind, Mbappé will be quietly confident that he can breakthrough properly this season.
What does the future hold?
Having officially signed his first professional contract at the start of March this year, his exploits on the international scene with France at youth level haven't just ignited recognition but also rumoured interest from clubs across Europe – including the Premier League's best.
It's clear he is held in high regard, especially as Monaco did well to keep him from the clutches of Real Madrid four years ago when they invited him to their training camp. Jardim had previously described him as a player with "great potential", but also said he has a lot of work to do if he's able to reach the top. That being said, international success has driven the teenager to develop further hunger for more trophies and accolades. His dad, Wilfried, described Kylian as someone who is passionate and "watches everything", which once again highlights his desire to learn from others and continue improving over time.
Mbappé doesn't turn 18 until December and it'd be naive to suggest he'd make such a big decision so early in his career, meaning his main focus will be on a successful breakthrough in the Monaco first-team this term as he aims to play on a regular basis to continue developing at the rate he is.
It's obvious to see that his versatility is beneficial as it allows him to play a number of different attacking roles – but it's also important that he solidifies his place in one preferred role as Kylian continues to mature. On the left wing, he'd have a straight battle with Ivan Cavaleiro for a starting berth. With that being said, it'd mean his goalscoring threat could potentially lessen as he'd be given more opportunity to create chances as opposed to scoring them on a regular basis.
He'll take inspiration from the excellent work shown by Ousmane Dembélé, who scored twelve goals and assisted five more in an inconsistent Rennes side last season. Both players are similar in the way they share attacking versatility, and Dembélé benefited greatly from a breakthrough campaign as he was able to seal a move to Borussia Dortmund in July. There's no reason why Kylian can't enjoy the same success, provided he's given both adequate patience and opportunities to do so.