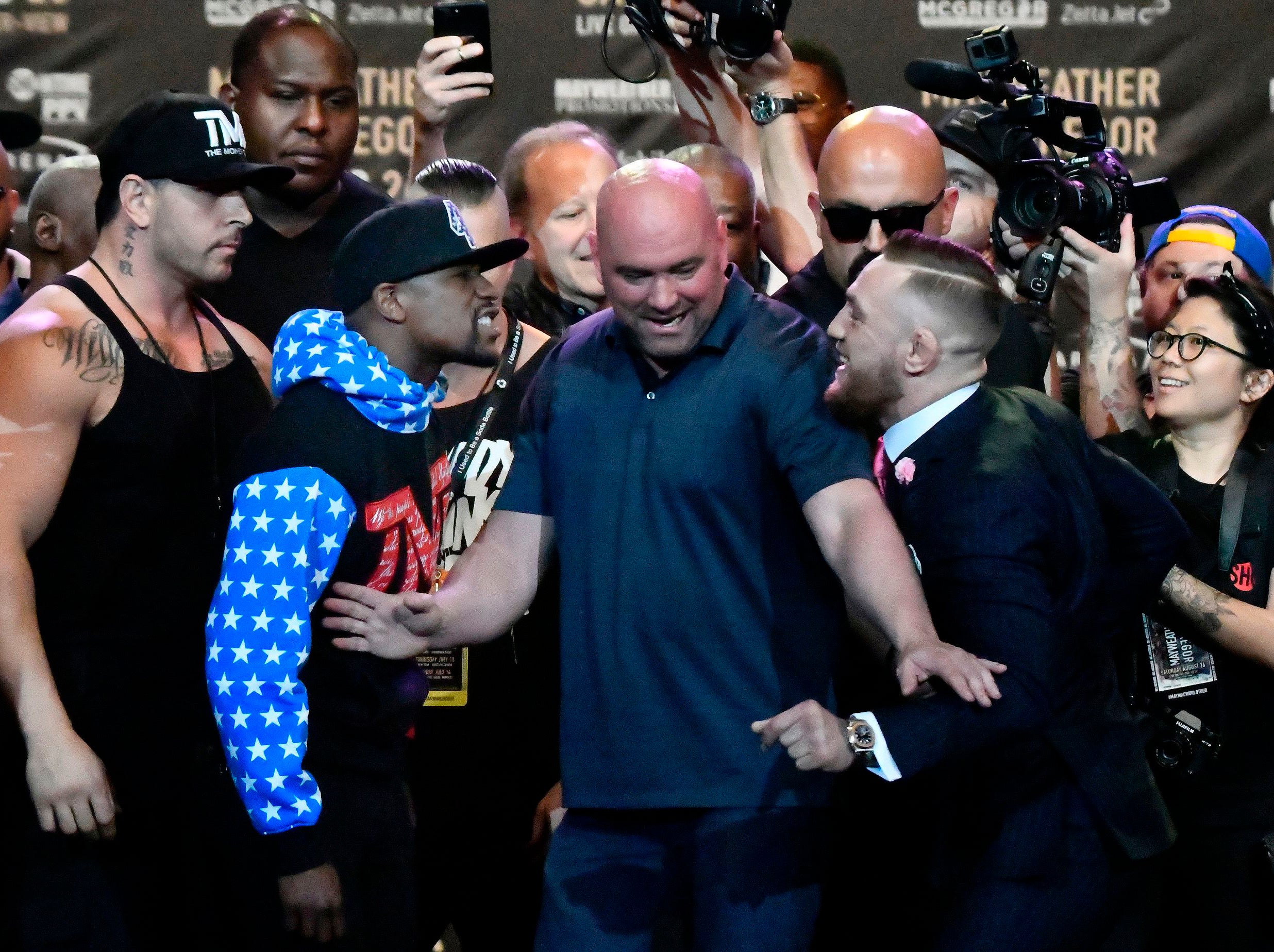 A week before the biggest fight of his professional career, Conor McGregor is set to face Floyd Mayweather in a $700m megabout. So yes, we must discuss this question and answer it too.
We have seen it on a number of occasions, performers using trash talk and controversy to make headlines and attract further attention ahead of a fight – whether that be boxing, UFC or other sports entirely. It can help them raise their own profile while the added attention brings in extra supporters, which in turn, generates more revenue.
The fact that McGregor does this side of the fight game so well is testament to his tough upbringing and how he's continued to strive for success, maximising profit in the process.
"I never forget the struggles, never forget where I came from. Never ever forget the hard times. I pinch myself because I am surrounded by luxury. But make no mistake – it's luxury built on sacrifice."
Fans emphasise with and respect McGregor's grind as a result, which is why he has such an ever-growing following both at home in Ireland and elsewhere across the world.
His fearlessness and charisma don't only make him unpredictable but equally exciting from all angles. Not content with being a UFC champion in two separate weight classes, he's actively sought the biggest challenge of his career by calling out a recently-retired Mayweather – who at 49-0, will be looking to end his fighting career in style next weekend.
With no previous professional boxing experience behind him, facing one of the best boxers of all-time, it's obvious that McGregor is a huge underdog to beat Mayweather. Some experts have suggested it'd even be a surprise if he landed more than a few significant strikes on the 41-year-old.
He relishes the underdog tag and despite his choice words at the various press conference events to market the spectacle, he's set to make more from this fight than any in his entire UFC career combined, irrespective of the result.
The rate of McGregor's rise since making his UFC debut four years ago has been remarkable.
He picked up a £165 welfare cheque just a week prior to his first fight, reiterating the struggles he left behind. Now, he's set to earn at least £75m from the Mayweather bout alone and you can understand why he chose him from a financial standpoint as despite being over 40, Floyd is still boxing's biggest draw.
The same cannot be said about Rousey who, despite being a significant asset for the UFC in a similar way to McGregor, didn't command the same level of support.
Instead, attention was focused upon her mystique – how did she manage to beat opponents in such a dominant manner?
This, coupled with the tireless hype after her impressive performances began to quickly rack up, meant the number of people rooting to watch her downfall in the sport increased significantly. She started to believe in her own hype and repeatedly claimed she'd retire unbeaten, as if to openly challenge anyone to beat her.
Perceived attitude issues and questions over her fighting style, when critiqued in particular detail, meant it was only a matter of time before someone from the relative unknown surprised everyone with a devastating knockout over the undisputed champion.
Holly Holm succeeded in doing precisely that in November 2015 and honestly, Rousey could not have handled the situation worse than she did prior to a short-lived return a year afterwards.
She kept quiet for a few months, presumably to let the internet trolling and media coverage settle down. However, once she gradually returned to the spotlight, her first sit-down interview with Ellen DeGeneres in February was particularly telling.
She admitted contemplating committing suicide after her defeat, as she struggled to come to terms with the loss, especially in such devastating fashion. Also, she had stated an eagerness not to make excuses for losing, yet proceeded to do exactly that: three title fights in the space of nine months, which she previously made no issue about, was part of the problem.
Then she revealed that retirement despite losing her unbeaten record wasn't a possibility, at least not yet. She wanted to have a rematch with Holm next, regardless and ultimately avenge her loss.
So you could excuse our surprise and that of UFC supporters across the world when she finally announced her return would be against Amanda Nunes. A Brazilian brute, a year younger, who had just become the new Women's Bantamweight champion after beating (and prompting the retirement of) Miesha Tate.
Why was she invoking her rematch clause for the championship so quickly? Against someone other than Holm herself, meaning she would have to adapt accordingly and study Nunes' all-round game.
So when Nunes ruthlessly finished her within a minute of her long-awaited return last December, the verdict was unforgiving. How could someone so highly-rated, so in demand, fall away so quickly? The issue was, she believed her hype far too much and despite some questionable decisions from her own coaching staff, didn't seem to make any progress before returning.
For all that time off to reflect and assess her options going forward, what did she really improve? Nothing. In stark contrast to McGregor after being submitted by Diaz during their first fight, it's almost the opposite response.
The way he has responded to adversity is admirable and he refused to shy away from losing either. Instead, he took it in his stride and vowed to come back stronger as a result.
"It's a tough pill to swallow, but we can either run from adversity or we can face our adversity head on and conquer it.

That's what I plan to do, it wasn't ideal, I got caught. It is what it is. I'll face it, take it on the chin and I'll carry on. I'll learn from it and that's it."
Learning from his mistakes, underestimating the difference between Diaz and other fighters he had previously faced at featherweight, he was keen to make amends and did exactly that during their rematch last August.
Regardless of next week's result, McGregor's popularity and stock will continue to increase ahead of his UFC return. With all of that in mind, it also answers the question. No, McGregor isn't in danger of turning into the next Ronda Rousey because his attitude towards defeat is not destructive. Sure, he loves trash-talking but it ultimately stems from his own self-belief.
If he didn't have any, he wouldn't be where he is today.
Pictures source: Independent, LA Times, UFC