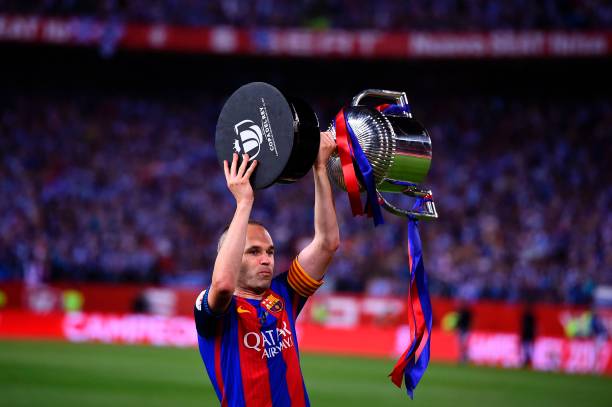 Barcelona club captain and creative midfielder Andrés Iniesta, who has been at the club since he was 12 in 1996, has revealed he is considering his options.
Barca's public pursuit of Liverpool playmaker Philippe Coutinho has thus far been unsuccessful this summer, with the Reds adamant the Brazilian will remain at Anfield beyond next week's transfer deadline.
However, it is generally believed that the La Liga giants will return with another approach for Coutinho at a later date, despite his reported eagerness to complete the deal now – for fear that they'll lose interest and opt for different targets next summer.
Iniesta, who broke into the first-team at the Nou Camp in 2004, has admitted that he is yet to agree improved terms on an extended contract while hinting he could leave this time next year.
Lionel Messi is yet to sign an improved deal beyond 2018 despite Josep Maria Bartomeu's claims earlier this summer, and is in the same situation currently as Iniesta – both will be able to sign pre-contracts with other clubs in January, without transfer fees involved for their services.
"I have not renewed yet. I have experienced many feelings that I haven't before, but I think that's normal," Iniesta was quoted as saying during an interview with El Pais.
"It is a scenario that I would never have imagined three years ago. Let's say I now think about the future when I did not before."
He also hinted that he is disappointed at treatment of him, from the club's hierarchy.
"We all like to be appreciated, valued and respected. I have always felt the affection and respect of everyone here, of that I have no doubt. But I am also clear that in this club, you can never lose respect for people who have given their lives for these colours. It should not be lost but sometimes it feels like it is."
Barça supporters have grown increasingly frustrated with the club's transfer dealings in recent seasons and many have called for Bartomeu to hand in his resignation too.
Iniesta's issues have also been echoed by Neymar, whose £200m move to PSG was made official earlier this month after they activated his release clause.
However, the midfielder has stressed how important patience is during a tough spell for Barcelona – and why they shouldn't rush for swift transfers to try and make amends at once.
"Playing a Champions League final with eight or nine academy graduates… it's not that Barça does not do it but nobody does. Sometimes people forget that because it seemed to be easy to achieve but it is quite the opposite – it's very complicated. But the club cannot change."
"We must have courage and not lose faith or trust in the youngsters who have been raised here. Sometimes it is better to bet on those from within and not resort to a market that has become so heavily inflated."
Iniesta's words are unsurprisingly wise, though it'll be interesting to see how Barcelona cope especially with the influence of key stars over the last decade beginning to decrease as they reach the final few years of their respective playing careers.