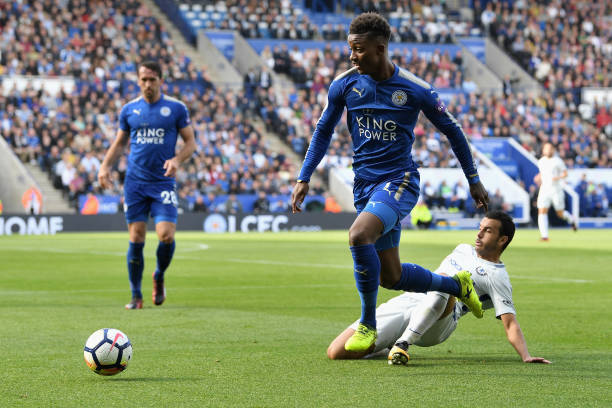 With reports claiming he'll sign a new £50k-a-week deal to extend his contract at Leicester City, questions have been asked about 21-year-old winger Demarai Gray. Is he really good enough for the Foxes to rely upon this term and beyond?
It was Leicester that reacted quickest and activated Demarai Gray's release clause, said to be around £3.7m, back at the start of January 2016. Unfortunately for the young winger, at the time, he had joined a side that continued to surprise everyone, maintaining their position as Premier League leaders throughout the 15/16 campaign.
As a result, Gray was seen as an effective option off the substitutes bench, given his ability to retain possession in addition to his electric acceleration over both short and long distances. He also provided width when Leicester wanted to run down the clock in nervy matches.
Claudio Ranieri was understandably keen not to hurt the balance of his squad too much and rarely made any significant changes to the starting eleven during the Foxes title-winning season, availability permitting. But this was seen as a once in a lifetime achievement that no-one could've predicted – neutrals would've assumed the Foxes' gradual return to mid-table obscurity would see young talents like Gray and Bartosz Kaputska, who impressed for Poland during last summer's European Championships, feature more regularly.
Alas, this belief was gradually eroded once the new 16/17 season had gotten underway. Leicester were still high from their title win and a range of new media engagements that came with their success, which meant they were not adequately prepared for the challenges ahead. Gray only notched up 1,063 minutes of top-flight football, an average of just over 35 minutes per match during a campaign where the Foxes could've easily found themselves relegated if not for an upturn in form after Ranieri's ruthless dismissal.
Gray's first and only goal of last season came during their 4-1 away defeat to Manchester United. On as a second-half substitute, it took him less than 15 minutes to make his mark on proceedings – shrugging off former teammate Jesse Lingard after receiving a diagonal pass out wide, he unleashed a speculative long-range effort which caught everyone unaware. David de Gea could only dive and watch as Gray's powerful strike arrowed into the top corner with aplomb.
After scoring a goal and delivering an encouraging display like that, surely he'd be granted more playing time now? UEFA Champions League group stage action returned the following midweek, but Gray was once more shunted to the substitutes bench. Watching from the sidelines, it was a familiar and equally frustrating feeling for the hot prospect.
This continued for the majority of last season. Experienced players were earning the nod over him, and he just had to remain patient for his chance. It wasn't a case of not being good enough or an unreliable figure, instead just, once again, unfortunate timing. Despite limited game time, Gray managed to create 16 chances, 3 assists and 35 successful take-ons last term.
So when news broke (again) that Riyad Mahrez was pushing for a move to pastures new this past summer, transfer speculation ran wild. Demarai Gray was also linked with Everton and Tottenham among others monitoring his progress, but what would he decide to do?
It's understandably a tough decision to make, though you'd hope Gray would opt for the best choice which will help further his development. Leicester's public attempts to convince him into staying show they're prepared to make him a key player over the long-term, but without first-team assurances, there's always a worry that his head will be turned by other clubs who offer exactly that.
Bournemouth failed with a £25m deadline day bid for Gray, and there's no reason why themselves and other Premier League clubs won't return with offers in January should Gray's situation not improve.
The Leicester winger continues to feature for the England u21s, and impresses, alongside players like Swansea City's Tammy Abraham in attack. Gray's one of the oldest within the current u21 group and understands this is a pivotal stage in his progression. Using lack of minutes at club level is the perfect motivation to flourish internationally.
Gray is a tireless runner and someone who defenders struggle to cope with, especially when he's fired up. Agile and tricky on the ball with a good strike too, he's already stated he'd like to contribute more in terms of goals and assists but that will come naturally.
"At one point I thought he was going to play every single position, he was running around that much. He has enormous amounts of ability." – England u21s manager Aidy Boothroyd after Gray's impressive display against Latvia a fortnight ago.
Gray is a player who deserves the hype and praise he gets, though critics will continue to linger until he proves himself as a Premier League regular for the next few years. There's always a worry as to whether or not youngsters have earned too much too soon, or will have their head turned by lucrative financial offers. Leicester's attempts to keep Demarai Gray show he's valued highly and he'll look to justify that with eye-catching performances when given an opportunity.