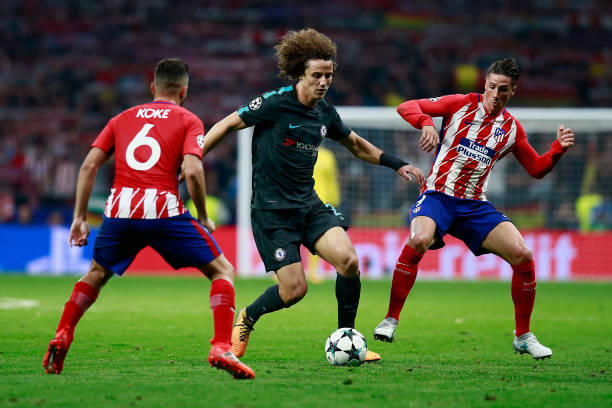 Following his second red card in less than two weeks during Chelsea's 2-1 away win over Atletico Madrid, questions have once again been asked about David Luiz. 
Despite receiving plaudits for his performances upon returning to England's top flight last term, many believe the Brazilian still has not matured enough to cut out the erratic side of his game. Is it a typical over-reaction by the media, or has Chelsea's change in formation helped significantly mask his deficiencies?
It's common knowledge that while Luiz's frequency of high-profile mistakes have decreased during his second spell, they're still present. It was seen as a surprise that the Blues actually signed him on deadline day last term, but it seemed equally encouraging that he was eager to prove his doubters wrong.
Playing in Antonio Conte's 3-4-3 system has helped provide him with extra protection, as N'Golo Kantéand Nemanja Matic were the brick wall defending their backline from midfield. It allowed Luiz to gradually build up his confidence while establishing himself as a first-team regular alongside Gary Cahill and the reliable Cesar Azpilicueta.
Things could've been completely different had Conte stuck to their preferred four-defender formation, but after successive defeats against Liverpool and Arsenal at the beginning of last season, he knew something had to be altered.
Since then, Luiz has featured regularly in the Chelsea defence, which kept 15 Premier League clean sheets during their title-winning campaign. It's not a surprise, then, that his displays were highlighted as impressive improvements by someone with critics to silence.
Significant improvement? Stats deceive
Luiz struggled in the aforementioned matches at the start of last season, as well as a few big games (Tottenham and Manchester United away, for example) but because Chelsea collectively struggled, it was brushed aside as a poor day at the office.
As time passes, teams do their homework with the intention of exploiting their opponents' main weaknesses. Conte's 3-4-3 formation was so successful that a handful of other teams within the division began trying it, to mixed results. Luiz has started when available this campaign, however, after Chelsea's 2-0 defeat by Tottenham last term, the Brazilian's defensive displays have evidently given attackers cause for optimism.
They're eager to take him on, despite knowing he's relatively quick and agile for a central defender. Why? His positional awareness is far from perfect and when tackling, he has a tendency to needlessly rush or commit fouls – regardless of the area on the pitch.
That's a dangerous game to play as a centre-back and with the reputation that Luiz has, it's not hard to see why he's a target at times. Comfortable with the ball at his feet but equally unafraid to complete clearances when needed, he's not in the same criticism bracket as John Stones – although the Englishman is seven years Luiz's junior.
It feels as though the Chelsea defender is given too much credit sometimes for mediocre performances, which is never a good thing. Praised after his midfield display against Tottenham last month, which saw Chelsea snatch a 2-1 win, he successfully completed five tackles and made four clearances – but that's what should be expected of him. The match statistics don't highlight him committing four fouls, squandering possession twice through poor ball control and walking a tightrope on a booking for almost two-thirds of the encounter.
He received six bookings in 33 league appearances last term. This season, he's already accumulated four in just five matches. Nine fouls committed, 56% of attempted tackle duels lost, Luiz also continues to struggle in the air (45% duel success). Why does no-one focus on these stats instead?
Another issue in Madrid
Luiz has a frustrating tendency to commit needless challenges, which was again the case last week against Atletico. He grabbed on Lucas Hernandez's shirt during a scramble in the area, consequently giving away a spot-kick. Despite managing to recover from a one-goal deficit, things could've been different for Chelsea had the hosts taken more of their goalscoring chances.
Chelsea were fairly dominant up until this point; Luiz's actions could've easily changed the course of the match. Roy Keane was one of the pundits who criticised the 30-year-old post-match, and rightly so.
"It's madness really. It's a form of cheating. Why he's doing it is beyond me. He's lazy and he's letting his team-mates down. He knows himself, there's no need. We see a lot of that going on, so I'm glad he got punished for it. It's a form of cheating."
After Luiz's rash challenge during an out-of-sorts individual display against Arsenal resulted in a red card, it epitomised a truly poor start to the campaign – one that cannot be justified. It'll be interesting to see how Conte deals with the David Luiz situation once his suspension is complete, but there's no reason why he should simply walk back into the side.
Antonio Rudiger and Andreas Christensen have both been unfortunate not to earn more first-team minutes, while Kurt Zouma has excelled out on-loan at Stoke. Jake Clarke-Salter, 20, is another option. He's one of Chelsea's best youth prospects but has yet to be granted an extended opportunity among the senior ranks.
Stats' source: WhoScored and Squawka