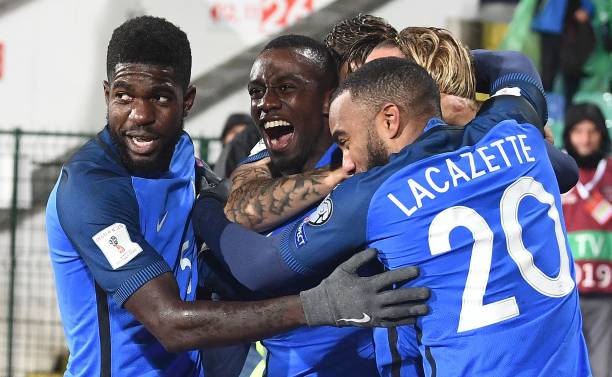 Blaise Matuidi's early strike from a ridiculous angle proved enough to seal a well-earned but hard-fought away victory for France against Bulgaria. They've leapfrogged Sweden into top spot within Group A, with one final World Cup qualifying fixture to play next week.
Matuidi broke the deadlock after three minutes with an excellent finish, slamming home from an improbable angle. It was the perfect start after a well-worked France move, as they passed their way into the Bulgaria defensive third with consummate ease.
Antoine Griezmann's deft touch helped tee up the Juventus midfielder, to score on his first start since their 2-1 defeat by Sweden in June.
Les Bleus were firmly on top and could've had a three-goal advantage before the first half-hour was complete. Corentin Tolisso and Kylian Mbappé both came close with efforts, though goalkeeper Plamen Iliev did well to thwart the frontline.
Griezmann fired narrowly wide too after Mbappé's incisive lofted pass into the box. Peter Zanev's slip while attempting to turn to close the Atléti forward almost proved costly, but the score remained 1-0.
Vasil Bozhikov denied Lacazette from netting his first goal of the current qualifying campaign, after committing to a fantastic sliding challenge in the box. Mbappé's pass into the Arsenal forward seemed a certain assist but for the 29-year-old's intervention.
Chelsea midfielder N'Golo Kante limped off shortly after the half-hour mark after pulling up with a hamstring injury. Replaced by Adrien Rabiot, it highlighted another injury worry for the Premier League champions to contend with.
Bulgaria could've equalised shortly before the interval, too. Despite the visitors' dominance, they didn't have the goals to show for it. Hugo Lloris was forced into an excellent reaction save after initially fumbling Todor Nedelev's ambitious effort from range.
Georgi Kostadinov followed up with a headed strike of his own, prompting an acrobatic stop from point-blank range by the Tottenham goalkeeper.
There were shades of the aforementioned Sweden game, in which France could've easily been comfortably ahead. Here, their dominance wasn't being justified by the slender scoreline and Bulgaria seized upon this.
After the break, chances were few and far between as the tempo gradually slowed. Bulgaria did their best to stifle France's frontline and their main source of frustration was cynical fouls. Not ideal but equally cunning, it clearly got the best of Tolisso who could've easily started an altercation after continually being hacked to the turf.
France were relatively comfortable defensively despite the aforementioned scare and held out for a hard-fought win against a side with simply nothing to lose.
They face Belarus in midweek, knowing that nothing less than a victory can do after Sweden's 8-0 win over Luxembourg – the same side they surprisingly couldn't score against last month.