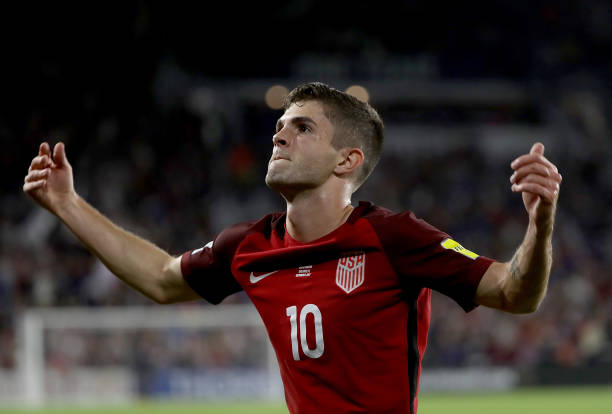 Christian Pulisic continues to make strides for club and country, but it's imperative he ignores transfer talk from Europe's best to further his development over the next few seasons.
It seems like just yesterday, Christian Pulisic broke a record to become the youngest non-German and fourth youngest player ever to score in the Bundesliga against Hamburg. At the time, he was just 17 years and 212 days of age. Three weeks ago, he turned 19.
Time moves by so quickly. Since then, he has embraced the role of America's shining young star and his performance during their 4-0 win over Panama during a must-win World Cup qualifier was a testament to his capability. They simply cannot afford not to build their side around the teenager.
That's a debate for another day though, as Pulisic's stock has risen remarkably over the past 18 months. With it attracts attention from Europe's top clubs, who are all scouting the world's best youngsters to potentially target.
European clubs continue to track Pulisic
Jurgen Klopp has made no secret of his desire to sign the youngster, though Liverpool had an £11m bid rejected last summer. Not only was the fee itself low for a player with significant potential, but questions were asked – why would he leave Dortmund to fight for a first-team spot in the Premier League?
He rejected claims that he'd make the switch, instead signing an improved deal with BVB which ties his current contract until the summer of 2020. He had already made clear his desire to play regular first-team football to further his progression and despite being flattered by their interest, it was always a surprise that they actually made a formal approach given just how much of an asset he represents to the Bundesliga side.
"I have respect for Klopp and I know him – he was very welcoming to me here – but I was never really thinking about going to Liverpool. Dortmund have given me everything. If I work very hard here I will play and I love this club."
That should've been the end of this discussion, but that's never the case. Liverpool has continued to track his progress from afar, quietly deciding when to pounce again and make an offer he cannot refuse.
They are not alone now though. Teams are always looking to improve their squad across all areas, whether that be to shore up defensively or provide more attacking talent in the final third. Tottenham have also been linked, which isn't much of a surprise given their recent success with talented youngsters – as well as their public desire to sign a quick winger who can provide something extra going forward.
Now though, it's being branded a battle of the heavyweights. UEFA Champions League defending champions Real Madrid, coupled with Spurs' North London rivals Arsenal, are both expected to make approaches at some stage in the future.
It's easy to see where I'm going with this. Pulisic is still only a fearless teenager, but one that needs to try and block out the transfer talk. Otherwise, it could have a detrimental impact on his football. One poor display could turn into a run of poor form and before you know it, development can stagnate quickly. That's the last thing he needs, not least with such high aspirations for himself.
His father Mark has recently revealed the 19-year-old's love for Real as a child, which naturally hints that he'd seek a move to join Los Blancos at some stage in his career.
"I called him Figo from a young age, as we watched Real Madrid a lot during those years. He liked the way Luis Figo played, so I bought him a jersey with Figo's name on it."
Making improvements
If you watch Christian Pulisic and compare his performances now to that of a year ago, you'll see the American has made improvements to his game – becoming more unpredictable as a result. He's created 12 clear-cut chances and 23 successful take-ons in Germany and the Champions League combined this term already, having only played nine matches to date.
Peter Bosz's high-pressing style has also helped players like Pulisic receive the ball more regularly in dangerous areas, as opposed to dropping deeper to drive forward with it. He's given extra licence to express himself and has taken more shots (17) than at the same stage twelve months ago.
A pass completion rate of 86%, as well as eight successful key passes, is also an improvement on last season's tally to date. He played just over 1,500 Bundesliga minutes last term, with a passing average of 73% and 20 total key passes across the campaign.
Why are they all so keen?
Pulisic's increased rise over the past 18 months have been well-documented, but he's kept it all in his stride. The fact that he's a mature teenager with good people around him also bodes well for future projection – as opposed to unknown quantities or eccentric personalities within the same age-group.
Versatile enough to play across the forward line, Christian Pulisic is predominantly best played down the right-hand flank. He's able to operate on either wing and has many qualities which make him a nuisance to defend against.
Playmaking ability, alongside intelligent movement, mean he's also a useful option in the number ten role – who regularly creates goalscoring opportunities.
Youngsters are the new dynamite. Kylian Mbappe and Ousmane Dembele are two of the world's most expensive footballers but neither has yet made 100 senior appearances in their professional career. They provide buying clubs with excitement and a look into the long-term future with that player in their ranks, potentially to build a squad around, or supplement other quality in the side.
It's almost inevitable that Pulisic follows suit, but important that arrives later rather than sooner from his perspective. He's featured in all of BVB's Bundesliga fixtures thus far and is doing his utmost to ensure they forget about Dembélé's by valuing his presence even more.
Maximilian Philipp and Andriy Yarmolenko were shrewd summer acquisitions but Pulisic is undoubtedly Dortmund's creative force, who continues to link up with Aubameyang at every opportunity. Dortmund has a proven track record with youngsters and you can only hope he repays their faith in him with some short-term loyalty, remaining committed to the cause.