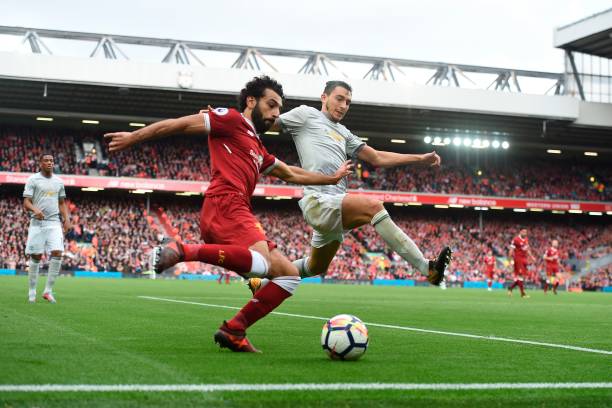 After another international break, Liverpool hosted their fierce rivals Manchester United in Saturday's lunchtime kick-off.
The rivalry between these two sides has continued to dominate headlines whenever fixtures are contested. The last three meetings prior to this encounter were all hotly-contested draws, with this instalment no different despite all the pre-match hype. So who performed well and who struggled during the intriguing battle at Anfield?
Liverpool​
Simon Mignolet: 6/10
Virtually untested for large periods of the match, Liverpool were dominant in terms of chance creation and the Belgian had a surprisingly quiet game. However, he made an important one-on-one save to deny compatriot Romelu Lukaku as he advanced through on-goal in the first-half, further adding to his frustrations.
Joe Gomez: 9/10 – MOTM 
Deservedly named Sky's Man of the Match for his defensive display here, the 20-year-old was tenacious in the tackle and strong during individual battles. Highlighted as a potential weakness for United to exploit, he impressed while keeping both Anthony Martial and Marcus Rashford relatively muted on the flank.
​Joel Matip: 6.5/10
Had a comfortable afternoon with centre-back partner Lovren tasked with nullifying Lukaku's threat. Was given freedom to roam forward into midfield, which he did on a handful of occasions to good effect. Should've broken the deadlock with his close-range strike in the first-half.
​Dejan Lovren: 7.5/10
Despite having a tendency to make defensive mistakes, the Croatian was solid on this occasion. He had to be too, with a rampaging Lukaku constantly eager, ready to pounce in the Liverpool half for sustained periods. With two tackles, an interception and 10 clearances completed, Lovren was one of the hosts' better performers.
Alberto Moreno: 7/10
For someone who has received such criticism over his defensive displays in recent seasons, it's clear that Moreno is doing his utmost to improve his reputation and defend more diligently too. Made two tackles, four clearances and crucially no needless fouls – long may this continue for the Spaniard.
​Emre Can: 6.5/10
Tidy in possession and memorably made an effort to try increasing the second-half tempo as United gradually dropped off, fighting hard to come away with a credible result. Completed four dribbles, was fouled on three occasions and did fairly well balancing both defence with attack.
​Jordan Henderson: 6.5/10
The captain had another average game on this occasion. Kept passing tidy and created four key passes, but most of his adventurous work was unconvincing.  ​
Georginio Wijnaldum: 6/10
The Dutchman's marauding runs through midfield excited fans during a tense encounter, though his industry weaned after the interval. Could and should've done more defensively, especially to avoid committing needless fouls.
​Philippe Coutinho:​ 6.5/10
Personally didn't think the Brazilian was as good as he received credit for – lacklustre in possession and flashes of his individual ability were too infrequent. Constantly had the beating of Herrera – which wasn't hard – but tired as match continued before being replaced late on.
Mohamed Salah: 8/10
The game's bright spark, shame about his inconsistencies in-front of goal. The talented Egyptian was easily the best player in the first-half but should've scored at least one – and could've had more. Constantly advancing towards United's box, they struggled to contend with his pace and close-control as the Reds looked threatening in attack.
Just like Coutinho, influence faded in the second 45 as a goalless draw looked increasingly like a certainty.
Roberto Firmino: 7/10
Did well to create chances with good footwork, but his decision-making was inconsistent at times. Still managed to conjure up moments that team-mates should've converted, which is impressive with the second least touches of any outfield player.
Frustrating to see from an expressive player that can be doing more to contribute – though made five key passes and completed four successful dribbles too.
Substitutes
Alex Oxlade-Chamberlain: 6.5/10
A lively option off the bench, who excited Reds fans with energetic runs down the flank. Should be playing more though..
Daniel Sturridge: 5/10
Struggled to influence the game during a 10-minute spell and would've been disappointed not to feature more in truth.
Dominic Solanke: N/A
Not enough time to make sufficient impact.
Manchester United
David de Gea: 8/10
Made an excellent reaction save to deny Matip's close-range effort in the first-half. Was a commanding presence as usual and consequently kept his seventh clean sheet already this term.
Matteo Darmian: 7/10
Easy to criticise him for United's defensive shortcomings but the Italian acquitted himself well despite a shaky start. Completed six tackles, two interceptions and made five clearances as the visitors earned a hard-fought point.
Phil Jones: 7.5/10
Quietly excellent display. The Englishman was solid throughout and did all he could to keep Liverpool's probing attackers at bay, which was easier said than done without usual partner Eric Bailly patrolling alongside him.
Chris Smalling: 7/10
Not as good as centre-back partner Jones, Smalling still did his job fairly well and racked up five clearances as well as a handful of tackles too. His positional awareness and decision-making out of possession both still need work if he's to remain a first-team regular once the Ivorian returns.
Ashley Young: 6/10
With his driving runs forward he managed to get beyond Moreno on a number of occasions, but his final ball was too inconsistent. Many were surprised to see him start and on this occasion, he didn't do much to justify becoming a regular in that position.
Antonio Valencia: 6/10
Was unsurprisingly disciplined in defence, which he needed to be in a game like this. Couldn't create much of note going forward though, which is his main strength from fullback.
Nemanja Matic: 7/10
Came close with a rasping drive from range and did his defensive work well, but could've done more in truth. Was beaten too easily on a few occasions during Liverpool's attacking transitions, something he'll look to eradicate from his game in future.
Ander Herrera: 6.5/10
Alright defensively but in an attacking sense, once more disappointing. Longer passes were ambitious and regularly inaccurate, while his tackles lacked tenacity and conviction.
Anthony Martial: 6/10
Many expected him to dance past Gomez and the pair were involved in a battle down the flank for the hour or so he played.
Henrikh Mkhitaryan: 5/10
Not good enough. Decision-making was poor to say the least with the ball in danger areas and out of possession, was a passenger.
Romelu Lukaku: 5/10
Another big game passes the boisterous Belgian by. Had a golden opportunity to break the deadlock before half-time and was lucky to not have – at the very least – been booked for his challenges on Gomez and Lovren. Was heavily isolated up-top by himself with limited service but for £75m, you would've expected him to slot beyond his compatriot and make Liverpool work even harder for the all-important goal.
Substitutes
Jesse Lingard: 5/10
Tried his best but again, didn't get enough of the ball. Had nine touches in 30 minutes.
Marcus Rashford: 5/10
Struggled to create much or really trouble Gomez in the latter stages, which he should've done. Lack of physicality also showed.
Victor Lindelof: N/A
Didn't have enough time to do anything at all really. Came on in the final minute of stoppage time and that's not what really what anyone wants to see.