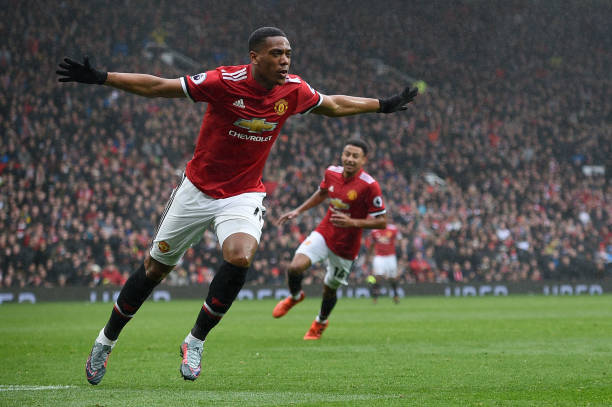 A late close-range finish from Anthony Martial helped seal all three points for United on a tense afternoon where things could've been completely different had Spurs converted their opportunities. The victory closed the gap between themselves and rivals City at the top of the Premier League to two points ahead of Saturday's lunchtime fixtures.
Manchester United
David de Gea: 6/10
Didn't assert himself nor team-mates with the same confidence and belief that he usually does. Could've easily conceded early on after dropping the ball from an inswinging cross but distribution was accurate for the most part.
Eric Bailly: 7/10
Did fairly well on his first appearance for a month, though showed a few signs of rust. Was composed when he needed to be, though passing was poor.
Chris Smalling: 7.5/10
Two tackles, four interceptions and nine clearances with no fouls committed. Those stats alone show that the 27-year-old was United's best defender on an occasion where they all needed to be focused and concentrated throughout.
Phil Jones: 7/10
Most of the tough-tackling and interceptions were reserved for compatriot Smalling on this occasion, though Jones was regularly called upon to make important clearances and still had to be alert.
Antonio Valencia: 6.5/10
Was okay going forward but unconvincing in a defensive sense. Relied on his acceleration and strength more than usual to avoid compromising situations where positioning out of possession was wayward.
Ashley Young: 8/10
For someone who receives so much criticism, it's refreshing to see Young respond in such impressive fashion. Embraced the physical challenge defensively and made plenty of important interventions to halt Spurs forwards in their tracks down his side.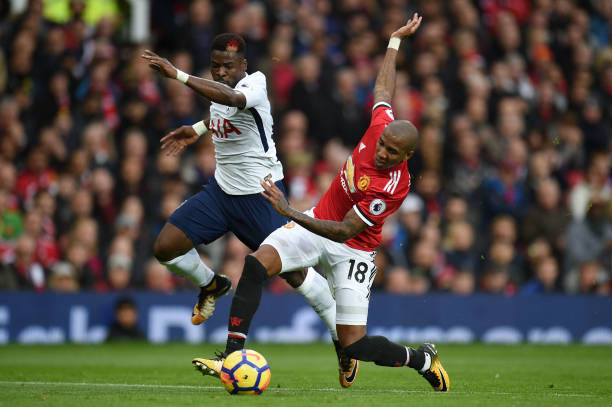 Nemanja Matic: 7/10
Could sense his towering presence in midfield throughout. Was solid defensively and you could tell he tried to edge United on, though his attacking contributions were left restricted by Tottenham's midfield.
Ander Herrera: 6.5/10
Not imposing as he would've liked to be, though in fairness to him, made three tackles and interceptions too. Crucially committed five fouls though, which was a big blemish on a solid display.
Henrikh Mkhitaryan: 5/10
Again frustrating, once more another disappointing display by the creative Armenian. Squandered possession too often and struggled to grab a foothold in the game, despite a few flashes.
Marcus Rashford: 5/10
A frustrating afternoon for the youngster, who made enough forward runs but was not spotted regularly to take full advantage. Then when he did receive possession, often picked the wrong choice as Spurs gradually grew into proceedings and did their utmost to isolate him alongside Lukaku.
Romelu Lukaku: 7/10
Isolated for large periods but importantly, was involved when needed most. Unlucky to see his header flash off the post, before a headed pass proved pivotal – setting Martial on his way to snatching the victory late on.
Substitutes – 
Jesse Lingard: 6.5/10
Was played away from his preferred position again and almost earned an assist too. It was his delivery into the box which saw Lukaku's header bounce back off the post with pressure building as time continued.
Anthony Martial: 8/10
Another goal and an important one for United this weekend, Martial will be happy to have made a significant contribution from the substitutes' bench – where he'll want to gradually transition away from in the coming weeks. Played for twenty minutes on this occasion and with matches coming thick and fast, the Frenchman will be eager to earn more.
Matteo Darmian: N/A
Came on in stoppage time, not enough to warrant a fair rating.
Tottenham
Hugo Lloris: 7.5/10 
Made a handful of saves as usual but could do nothing to deny Martial from close-range, as he struck downward into the ground – making it even tougher to stop.
Toby Alderweireld: 6/10
It was his hesitancy which proved pivotal as United snatched a late winner. Should've challenged Lukaku more in the air, instead misjudged the flight of the ball and backed off – allowing him both time and space to flick on.
Jan Vertonghen: 7/10
Was the best of Tottenham's defensive trio on this occasion, made four interceptions and five clearances as United piled on the pressure after the break. Could not have done much more to try and stop Martial's strike, not least as it was the opposite side to his own.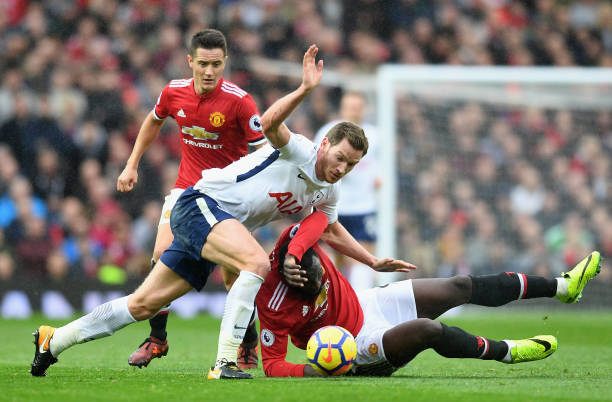 Eric Dier: 6.5/10
Was comfortable and confident in possession as usual, whilst doing well to keep Lukaku quiet for sustained periods. However, he should've been more aware of his surroundings during the build-up to Martial's finish and will be annoyed that he didn't do enough to stop the Frenchman in his tracks.
Serge Aurier: 7/10
Kept Young busy down the flank for sustained periods and was inches away, on more than one occasion, from creating a goal – either for himself or for teammates in the centre. Faded as the match progressed, which was to be expected without regular possession or freedom to accelerate forward as much.
Ben Davies: 7/10
Led the way with three completed key passes, five clearances and three interceptions. Made important interventions defensively but couldn't replicate that going forward.
Harry Winks: 6.5/10
Started slowly but grew in confidence as the game progressed. Didn't create much of note in the final third but was a solid ball-carrier and wasn't afraid of receiving possession either.
Moussa Sissoko: 6.5/10
Must stop shooting! Tried his luck with a number of strikes from distance, all of which were underwhelming – even though only one was from a promising position. Made his presence felt in midfield with strong challenges and did fairly well nonetheless.
Christian Eriksen: 6.5/10
Another quiet performance from the creative Dane, who only really got going once the match reached the latter stages. Had 87 touches and three completed dribbles but was more occupied with trying to create space for himself than others, who failed to make many bursting runs to utilise his playmaking capabilities.
Dele Alli: 6/10
Another disappointing display by his high standards. Was fouled on a handful of occasions, which saw his patience gradually wear thin in a high-pressure situation. As everyone knows by now, that makes him an easy target for provocation – Young and Lukaku made sure he was rattled. It ultimately had an adverse effect on his performance, as passing was inconsistent and he squandered a golden opportunity to break the deadlock from close-range too.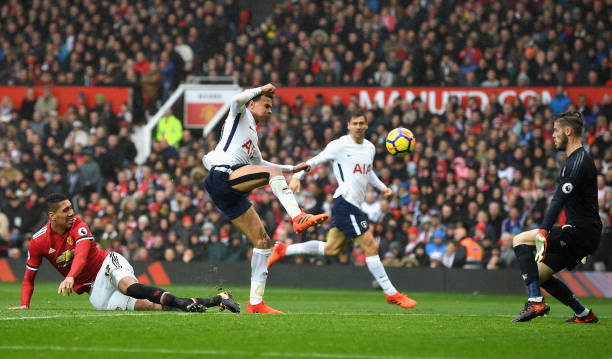 Son Heung-Min: 6/10
Tried, but wasn't enough. You could tell by Son's display that Spurs were missing the focal point in their attack and he seemed either positionally unaware or too sloppy to help link play effectively. Understandably brought off.
Substitutes –
Mousa Dembélé: 7/10
Did his best to burst forward while not shying away from defensive responsibilities – the Belgian usually starts when fully fit and showed exactly why with an impressive 30 minutes here.
Fernando Llorente: 6/10
The experienced Spaniard didn't have much opportunity to create or be involved in the final third, which was frustrating for him. A shame, perhaps Pochettino could've introduced him from the start?
Statistics courtesy of WhoScored