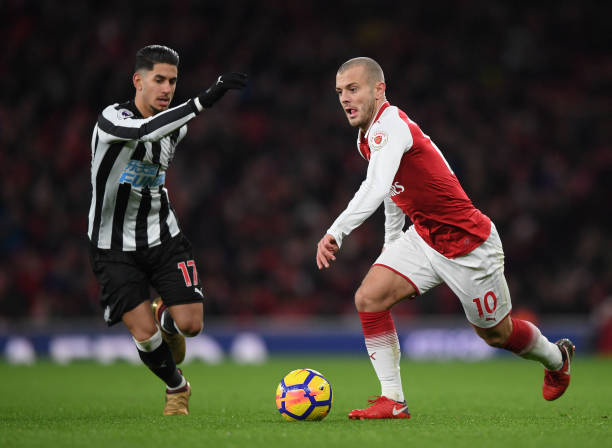 The talented creative midfielder, who has just over six months left on his existing Arsenal deal, is yet to hold talks with Arsene Wenger about a new contract extension. He will be free to speak with overseas clubs about potentially joining on a pre-contract deal from January 1, his 26th birthday.
Jack Wilshere started his second consecutive Premier League fixture for the Gunners in well over two years during a slender 1-0 home win over Newcastle earlier this afternoon.
Having impressed while out on-loan with AFC Bournemouth last season, the Englishman has progressively earned his way back into the Arsenal fold – at the right time in his development too.
He was one of few positives in midweek during a forgettable goalless draw away against West Ham and consequently saw his starting place remain against Rafa Benitez's side.
Wenger has not been shy when previously questioned about Wilshere's long-term future at the club, but with his troublesome injury record, many critics suggested it would be best if he had a fresh start away from the Emirates on a permanent deal.
With six months left to run on his current deal, the fact that he is yet to hold talks can be interpreted in two ways: Wenger is moving cautiously to gauge whether or not he believes Wilshere can be a player that he'll build around for future seasons if the likes of Alexis Sánchez and Mesut Özil leave.
Alternatively, he feels there are more pressing issues to worry about than the future of a player who has shown flashes of world-class ability but not been fit enough for a sustained period of time to show this on a consistent basis since breaking through as a fresh-faced teenager in 2009.
Wilshere himself is keen on making Gareth Southgate's England squad for next summer's World Cup and needs to be playing regularly to show he's both match fit and good enough on form to be selected.
He's undoubtedly a creative force and one that the Three Lions would benefit from, alongside the likes of Dele Alli and Raheem Sterling in the final third.
As quoted by the Evening Standard he said, "There's no update. We're in the same position we were in two weeks ago. There's not really a date in the diary for talks – I've only read what he's said in the media."
"At the moment, I'm concentrating on staying fit and staying in the team. That will look after itself and when it's the right time, I'm sure the boss will pull me over so we can have a chat. I've said before that the next step for me is to get into this League team and then stay in it."
It is widely believed that Wilshere is more than happy to stay at Arsenal and wants a contract extension, but equally feels as though he needs assurances over playing time before committing his future to the club – which is fair enough given his unfortunate instances with various injury issues over the years.