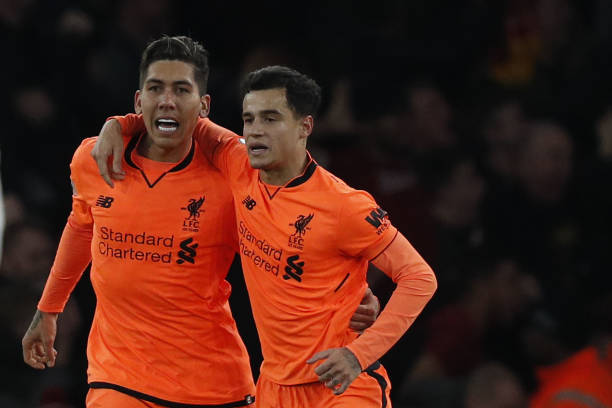 Roberto Firmino watched on as his effort bundled in after Petr Cech's hapless parry, which proved enough for Liverpool to earn a point and avoid losing all three after a remarkable second-half fightback from the hosts – who netted three goals in the space of just five minutes.
If you are surprised, you should not be. This encounter was always going to be one between two sides with attacking quality in abundance, but defensive struggles have overshadowed their progress – or lack of – in recent seasons.
Unsurprisingly nervy start
As a result, it was understandable that the opening exchanges were like a game of chess. Both sides showing one another ample respect, while trying to assert their dominance ever so carefully before scoring the first goal.
Liverpool scored four goals in the reverse fixture at Anfield back in August, so you would've been forgiven for expecting Arsène Wenger to adopt a more cautious approach – even with the home advantage on this occasion.
Instead, he played Granit Xhaka alongside Jack Wilshere in an intriguing midfield pairing – not least given Wilshere's tendencies to get forward more often than not, and Xhaka's need for more protection alongside him.
Ainsley Maitland-Niles was rewarded for his recent form with another start in an unfamiliar position at left-back, and equipped himself well too against the league's top goalscorer Mohamed Salah.
Fortune prevails as Reds earn cushion
Salah has already netted goals aplenty since his £30m switch from Serie A side AS Roma in the summer and despite a stroke of luck, scored another on this occasion.
There was not much that Maitland-Niles could have done, though the Egyptian's deflected strike wrongfooted Cech before nestling into the bottom corner.
Just six minutes after the restart, Liverpool now had a two-goal cushion and one many would have expected them to extend. After all, they were dominant in terms of chance creation before the interval and could have had a two or three-goal advantage going into half-time.
Laurent Koscielny's patience and timing went unrewarded when defending one-on-one with Salah on the break: his pass in the area took a wicked richochet off the French centre-back and fell nicely for Coutinho, who was in the perfect place at the right time to break the deadlock with a looping header from close-range.
So, Liverpool had their lead and were seemingly cruising, so what went wrong? Things do not always go to plan, especially from a Liverpool perspective. Arsenal, buoyed by a promising start despite a frustrating inability to retain possession in dangerous areas, needed to respond.
Gunners extinguish two-goal lead in minutes
They were the hosts, the team who needed this victory more, one gunning (pardon the pun) for revenge. So straight from kick-off, they were quietly probing the Reds' backline and before you knew it, Alexis Sánchez was wheeling away to pick up the ball and signal that this encounter, far from over.
Hector Bellerín – who is continuously criticised for his poor final ball – whipped in a brilliant delivery and Alexis reacted quickest, beating Joe Gomez to the ball before prodding home from a few yards out.
Simon Mignolet has his fair share of critics too, and they were undoubtedly in full force after Granit Xhaka levelled the scoring just two minutes afterwards. The Switzerland international, encouraged to shoot from range, let fly with a powerful effort which swerved in mid-air and deceived the Belgian 'keeper.
2-2, but no, Arsenal were not finished yet.
Mesut Özil, whose individual brilliance is often overlooked, stamped his authority on the game with a well-taken goal at the end of a well-worked move. That time, Mignolet simply had no chance.
But just like Liverpool, Arsenal often crack under pressure on their goal and Cech – who made a good stop from Salah in the first 45 – was at fault for Firmino's goal to level the scoring once more.
Sure, the Brazilian put in a shift and showed flashes of his own skill to beat his markers, but his goal was a Christmas present.
One that Arsenal will rue, Liverpool happily snatch and one which ultimately reiterates why neither side can progress beyond their current form when they play like this. Neutrals will naturally hail it as a game of the season contender, but the naivety on display from two of the league's best is something that a few acquisitions simply will not rectify.