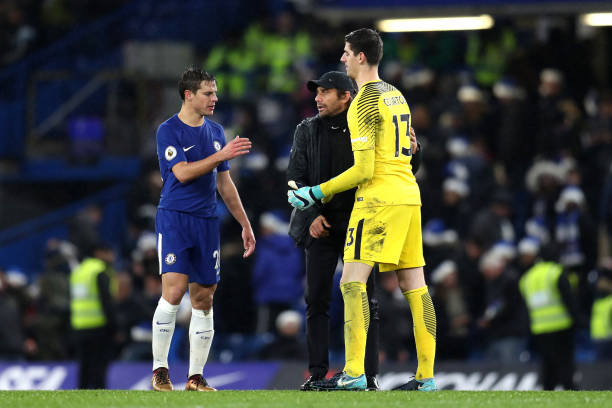 Having reportedly rejected their initial contract offer, Chelsea goalkeeper Thibaut Courtois has been offered a new extension deal to sign on for five more years – rightly so. The imposing Belgian, 25, is one of the world's best and if they agree new terms, it will reinforce the Blues' long-term plans going forward.  
Signed for a reported £8.5m from Belgian side Genk in the summer of 2011, Thibaut Courtois was loaned out to La Liga giants Atletíco Madrid and saw his stock rise considerably after two impressive seasons in Spain.
Since returning to west London, he has successful ousted the legendary figure of Petr Cech in the Chelsea goal – no easy feat – whilst winning two Premier League trophies in three years.
Asmir Begovic was signed in an attempt to keep Courtois on his toes in regards to competition – but the former Stoke City man has since left to join AFC Bournemouth, where, just like fellow Blue Nathan Aké, he is featuring on a regular basis.
Willy Caballero is Chelsea's current second-choice goalkeeper and although the 36-year-old is a decent back-up option, it's fairly obvious to many that he just would not start over Courtois for important fixtures, fitness permitting.
Strengths and his critics
Every goalkeeper has flaws that attackers look to exploit, but the fact that Thibaut has displayed his world-class quality on numerous occasions in recent seasons is commendable. Although, he himself has been scapegoated for Chelsea's shortcomings when they succumb to defeats against sides they really should beat.
Courtois' aerial ability is one strength to his game that not many others can offer. His jumping reach and physical presence help provide stability while instilling confidence amongst team-mates.
It's becoming increasingly important for goalkeepers to be comfortable in possession of the ball, not least in and around their own box, as they act as an additional outfield player and often start attacks or aim to play out of an opponent's pressing tactic 'ala Ederson against Tottenham last weekend.
Courtois is confident and calm with the ball, though his decision-making at times can leave supporters with jitters. Whether it's a touch too many, an unfortunate slip or half-moment when you think he's made a mistake – which he quickly recovers from – there is always something that many find to criticise.
He's a likeable character too. Someone who genuinely interacts with fans, is honest during interviews and this candid approach can often irritate traditionalists who feel their players should focus on doing their job for the team and for the most part, keep their opinions private.
It can also be construed as outspoken, which potentially becomes a worry if speculation about their future – just like Courtois in this case – continues to rumble and the player themselves does not rule out leaving.
Chelsea are a side that rarely concede many shot on their goal in an average match. So when opponents do take efforts on goal, Courtois is, more often than not, expected to save them with ease.
When you compare him to Manchester United's David de Gea, who often has to save his side and consequently win them points with his goalkeeping displays, you could be excused for believing that the Spaniard is a better alternative – just because he averages more saves per goal conceded.
As an example, he's already made double the number of saves that Courtois (30) has had to make this term with 61 in 18 appearances thus far. He's also conceded two fewer goals and earned one more clean sheet.
However if you analyse trends, you'll understand that this is common for Courtois. As a world-class goalkeeper, it's important to maintain your concentration throughout the 90 minutes, as things can change in an instant and you should be prepared.
14 goals conceded, 19 matches played. From all shots that have beaten him this term, you could perhaps argue that he should have saved Burnley's first goal during their 3-2 win on the opening weekend.
It nestled into the bottom corner, he got fingertips to the effort but couldn't get down low enough at speed to deny Sam Vokes:
Other than that, he was essentially helpless to stop any strikes in truth. Most were either from close-range and well finished, or a 50-50 such as Jamie Vardy's penalty, the own goal away at Selhurst Park and Doucoure's thunderous effort last month.
Statistics – How Courtois compares at the halfway point this term, to previous seasons:
2015/16 (the season that Chelsea finished 9th): Played 23 games – 52 saves, 57% distribution accuracy, 29 goals conceded, 5 clean sheets.
2016/17: Played 36 games – 58 saves, 72% distribution accuracy, 28 goals conceded, 16 clean sheets (league high).
2017/18: Played all 19 games – 30 saves, 75% distribution accuracy, 14 goals conceded, 9 clean sheets.
If he continues to perform as he is, it's likely that he'll break his own personal clean sheet record – having already improved upon his distribution accuracy too. In terms of saves, this stat is a subjective one – teams with better defences should not require their goalkeeper to make important saves regularly. With that being said, Courtois has been called into action to deny clear goalscoring opportunities this season – even if he's not given the level of praise that de Gea is, in comparison.
His current contract, reported to be £100,000-a-week, has 18 months still to run. So there's no rush, although Chelsea would understandably like to have his future clarified sooner rather than later. Not least with Real Madrid and PSG reportedly lurking over the situation.
When asked earlier this month, manager Antonio Conte stressed the importance of finalising new terms.
"Thibaut is one of the best goalkeepers in the world. It is normal during the season to have the contact between the player – or the agent of the player – and the club. I hope that at the end, Thibaut will sign."
If he does, not only will he become the world's highest-paid goalkeeper, but he would have earned it too.
Stats' source: Squawka