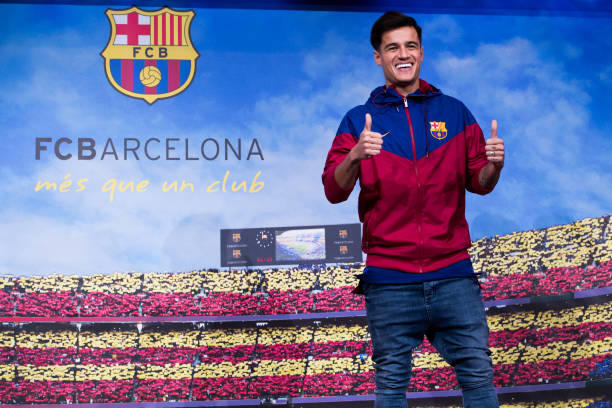 Another transfer saga is finally over. Just four days after Liverpool broke the world-record transfer fee for a defender to sign Southampton's Virgil van Dijk for £75m, their own key creative asset in Philippe Coutinho has departed for La Liga giants Barcelona – becoming the world's third most expensive player of all-time in the process.
He did not come cheap either, but after months of protracted talks and frustration from both parties, a lucrative five-and-a-half year deal has finally been agreed.
Barcelona are set to pay £106m upfront, with the remainder set to be paid in various installments. The breakdown:
– £17m will be paid once Coutinho makes 100 Barcelona appearances; £4.4m per 25 matches
– £4.4m paid for Champions League qualification in his first two seasons
– The same price as a bonus if Barca manage to win the competition
The Brazilian playmaker did not feature as part of the Liverpool side who narrowly beat rivals Everton 2-1 to progress into the FA Cup fourth round, nor did he travel with them on their warm-weather break to Dubai the following day.
Instead, he flew in the opposite direction towards Spain. He was previously adamant that he wanted to leave and now that he sustained another injury – this time a thigh strain – it seemed like opportune timing to go ahead with the move.
Coutinho's injury update and why is he cup-tied?
Ernesto Valverde has already confirmed the 25-year-old will be sidelined for around three weeks with the injury and although there is genuine surprise that a deal was agreed in January, it makes sense going forward.
It allows Coutinho ample time to settle into his new surroundings, get used to his team-mates and everything before a new season starts in eight months' time.
He's cup-tied and therefore ineligible for selection during this season's Champions League knockout stages, having already featured in the group stages for the Reds. It's a frustrating rule but one Barca can ultimately do nothing about.
However, they already have a nine-point lead atop the La Liga summit and are expected by many to regain their crown as league champions this term – it would be Coutinho's first league title as a player.
Liverpool meanwhile face an uphill battle in the months ahead, as they're set to battle with teams like Tottenham and Arsenal for a place in the top-four while attempting to challenge on all fronts.
They face FC Porto in the UCL last-16 next month.
He took part in a brief photo session at the Nou Camp following Barcelona's 3-0 win over Levante earlier on. He's set to officially sign his contract during an official presentation on Monday, and had this to say during an interview with BarcaTV:
"It is incredible to know that I am going to live with idols, players with a lot of history. Footballers like Leo Messi, [Andres] Iniesta, [Gerard] Pique, [Sergio] Busquets. I am very happy to be able to live together, to be able to learn from them and be able to win together."
Valverde meanwhile, said: "We can take advantage of Coutinho's versatility. He scores and sets up goals, going forward he can help us a lot as he can play both inside and out wide. I think he can bring a lot to the team."
opinion: so, Have Barça overpaid?
Frankly, yes. With transfer fees being increasingly inflated, it's becoming harder to truly understand the value of money in football.
£105m upfront for Coutinho, who at 25, still has potential left to fulfill. That in itself is a frightening prospect and one he's likely to progress through with, in the company of many world-class players.
His versatility to play across midfield, as well as on either wings, means that he is useful in a range of different areas – both from deeper positions where he can dribble out with the ball to feet, as well as potentially being a creator-in-chief further forward alongside the likes of Lionel Messi & his supporting cast.
It's harsh to judge a player on his price tag and Coutinho falls into this category, as he was Liverpool's best player and it always seemed as though Barca would need to pay a premium to acquire his services.
That's precisely what they did and in the long-term, it's likely to pay off one way or another.
Liverpool will undoubtedly be thankful for the Brazilian's service, his excellent goals, attacking contributions and the like but £142m for someone they signed in 2013 for £8.5m?
That's a ridiculous sum of profit for someone many still refuse to believe is in the top-tier bracket. Now is his opportunity to prove exactly that, though it's also fair to say that he's not as good (yet) as some who left for Spain before him: Thierry Henry, Cristiano Ronaldo, Gareth Bale and even team-mate Luis Súarez.
Many have already labelled him the heir to Andres Iniesta's throne, though he'll be 26 once the World Cup gets underway in six months' time. He's a fantastic player and has plenty of ability to flourish in Spain, but Barcelona made clear their intentions to sign him without any additional alternatives set aside – overpaying to compensate for Liverpool's ever-increasing asking price.
Transfer fee breakdown source: Guardian