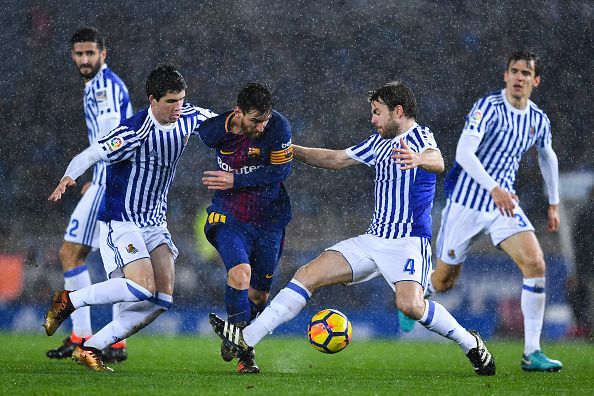 In all of Europe's top five leagues bar Italy, the smallest gap between the top spot and the second place is nine points. We're only midway through January and yet the competitive aspect of an actual title race has seemingly faded away, but why?
England's Premier League has been continuously praised for its unpredictable nature, being a physical competition where anyone – regardless of form – can prevail against even the biggest and the best sides. It's true too, but this term, the title race is almost already not a question.
Instead, critics and teams themselves are focusing their energies on competing for a Champions League spot in the top four, which is a prestigious achievement in itself.
Last season, qualification for a place among Europe's elite came down to the last day – Manchester City, Liverpool and Arsenal were in third, fourth and fifth respectively with only two points between the trio.
City themselves have essentially run away with the title already. Their 4-3 away defeat to Liverpool yesterday was their first league loss this season – highlighting just how far you can surpass rivals once you've embarked on an unbeaten run.
The same applied to Chelsea last season en-route to their title success, winning 13 successive matches after a 3-0 humbling by London rivals Arsenal in late September.
While rivals drop points, as they usually do, teams can develop unassailable leads if they manage to maintain consistency while riding their luck with limited injuries, suspensions and the like.
That's precisely what has happened in Spain too, with Barcelona. At the start of the season, many were quick to brand their situation as a crisis following Neymar's surprise switch to PSG.
Their squad depth did not look particularly reassuring and the load would be heavily shifted towards Lionel Messi – again – to lead from the front with goals and assists aplenty. Real Madrid appeared dominant once more and plenty were predicting a clean sweep of silverware again for Los Blancos.
Fast forward to December 23, Barça were 3-0 winners against the defending champions at the Bernabeú. The comfortable victory left them a whopping 14 points ahead of Zinedine Zidane's side, who were supposed to be pace-setters in the division and not trying to catch up.
Why? Barcelona are unbeaten this term. 19 matches played, three draws and they're now nine points ahead of closest rivals Atlético Madrid. In comparison, Real have already lost four and drawn five league matches too.
In France, the competition is not perceived to be particularly strong. Although AS Monaco were winners last season, it's being described as an exception to the rule as PSG are now far superior to the rest of the top-flight sides.
PSG won Ligue 1 four consecutive years running, so it's hard to argue with that belief. The level of money that is being continually pumped into the club's transfer finances means they can easily outmuscle their domestic opposition, while aiming to focus on breaking into Europe's elite in the Champions League.
It has to be said that their competition is not consistent nor good enough to effectively challenge them. Monaco, Lyon and Marseille are not collectively as strong, while the gap between sixth-placed Nice on 30 points and PSG (53) is bigger than that of them and the relegation places – 18 points in comparison.
Germany meanwhile, is in a similar predicament. Many have criticised the lack of competition for Bayern, who tend to win the Bundesliga every year by a comfortable margin without much trouble.
This term is no different, as they're 13 points clear of closest rivals RB Leipzig. In terms of quality, Borussia Dortmund are arguably the only team capable of challenging them, but they have struggled for consistency in recent seasons and have tendencies to struggle against weaker sides who defend for sustained periods, looking for counter-attacking opportunities.
Instead, just like in England, the competition for top-four places is more intriguing. Schalke, Bayer Leverkusen, Borussia Monchengladbach, the aforementioned Leipzig and BVB are all eager to earn a Champions League place alongside Bayern every year, but they do not have the financial means to realistically aim for higher than that.
Conclusion
For the most part, the top leagues are less competitive at the top because the best are far superior to their competition. Paris-Saint Germain, Bayern Munich and Juventus are perfect examples of this – regardless of their form over a league campaign, they usually win their domestic title.
In England, this is not always the case. There is usually a new winner every year, or at least a different one to the previous season. Since 2008, no team has successfully retained their Premier League crown, which is a testament to the fact that it's so difficult to do with rivals continually strengthening with time, while tactics and managers in charge change too.
Juventus have won six consecutive Serie A titles, but their competition continues to intensify on a yearly basis. Current leaders Napoli have been their biggest adversaries, alongside Roma and Lazio in recent seasons. Although both Milan clubs are going through a rebuilding phase, it's unlikely that either will sustain a title charge for a few years yet.
As for Spain, it's been a duopoly at the top – either Barcelona or Real Madrid would prevail come May every season. In terms of ability, they are stronger and have better players than most of their rivals would so even if say, Valencia or Athletic Bilbao earned a surprise victory over either, they struggle to remain consistent throughout.
Atlético have done well to challenge the pair and even won the La Liga during the 2013/14 campaign, but even that went right down to the final day. Becoming the first side other than the aforementioned duo to win Spain's top-flight division since 2003/04, it emphasises the difference between top sides and those chasing.