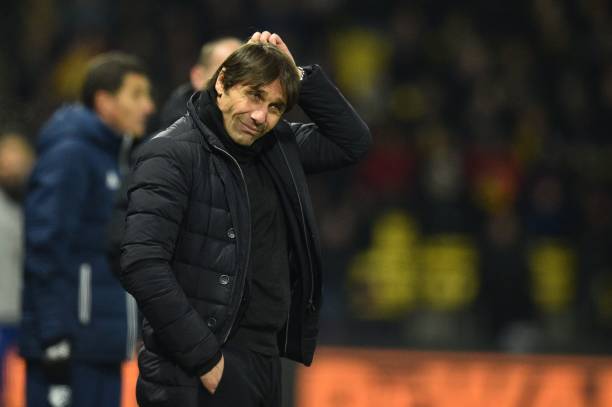 Antonio Conte responded to claims that his tenure at Chelsea is nearing its end with dogged defiance – stating he's not worried about his job, while admitting the team's performance was overshadowed by fear, questioning whether or not some have the strength of character to be at a big club.
Watford 4-1 Chelsea. Even to neutrals, given the two sides' current form, that scoreline says plenty. Their second successive defeat by three goals, the first time they've suffered in such a manner for 22 years, it's no surprise that Conte would be under heavy scrutiny from supporters and critics alike after the thumping at Vicarage Road.
As quoted by the Guardian, Conte said: "We played with fear, to play football in a great club, it means you must have a personality. It's simple to play when there is the confidence – especially in this type of moment, you can see who is [ready to play] for a great club, too play with personality and also to risk something."
"I try to continue to work, to try to improve different aspects of my players. But our performance was very poor. For sure, I have to take the responsibility. Maybe I made the wrong decision for the starting XI."
Tiemoue Bakayoko's needless dismissal after just half-an-hour was the exclamation point during a frustrating evening for the visitors, who ultimately delivered so little from a fixture they should have dominated to justify their response to a shock 3-0 home defeat by Bournemouth last week.
Eden Hazard's well-taken strike was an equaliser but only proved to spur Watford forward even further in their attempts to make the game beyond reach of their London counterparts.
"I saw a great will, great desire in the second-half but a lot of confusion too. When we drew level we had to manage the situation, to understand the moment. A great team must do this – instead in six minutes, we conceded three more goals. I didn't see confidence from the start, we started with fear and this is the worst situation I can see out on the pitch as a coach."
The prospect of losing his job as Chelsea boss continues to rumble, but the Italian has remained bullish about his future with Roman Abramovich looming large once more.
"I'm not worried about my job," Conte added.
"I work every day and give 120%. Ok? If this is enough, it's ok. Otherwise the club can take a different decision – but I'm not worried.
Chelsea's next league fixture is a home clash with strugglers West Bromwich Albion, who have only won three top-flight matches this term and find themselves at the foot of the table in the relegation zone.
The Blues have lost six Premier League games already this campaign, three of which have come against sides in the bottom half, and after recent showings, they need a near flawless display on Monday evening to arrest – temporarily – fears of a downward slump.
The final and arguably most telling quote from Conte's post-match press conference was this one:
"The problems you have to solve with work, you don't win with excuses. In my life, I like to be a winner and I'm a winner. Now it's very difficult to predict turning this situation into a positive, but I can promise to work to change it. But, I repeat, the level of our performance was very poor."