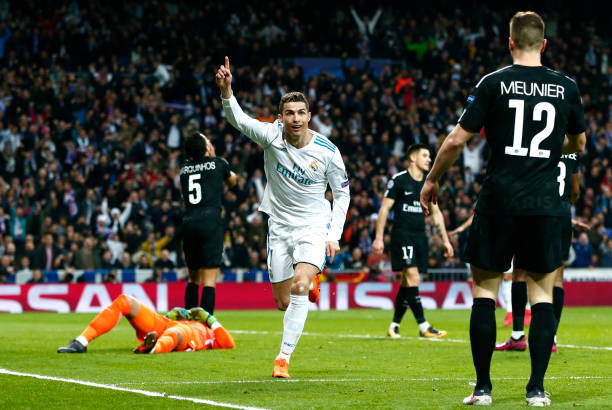 In what could've been this season's UEFA Champions League final, Real Madrid ran out 3-1 winners over PSG after a spirited second-half display. Marcelo and a Cristiano Ronaldo brace ensured the hosts travel to Paris in a fortnight with a two-goal advantage, but it arguably should have been a completely different story had Unai Emery's men taken more of their goalscoring opportunities on the evening. 
The big news ahead of kick-off regarded team selection: Presnel Kimpembe started alongside Marquinhos at the heart of PSG's backline – Thiago Silva was surprisingly dropped to the substitutes' bench by Unai Emery. Only time would tell whether the Spaniard's bold decision would ultimately pay off.
Real's bright start buoyed by madridistas
The hosts started brightly and unsurprisingly, they were buoyed by their boisterous home support. Cristiano Ronaldo came close early on, moments after Toni Kroos' shouts for an early spot-kick were waved away by the referee. Replays showed the German midfielder was looking for it, over-exaggerating the contact.
Marcelo received medical treatment early on too, after a heavy clash with compatriot Dani Alves as the pair battled for possession. Fouls were flying in left, right and centre with the referee having to assert his authority early on – issuing final warnings to players about their tackles after just ten minutes.
Meanwhile Neymar was gradually getting himself into proceedings. Most of his time was spent either trying to create space as a passing option or, alternatively, writhing on the turf. Then he got himself booked for a needless foul on Nacho in the Real half, before continuing to miss promising opportunities either by the wrong decision or simply slipping to ground on the Bernabeú turf.
Thrice this occurred in the opening half-hour, Real defenders were nonetheless struggling to contend with his sheer trickery and acceleration bar Raphael Varane – who seemed to match him for pace and determination as he continued cutting inside from the left.
Chances aplenty as deadlock is broken
Giovani Lo Celso displayed his inexperience with a needless backheel midway in his own half – and was fortunate not to be punished as a result. Isco danced his way beyond Marco Verratti before the 21-year-old responded with a futile attempt to atone for his error. Bundling the creative Spaniard to the ground, he conceded a free-kick from a dangerous area but Ronaldo's eventual effort flew high and over the crossbar.
Marcelo's fantastic passing range was on display once more after he picked out a devilish pass for Ronaldo, who was bursting forward from the opposite flank. His eventual close-range effort was thwarted by Areola, making his 6ft 5in frame count before getting wacked square in the face by the Portugal international.
Ronaldo reacted angrily, which was granted given the circumstances. It was a golden opportunity to break the deadlock, one he'd rue minutes later.
Kylian Mbappé, who I've managed to not mention in my first 400 words, cut a frustrated figure for most of the first-half. Out on the right, he often got himself into promising positions but was rarely passed to, by either Neymar nor Cavani when they were in the final third.
So sure enough, he'd make his mark once he had an opportunity. On this occasion, he skipped past Marcelo's challenge as though there was no-one there – before swinging in a teasing early delivery into the box.
Cue panic stations for Real's backline, backpedalling ferociously to try and recover. It was too late. Cavani and Neymar were already in the box, anticipating some Mbappé magic – the Uruguayan's dummy saw the ball fell into Neymar's path. His deft backheel flick saw the ball sit perfectly for the onrushing Adrien Rabiot – who made no mistake to open the scoring with aplomb and silence the home crowd.
Oh Lo Celso…
Then sure enough, after such a disciplined first-half display and one which they found themselves ahead in, PSG's hard work was undone by another needless action by Lo Celso.
Real's patient passing play saw Kroos heading goalwards in the area. Lo Celso, already on a yellow card for his earlier mistake, grabbed hold of the German's shoulder with no attempt to even play the ball in-front of him. This time, there was no debate as the referee pointed to the spot. Ronaldo, so wasteful and out-of-sorts in the first 45, made no mistake from 12 yards – firing low and hard beyond Areola.
As the second-half began, neither side made any substitutions.
The pace of the game unsurprisingly decreased as fatigue became a factor, but both defences were determined to hold firm – in spite of Real's persistence to find another goal from somewhere. After all, they'd already conceded a crucial away goal..
Subs change the game, again
With just over 20 minutes to play, it was time for the two teams to show their hand – PSG made two changes as Thomas Meunier and Gareth Bale were introduced respectively. Mbappé would play a more central role while Alves moved further forward – Meunier acting as more defensive cover, Bale combining alongside Ronaldo in attack.
Sergio Ramos made a crucial goal-saving block to deny Kimpembe after a goalmouth scramble, as PSG's dominance began to show in the closing stages. Finding spaces more easily in midfield, they were seemingly able to pick the hosts apart at will but of course, Real's counter-attacking brilliance was still lurking there.
Bale did well to hold up play and fashion a chance from a difficult angle, before a succession of corner-kicks were well defended and Real's momentum had faded once again.
With just over ten minutes left, Zinedine Zidane made a double substitution – Lucas Vazquez and Marco Asensio came on in place of Casemiro and Isco, a clear sign of their attacking intent. They were continually being pushed backward while both Modric and Kroos had already worked hard at the base of their midfield.
Kimpembe made an important sliding block to deny Bale at the near post, but the Frenchman's defensive efforts ultimately went unrewarded a few minutes later.
Asensio burst through down the left beyond Meunier, before his attempted cross was initially intercepted by Kimpembe. As he attempted to pass the ball to safety, he was fouled by Ronaldo – but the referee waved play on as though nothing had happened, in the build-up to their second goal.
Seconds later, the ball found its way to Ronaldo perfectly and having quickly adjusted his body to respond in the box, he converted with a flick of his knee to give Real their first lead of the match.
It was cruel, but Real didn't mind. They weren't finished, either.
After good work once more from Asensio down the flank, Marcelo applied the finishing touch to a well-worked passing move, albeit with the help of a fortuitous deflection, which spun wickedly beyond Areola into the back of the net within a flash.
3-1. PSG were stunned and the Bernabeú was bouncing once more.
It's astonishing just how quickly criticism can change from one to another – Zidane, who has been under pressure all season, will be rightly applauded for his decisions here. Emery, whose side are once again dominant across all competitions, and his side must respond.