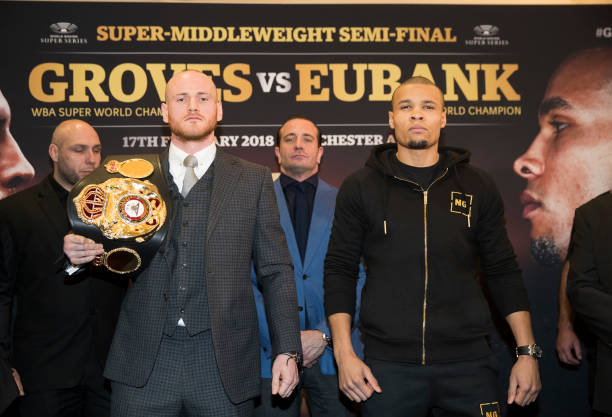 George Groves has stated his belief that Chris Eubank Jr will pay for doing too much promotional work ahead of their World Boxing Super Series semi-final clash on Saturday night – while the 28-year-old himself had some interesting words to say… 

The 29-year-old (27-3, 20 KOs) admits that he himself did too much in the build-up to his knockout loss against fellow Englishman Carl Froch back in 2014.
Naturally, he believes that Eubank Jr is doing the same – which will come back to haunt him inside the ring on Saturday. As quoted by ESPN, he said: "I did loads of promotion ahead of that fight, but it's like walking a tight rope the more of it that you do."
"You run the risk of alienating fans which would have made it more difficult after winning. Win emphatically and people quickly forget, but get knocked out and you have a massive fall from grace. Then there is a massive task at hand to get back and rebuild."
Eubank Jr, who beat Avni Yıldırım in the quarter-finals back in October, has been seen doing promo work with various companies – a visit to Manchester United, talkSPORT and a special guest appearance at the Black Panther premiere to name but a few.
Groves continued, saying he feels as though his opponent believes he's already got the match won.
"Eubank is looking beyond this fight. He believes he is going to win because it is his destiny, his time. But it is not his time, no-one owes him nothing. This is about who is better – and he is not."
Eubank's weight class change, press conference comments
Eubank stepped up in weight classes from middleweight a year ago, but naturally, Groves also believes that his compatriot has bitten off more than he can chew here.
"They have done well in commercially building his Eubank brand but they haven't had the tests in terms of fights to back up where he is commercially. Now he has to make that bridging step against me – it's a bridge too far. Saturday is the day when he has to back up all the hoop-la but I believe it is the day when I end it."
During their press conference in midweek, Eubank Jr had some interesting words to say ahead of the encounter – claiming that Groves was jealous of him and promised that he'd be in big trouble too, as he attempts to silence his critics against a credible rival on this occasion.
"You've called me a gimmick and Insta-famous and you're obsessed with this whole trying to get across to the public that I'm not real. I think you are jealous, George. You are in big trouble, my friend."
The winner of Groves-Eubank is set to progress to face either England's Callum Smith (23-0, 17 KOs) or Germany's Jurgen Brehmer (49-3, 35 KOs) in the final – their bout will take place in Germany next weekend.
Set to be televised on ITV Box Office, the fight itself is expected to start at anywhere from 10pm UK time (GMT), and I'll have a match report from what promises to be an intriguing clash this weekend.
Quotes' source: ESPN