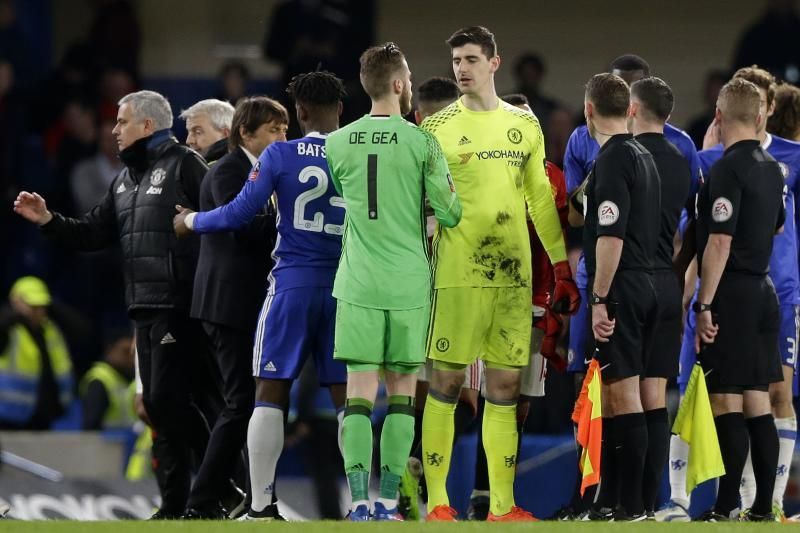 Top-quality goalkeepers are, simply, in short supply at the highest level. So who are five of the Premier League's best prospects?
 Currently, in an era where goalkeepers of the highest quality are becoming increasingly hard to come by, it's clear to see that some Premier League sides have talented prospects – either already started for their respective clubs or showing promising potential to do so in future.Manchester United goalkeeper David de Gea and Chelsea's Thibaut Courtois are almost always the first two names which arise when talking about world-class talent amongst England's top-flight, but who has the ability to match them?
In this top five, we take a look at the best goalkeeping prospects across the league right now.
Honourable mention
Before I start, an honourable mention must go to Newcastle's Freddie Woodman – who won the U20 World Cup with England last summer and played an instrumental part in their success. Having made his first-team debut during their FA Cup third-round win over Luton Town, he was disappointingly left on the substitutes' bench for the following fixture, an away defeat by Chelsea.
Unsurprisingly, he's gone out on-loan in search of regular first-team football. As a talented youngster, one who turns 21 in a fortnight, he needs senior minutes and more experience under his belt, as under-23 fixtures can only take you so far before you're called upon in the thick of the action during competitive matches.
After previous loan spells with Crawley and Kilmarnock, he's gone back out on-loan to Scotland with Aberdeen – finalised on deadline day. He's started three games (one SFA Cup appearance) since joining, conceded four and kept a clean sheet in the Premiership too.
#5 Matt Macey (Arsenal)
A towering figure, it's certainly been a long but rewarding journey into Arsenal's senior side for Matt Macey. Now 23, he excelled at youth level and has been given opportunities to earn first-team experience elsewhere in England, with Accrington Stanley and Luton in recent seasons.
Luton fans themselves were bemoaning the loss of his presence in-between the posts, having been recalled following a Petr Cech injury midway through the loan spell last term. It's easy to see why.
Not only is he a commanding presence, one who catches the ball high and is equally comfortable with the ball at his feet for such a big man, he has a calming influence on team-mates when they know he's around.
He kept a clean sheet during his UEFA Europa League debut against Red Star Belgrade in November, making two important saves to keep his side level, while he was equally impressive during their Carabao Cup home victory over Championship side Norwich with Arsene Wenger opting for an inexperienced crop on the evening.
Back in 2015, Cech tipped Macey to have a big future and as the pair have trained together since it's not a surprise that Matt has continued to build confidence in the company of more experienced rivals.
Cech is 35 now and has struggled to reach his world-class form from his successful Chelsea days, while David Ospina is not deemed good enough to be Arsenal's first-choice goalkeeper. With that in mind, there's no reason why Macey cannot stake a claim to be moved up in the pecking order this summer, regardless of what happens elsewhere.
He signed a new long-term contract extension in December so it's clear that the Gunners believe he's got a future at the club. Having already made his first-team debut this term, he'll be hoping to play on a regular basis sooner rather than later, as he's worked so hard to earn recognition for his ability.
#4 Nick Pope (Burnley)
The oldest in this list at 25-years-old, Nick Pope has burst onto the top-flight scene and continues to establish himself as a tough goalkeeper to beat, in Tom Heaton's absence through injury.
The 31-year-old, sidelined over the past five months having had shoulder surgery, returned to play his first match in a behind-closed-doors friendly this week. Heaton has been a major part of Burnley's ever-improving development in recent seasons and the club captain's return, despite his rival's form, naturally boosted his team-mates.
It's a welcome selection dilemma for manager Sean Dyche to consider, not least as he genuinely believes the pair can battle it out on the international scene too in future.
Pope has kept nine clean sheets and made 78 saves in the Premier League this far this term, which is an impressive statistic as we're now into the business months of the campaign. In comparison, Heaton kept ten clean sheets and made a league high 141 saves during the 2016/17 campaign.
Pope excels at one-on-ones and is able to close the distance between himself and the attacker with an explosive burst of speed, which either puts them off or forces them into making a rash decision from close-range. He's equally a commanding presence in his area and a reliable pair of hands, one who – just like Heaton – is capable of starting attacks from the back.
#3 Angus Gunn (Manchester City, on-loan at Norwich)
The only player in this top five currently out on-loan, Angus Gunn has benefited massively from earning first-team minutes at Norwich City this term.
Perhaps a model example of how Premier League sides should loan out their top prospects, the Citizens were keen for him to earn a guarantee of senior action – the Canaries were happy to oblige.
Naturally, as a player who was born and raised in Norfolk, whilst playing for Norwich's youth academy, this season-long loan deal was always going to mean even more to Gunn than the average loanee.
Returning home, he has embraced the challenge of regular Championship football and asserted his quality too – justifying the faith that manager Daniel Farke placed in him. An excellent shot-stopper, Gunn plays with a refreshing air of maturity for someone who turned 22 last month.
Having broken a club record by keeping five consecutive league clean sheets back in late September, Gunn continues to go from strength-to-strength with the promotion hopefuls.
He has sharp reflexes and many struggle to beat him from close-range, which is an impressive attribute in his game.
Distribution is one area which he'll need to work on, naturally, as this has become an increasingly important component of most team's tactical setup. However, there's no reason why he cannot continue to improve and pressure Ederson with some stiff competition for City's number one spot in future. If not, other Premier League sides will be happy to snap him up.
#2 Jack Butland (Stoke City)
Injury after injury, it's a shame that Butland has been sidelined with lengthy setbacks on more than one occasion in his professional career thus far. The 24-year-old is an excellent goalkeeper after all and naturally, it seems as though plenty of people – critics and neutrals alike – have forgotten just how influential he was and continues to be for Stoke.
Having kept four clean sheets this term, he's made the joint-second most saves across the league alongside David de Gea with a whopping 87. That statistic shows that if he was playing for a better side, perhaps he'd earn the recognition he truly deserves.
Distribution is an underrated aspect of his game, as his kicking over short and long range is impressive, to say the least. As someone who plays for one of the league's lesser sides, concentration is key – Butland does well to excel in tough situations and usually comes out on top against attackers, whether that be in one-on-ones, or counter-attacking moves given his tendencies to take calculated risks.
Arsenal and Liverpool are both reportedly on the lookout for a goalkeeper this summer and Butland, who has been linked to a whole host of clubs, has been forced to deny speculation that his future is sorted. With that being said, everyone wants to play for the best clubs and Butland is undoubtedly ambitious – it's helped stand him in good stead internationally.
This could and probably should be his final season in Stoke-on-Trent, as he deserves a step-up in quality and the opportunity to prove the hype and expectation around his performances in goal are justified.
#1 Jordan Pickford (Everton)
It was always going to be tough to decide who'd top this list, but given his age, potential to improve further and current ability, the number one spot is deserved for Jordan Pickford.
During a rather frustrating season from Everton's perspective, one of few bright sparks has been their goalkeeper – which actually speaks volumes about their defensive issues.
Having sealed a £30m move from Sunderland in the summer, the transfer fee caused somewhat of a storm given the fact that Pickford had only one season of Premier League experience prior to the deal. However, he'd shown sufficient potential to usurp Everton's existing goalkeepers at the time – Joel Robles and Maarten Stekelenburg – while it was never likely that he'd drop down a division alongside his former team-mates.
His distribution and shot-stopping are his standout attributes and although he's made a few mistakes, it's part of the learning process for him. Still only 23, Pickford has carried himself well and importantly, not shied away from making bold decisions in the face of adversity.
It should be no surprise then, that he's being tipped to challenge Butland as England's first-choice goalkeeper over the next decade while Manchester United are reportedly looking at him as their potential replacement for de Gea, should he leave anytime soon.