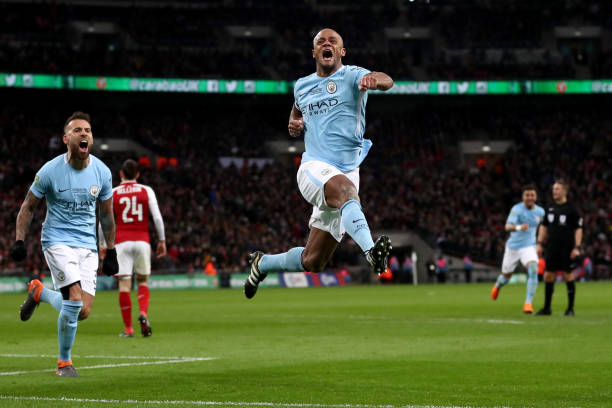 Goals from Sergio Aguero, Vincent Kompany and David Silva helped secure Pep Guardiola's first piece of silverware with a dominant display over Arsenal to win this year's Carabao Cup. The Gunners – who struggled for large periods – seemed to almost relinquish their self-belief after conceding the second.
Plenty of questions will be asked in the aftermath, as the Citizens aim to use this momentum in their quest for the elusive treble while Arsenal disappoint across all fronts as their rivals continue to strengthen.
Both sides came into this match after a surprise defeat – Wigan ended City's hopes of a quadruple title haul this term with a 1-0 FA Cup win on Monday, while Ostersunds were 2-1 winners at the Emirates but ultimately did not go through to the last-16 of the UEFA Europa League after losing on aggregate (4-2).
Early chances in tense affair
Manchester City started quickly in the early exchanges, as Leroy Sané in particular got off to a quick start – proving a handful for Hector Bellerín down the left-hand side. Arsenal, who conceded twice in quick succession on Thursday night, were eager to avoid another early goal but initial signs showed it'd be a tricky battle for them attempting to collectively defend in numbers.
However, the Gunners were not going to lie down for their opponents either, being at Wembley and all. Jack Wilshere's piercing run through midfield caused all sorts of problems for City's backline as they backpedalled, before the ball fell to Mesut Özil who unselfishly spotted the run of Pierre-Emerick Aubameyang across the area and fed towards him.
Quite frankly, it was a chance that a world-class player should be scoring. Kyle Walker managed to recover and get a touch on the ball before Claudio Bravo made a close-range stop, but that was nonetheless a golden opportunity and one, from an Arsenal perspective, you'd hope didn't come back to bite them. That's precisely what it did, just minutes later.
Deadlock broken and well, wow
Bravo's goal-kick was hit long and fell towards the path of Sergio Aguero with only Shkodran Mustafi in the centre to beat for possession. Mustafi tried to apply his physical presence and win the aerial battle, Aguero stood his ground and what happened next was inexcusable.
Convinced that Aguero had illegally impeded him, Mustafi suddenly raised his hands in protest to the officials and stopped playing completely, allowing Aguero to run through on-goal with only David Ospina to beat. What made his chance even easier was the fact that Ospina himself was in no man's land halfway off his goal-line – meaning the Argentine was happy to cutely chip the ball over his head and into the open net.
After such a promising start, where Arsenal could've been a goal ahead, they found themselves behind early on yet again and this goal was particularly a frustrating one to concede. 19 minutes in, they now had to recover against the Premier League's best side, who themselves hadn't done much to earn such an early advantage.
Nacho Monreal, who was continually struggling with a back problem, had to be replaced and was substituted with Sead Kolasinac coming on in his place after 25 minutes.
Arsenal were trying to balance risk with reward for the remainder of the first-half, deciding when to hit City with speed or a floated ball over-the-top, whilst trying to avoid conceding again. Wilshere did excellently to draw fouls across the pitch but his teammates – namely Özil – struggled with the consistency of their deliveries into the box.
Granit Xhaka's hopeful long pass was a good one towards Aubameyang's path. Known for his blistering speed, he was in a foot race with Kompany inside the box but lost out to the experienced Belgian, who out-muscled him with consummate ease before taking the ball and clearing the danger. It was instances like these where the centre-back, who has struggled with regular injuries in recent seasons, proved his world-class ability to those who ridicule him.
The cynical, tactical fouls were coming in relentless fashion as both sides' failure to retain possession for sustained periods clearly had an impact on their temperament. City especially, given their passing averages this term, continued to squander the ball cheaply and could have been punished for doing so.
Between the pair at half-time, there were 13 fouls committed and perhaps could've been more too if referee Craig Pawson was not attempting to let the game flow more smoothly. Fernandinho was arguably lucky also, already on a booking, to still be on the pitch. Tempers began to flare but at the break, City – who knew they were performing far from their best football – had a slender advantage.
So naturally, going into the second 45, you always knew that City would respond and up the tempo. Fernandinho, who on another day could've been dismissed for his cynical fouls in the first 45, limped off after 52 minutes with a hamstring issue and was replaced by Bernardo Silva.
Shortly afterwards, Arsenal could've found the all-important goal to swing the momentum at Wembley. Luckily for Bravo, his blushes were spared after miscommunication between himself and Kyle Walker saw him sprint off his line before a mis-kick almost allowed Aubameyang through on-goal. The Gabon international was penalised for being overtly physical though.
City turn on the style as Arsenal left stunned
A well-worked free-kick saw City double their lead just before the hour mark, as Kompany applied the finishing touch in the area after a quick passing exchange which seemed to bamboozle Arsenal's backline.
It was clear though by this point that Arsenal were sunk by conceding the second, though City were not done there either. Danilo's driving run down the left-hand side was worryingly left unchallenged before he threaded through a pass towards David Silva. The Spanish magician still had plenty to do, but span past Calum Chambers before firing low and hard in the bottom corner beyond a helpless Ospina.
3-0 and cruising, the olé chants soon followed. Similar to those during their home league victory over Arsene Wenger's side back in November, it very much felt awkward and uncomfortable to watch from an Arsenal perspective – seeing their team being torn apart by a side they should be rivalling.
The stadium announcer confirmed there were 85,681 spectators in attendance, but judging by watching on from TV, you wouldn't have believed that midway through the second-half. Arsenal supporters, rightly disgruntled by their side's limp performance, were leaving in their droves far  before the 70th minute – by which time the result was never really in doubt.
City looked as though they could score every time they accelerated forward and even allowed minutes for the returning Gabriel Jesus and 17-year-old talent Phil Foden in the closing stages, capping off a dominant performance with a clean sheet too.
Post-match comments
Vincent Kompany, who deservedly won the game's Man of the Match award, spoke to Sky cameras moments after the full-time whistle at Wembley.
"I'm going to be honest, before the game I thought I was going to score. Came close a few times, it was lucky but definitely through some self-belief aswell."
On being selected to start, given his chronic injury problems: I've been in the game for 15 years, you just have to be ready really. You get the call-up and do the job."
When questioned about the team performance: "I think it was a difficult game but we did really well, controlled the space and I'm proud of the team performance. It's worth every minute of hard work to be out there [on the pitch], the pundits themselves know that I'm sure." 
Aguero, who broke the deadlock in the first-half, said: "For me and the team, it's always special to win a trophy. The finish was good, lucky yes but I'm happy to have scored. It's an important [trophy to win], but we have to keep going. I think we were better than them but now, we have to look towards Thursday – celebrate and go forwards in the Premier League."