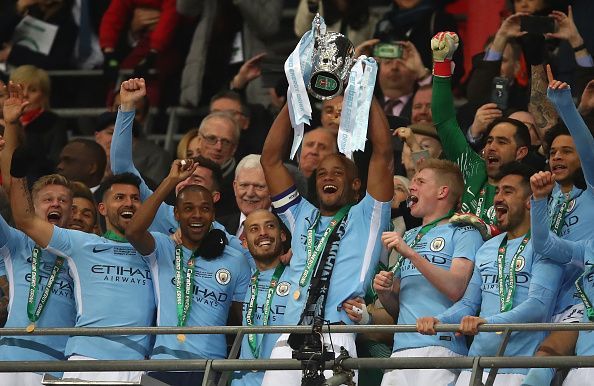 Goals from Sergio Aguero, Vincent Kompany and David Silva helped secure Pep Guardiola's first piece of silverware as Manchester City manager – but how did the players fare at Wembley?
Despite starting slowly, the intensity and quality on show gradually increased after Aguero's opener in a match where City were always favourites to prevail. Their ability was too much on the afternoon for Arsenal, who continue to struggle across all fronts whilst their rivals – rather worryingly – continue to strengthen.
On that note, here are the player ratings for both sides:
---
Arsenal
David Ospina: 4/10 
The decision to offload Wojciech Szczesny to Juventus last summer looks increasingly naive with every passing game. Ospina simply does not command his area, nor is a reliable outlet for his defenders to trust – shown once more by his part in Aguero's goal. Should have either stayed on his line or rushed off it quickly, as opposed to being caught in no man's land.
The following two goals were well-worked but even still, he should've done more to try and deny City from establishing an unassailable lead.
Hector Bellerín: 5/10
Started fairly well in his attempts to isolate Leroy Sané's threat down the flank, but as the match wore on, he didn't grow in confidence – which shouldn't be a surprise given recent displays. Was not encouraged to be more adventurous in his efforts to get forward and create chances, while Danilo regularly got the better of him in a second-half where City turned on the style.
Laurent Koscielny: 6/10
Arsenal's best centre-back was, again, unsurprisingly, their best performer at the back. Although he could have provided more support during the build-up to Aguero's strike, he defended heroically and was solid in all fairness. Two completed tackles, two clearances, a blocked shot and no fouls committed, it was hardly his worst display.
Shkodran Mustafi: 5/10
However, it was an afternoon to forget for Koscielny's centre-back partner. Mustafi should have outmuscled Aguero with ease, as opposed to appealing for a foul – which he didn't earn – and stop playing completely.
He made a few important defensive interventions upon occasion but after such a needless error early on, it definitely set the tone for Arsenal's downfall as the match progressed. Frustrating, especially considering his ability to have come out on top in duels like these.
Calum Chambers: 5.5/10
After being exploited during their 2-1 defeat by Ostersunds on Thursday evening, it was always going to be intriguing to see how the Englishman would fare against tougher opposition: perform poorly and crumble under the pressure, or instead silence the critics with a good defensive display.
It was perhaps a surprise inclusion but the 23-year-old did a decent job in fairness; two tackles, five interceptions and six clearances during the 90 minutes. However, he's been marked down after being turned far too easily by David Silva for City's third goal.
Nacho Monreal: 4.5/10
Only lasted 25 minutes before limping off with a back injury, but should've been booked for simulation after trying to trick the referee early on inside the box. His passing was sloppy and it was clear that he started lethargically too.
Granit Xhaka: 6.5/10
Despite what you might think, Xhaka actually did fairly well given the circumstances. Although his passing was not as accurate as he would've liked (78%), he was also one of few who was trying during the latter stages of the second half, came close with an effort from range which swerved narrowly over the crossbar.
Aaron Ramsey: 6/10
It was an average display from the Welshman, who was certainly a midfield presence in the first 45 but seemed to give up once it got increasingly tough for Arsenal to get back into the match. Had to contribute more defensively, struggled to do so and his passing (64%) definitely let him down too.
Jack Wilshere: 6.5/10
One of Arsenal's bright sparks, it was clear to see that Wilshere was trying his utmost to push the team forward in search of a goal. Linked up well with Aubameyang at times, caught City flat-footed and proved a handful as they had to continuously foul him to halt play and avoid dangerous situations in their half.
Completed the most successful dribbles (5) as compared to any player on the pitch, was fouled on four separate occasions and was unfortunate to be booked – though it was coming – for dissent after being frustrated by City's treatment in the tackle.
Mesut Özil: 6/10
Just like Jack, Mesut Ozil did well to win fouls in promising areas of the pitch and frustrate City during a sloppy first-half. However, his deliveries into the box were poor, inconsistent and generally underwhelming for a player of his quality.
Played five accurate long balls to team-mates but lack of support in the final third meant whenever he did create something, regularly fell short of a goalscoring opportunity. Should have had an assist for Aubameyang's early effort, who knows how the game would have panned out if he'd scored?
Pierre-Emerick Aubameyang: 5.5/10
Isolated in attack for the majority of the game, he ultimately came out second best in a battle with Vincent Kompany and squandered a golden opportunity to break the deadlock early on.
Substitutes:
Sead Kolasinac: 6.5/10
Better and generally a more effective alternative to Monreal, though was not a surprise to see him named on the substitutes' bench. Solid defensively but unable to offer much in attack, performances like these – despite the result – are likely to give Wenger a selection headache going forward.
Danny Welbeck: 6/10
You could see that Welbeck was trying all he could to help get his side back into things, but it seemed futile by the time he was introduced.
Alex Iwobi: 5.5/10
Probably should have been braver in a one-on-one challenge for possession with the onrushing Bravo, but didn't do much else as City held the ball comfortably while he was on the pitch.
Manchester City
Claudio Bravo: 6/10
Shaky. He'll naturally be credited with the assist for Aguero's first-half strike, and his distribution was quite accurate. Didn't do much else well in fairness, and almost conceded a nightmare goal early in the second 45 and was hesitant in possession on a few occasions, leading to some nervy moments from a City perspective.
Clearly not good enough to be any more than a backup option, as ruthless as it may sound.
Kyle Walker: 7/10
Showed great spatial awareness and managed to recover accordingly in thwarting Aubameyang from close-range. Admittedly though, he was erratic in the tackle on a few occasions and almost sustained an innocuous injury midway through the second-half too!
Vincent Kompany: 9/10 – Man of the Match
The captain, leader and goalscorer on this occasion – Kompany was excellent and naturally, has been precisely what City have missed in large periods during a fantastic season so far. Kept Aubameyang quiet in attack – many thought he'd struggle – handled him well and showed good anticipation before slotting home a goal of his own, all whilst helping keep a clean sheet too. A tactical booking was his only real blemish.
Nicolas Otámendi: 7.5/10
Kompany's centre-back partner wasn't bad either. Otámendi, who has shown signs of improvement this season under Guardiola's guidance, did well and equally displayed some of his weaknesses when out of possession too.
Was strong in the air, winning four aerial duels, whilst he also made two tackles and five clearances. However, he committed two needless fouls and despite having several touches of the ball in his own half, had a few nervy moments which Kompany had to help support him through.
Danilo: 7/10
This is a match that Danilo will be hoping stands him in good stead for the remainder of the current campaign, as well as the foreseeable future as a City player. Used sparingly since his arrival last summer, questions over his defensive capabilities still remain, but the Brazilian managed to combine well with Silva for their third goal and equally made himself a nuisance in attack after the interval. Definitely, something to think about.
Fernandinho: 6/10
For someone with Fernandinho's control, poise and efficiency, this was far from it. He appeared rattled after battling alongside Wilshere and prior to his hamstring injury, was arguably lucky not to be given his marching orders after cynical fouls in quick succession before the interval.
Won three aerial duels, three interceptions and a tackle during his 51 minutes, though.
Ilkay Gundogan: 6.5/10
Started in sloppy fashion, especially with his ball retention, but clearly upped his level as the match wore on when he needed to. It was his low strike in the area which Kompany turned home from close-range, crediting him with what proved to be a pivotal assist.
Still feel he's better suited playing further forward than in defensive midfield, though Arsenal did not force him into many uncomfortable moments out of possession – says a lot about their attacking struggles on this occasion, really.
David Silva: 8/10
Midfield metronome. What more is there really to say? Silva oozed class as he usually does and managed to utilise space effectively, leaving Arsenal's backline chasing shadows trying to halt his progress.
Importantly, he did not shy away from his defensive responsibilities either – three tackles and an interception – statistics proved that he's doing more from a deeper role and continues picking his moments when getting forward, to devastating effect on this occasion.
Kevin De Bruyne: 7.5/10
Was not at his best by any means, but still managed to control the midfield and showed flashes of individual brilliance before being fouled for good measure upon occasion. Just like Silva, he embraced his defensive responsibilities – which meant his creative genius was not on full display, but it didn't need to be!
Leroy Sané: 7.5/10 
Gave Bellerín a tough time with his blistering speed, created a handful of promising chances which ultimately went astray, and was continually getting himself into good positions in-and-around the box.
Understandably frustrated by his team-mates' failure to pass to him at times, but acquitted himself well and City fans were slightly disappointed to see the livewire substituted.
Sergio Aguero: 7.5/10
Only needed one chance to finish! Was a deft flick over the helpless Ospina, meaning Aguero's now on 199 Manchester City goals – he continues to impress in the key moments and made no mistake here. Completed three dribbles but didn't see much of the ball as the match wore on, either. Only Aubameyang (19) had fewer touches for any starter on the pitch.
Substitutes:
Bernardo Silva: 6/10
Kept things accurate and tidy for the most part, was an energetic introduction at a time when City increased their tempo in search of the killer goal.
Gabriel Jesus: N/A
Came off the substitutes' bench in the final fifteen minutes but didn't have enough time to earn a fair rating.
Phil Foden: N/A
Was only on the pitch for a few minutes, but it certainly would've meant a lot for the talented teenager – who has broken through into the senior ranks this term after excelling at youth level, for both club and country.