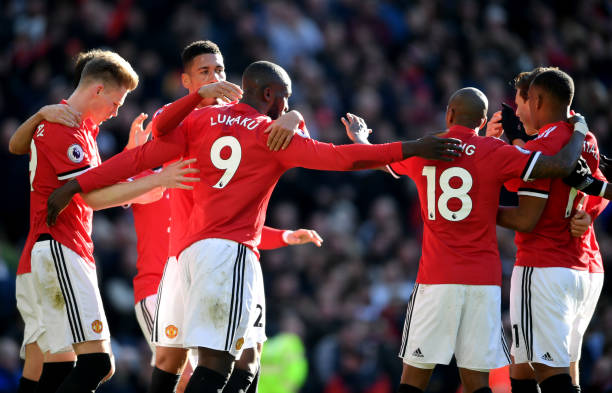 The 24-year-old netted his first goal against a top-six side for Manchester United this past weekend during their 2-1 win over Chelsea and naturally, believes he deserves more respect for his consistent goalscoring record throughout his career thus far.
Romelu Lukaku, for all his quality, remains a divisive player at the top level. Many critics and supporters alike feel as though he's a "flat-track bully", meaning someone who regularly excels against weaker sides but often is found wanting when it matters most.
So with that in mind, United's home clash with Chelsea on Sunday afternoon would've meant even more for Lukaku on a personal level.
Romelu joined the Blues for £10m (£17m after add-ons) in August 2011 from Belgian giants Anderlecht and after a frustrating spell with limited first-team minutes there, flourished out on loan spells with West Brom and Everton before sealing a permanent move (£28m) to the Toffees.
Naturally, Lukaku was United's match-winner against Antonio Conte's side – scoring at the end of a well-worked move in the first-half, before turning creator to set up Jesse Lingard on 75 minutes.
With 27 goals in 43 appearances for club and country this term, Romelu believes he deserves more credit for his goalscoring exploits. Harry Kane (24 goals) and Mohamed Salah (23) in particular have stolen the limelight this season in England's top flight – the Belgian himself has ten less goals than Salah, who has been heralded as the acquisition of the season.
As quoted by the Guardian, he said: "I started playing when I was 16 – year in, year out people expect 20 goals from me. I've been doing it for 10 years straight so I think I've proved myself. You expect a bit more respect but it's the situation we're in, I don't listen to it. I just want to improve and show the people what I can do on the pitch."
He's still not content with his own progress though, knowing fully well that there's always room for improvement.
"I can still improve everything about my game. I'm 24 and think I have a lot of years ahead of me before my prime, so I'm never satisfied. I always want to improve and it's a nice challenge."
When questioned about how he'd receive more respect in future, Lukaku did not mince his words.
"If I win. I want to win [trophies, accolades]. As long as I win and lead my team, that's when I will be really satisfied. As a football player, I don't play for the individual. A lot of big player that we recognise today in the game are players who have won something and I want to be the same. The road is still far ahead but I'm ambitious and I'll work every day for my team to win. I'm not thinking about myself."
13 points behind local rivals City in a seemingly futile Premier League title race, there's still an opportunity for Lukaku and his team-mates to capture some silverware this season.
His brace against Huddersfield Town in Round 5 was enough to secure their passage into the FA Cup quarter-finals. Set to face Brighton (home) in two weeks' time, there's also a chance for European success too – a goalless draw away at Sevilla last week means they have a slight advantage and are expected to progress into the last-8 of this season's UEFA Champions League.