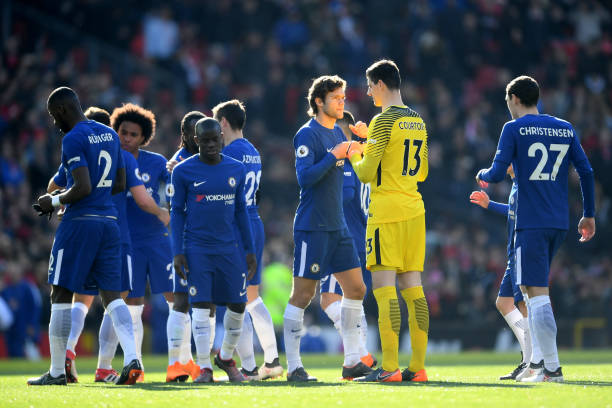 According to an exclusive report in Belgium this week, Chelsea goalkeeper Thibaut Courtois – accompanied by his father Thierry – met with Paris-Saint Germain representatives following their recent 2-1 defeat to Manchester United.
Described as a "lowkey" meeting between the two parties at a London hotel, the discussions were believed to have lasted for two hours. Naturally, they would've spoken about financial demands but equally, Courtois' desire to win the grand prize: UEFA Champions League glory – having previously been a beaten finalist with Atlético Madrid in 2014.
As quoted by the exclusive report:
"Thibaut insisted in particular, on a culture of winning that is still missing at PSG. Not yet won major competitions, this is what scares Thibaut – he wants the guarantee that the club has this ambition."
In their attempts to clarify the situation, they contacted PSG's press office and equally the Belgian's agent too – conveniently though, neither were available for comment.
Courtois has, just like David de Gea, been heavily courted by Real Madrid in recent seasons. Their interest in acquiring one of the pair to become their long-term first-choice goalkeeper as Keylor Navas' replacement has intensified and we're likely to reach a final conclusion at the end of this current campaign.
Courtois' existing deal at Chelsea expires next summer, so it's natural that top clubs would be monitoring his current situation – not least given the Blues' inconsistencies under Antonio Conte after a fantastic first season in England's top-flight for the Italian.
READ: Chelsea 'tempt' Courtois with new contract offer, rightly so
Analysis
It's still widely believed that Real is Courtois' preferred option if offered a choice for personal reasons, as his two children Adriana and Nicolas both live in Madrid with their mother.
As previously stated, PSG's lack of a true European pedigree could hurt them in potential negotiations though their ever-improving team continues to assert their quality among Europe's elite.
With Alphonse Areola in goal, the 24-year-old is a solid option to have but one whose consistency – especially when it matters – remains a big question. Courtois already has a Champions League runners-up medal in his name and naturally comes with plenty of experience alongside world-class ability too.
It'll be interesting to see how this story develops over the coming months, I'll update if and when there is any movement here.