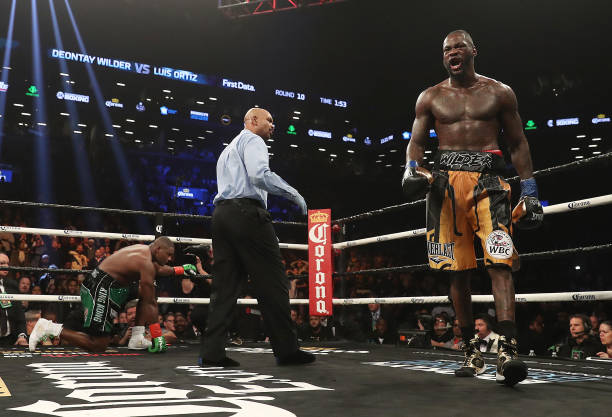 Deontay Wilder survived a genuine scare in round seven to knockout Luis Ortiz, retaining his WBC Heavyweight title while keeping his unbeaten record intact. The 32-year-old also took time out to send a message to critics and potential competitors alike, as the division continues to become an intriguing prospect in 2018.
For someone who has not been afraid to reveal his eagerness to secure a future bout with Anthony Joshua, it was immediately clear that more eyes were set to be watching Deontay Wilder's performance with critique and analysis alike – for the power puncher's abilities were always going to be tested during this encounter.
Ortiz, who previously failed a drugs test prior to their initial intended fight date, also had an unbeaten record (28-0, 2 NCs) going into this encounter and many top competitors have been keen to avoid him – partly due to his doping misdemeanours and equally as a result of the Cuban's durability.
Although they wouldn't have known from the early rounds, the crowd at the Barclays Center in New York were in for a treat.
Ortiz won the first four rounds, showing his experience and boxing nous along the way – forcing Wilder to hit from a distance, whilst making combinations of his own which landed on several occasions.
Questions over Ortiz's footwork were justified, especially given the 38-year-old's physical frame – he's not getting any younger and legs are often the first things to gradually deteriorate from a fighter's perspective. Wilder had to bide his time, continue to move around the ring while trying to avoid getting needlessly frustrated by Ortiz orchestrating things.
After a slow start, things quickly progress
Naturally, everything can change in an instant: the same applies here. Wilder, who was making an effort to box clever, switched to a more aggressive mindset and at the end of round five, got his reward for doing so.
Although it was not a devastating blow, Ortiz was stunned by Wilder's powerful punches in quick succession and tumbled to the canvas. Having fallen over, he seemed bewildered as the referee began the count. At eight, the official stopped and the pair were at it once more – although it was not immediately obvious, the damage was already done by this point.
Knockdown? No problem
In the sixth round, everything switched. Ortiz, knowing he'd dominated the early exchanges but had been knocked down, needed something to help swing the encounter back in his favour as Wilder's momentum was gradually building.
Round seven was when things really swung – Ortiz was dominant and did well to maintain his stifling stance on Wilder, whilst making him suffer with a heavy barrage of punches to the face and body. If the round continued for a further few seconds, it could've been Wilder himself – who appeared wobbly and in danger – could've found himself down and out for the count.
After such a energy-depleting round from the Cuban, it was unrealistic to suggest he'd manage to replicate the same efforts straight afterwards in the following rounds. Naturally, it allowed Wilder enough time to recover, regain his balance once more and become increasingly aggressive at precisely the worst time for Ortiz – who himself was still trying to conserve energy and avoid much punishment.
Round nine could've gone either way as both were landing punches, Ortiz was quite clearly labouring while Wilder had been pushing the pace to him, aiming to force him into needless mistakes.
Then, the stunning knockout came in round ten. It could have gone either way, but when Ortiz connected with a fierce left then right – pushing Wilder back toward the ropes in the process – it seemed as though a light switch had suddenly been turned on. Wilder was even more aggressive, increasingly agitated and despite being seconds away from losing his championship, Wilder rallied like a man possessed.
Right after left, clobber after clobber, Wilder's unorthodox punching style made him look like he was viciously beating down on a helpless bystander. So with just under a minute left, Ortiz fell to the canvas once more and this time, the referee had no choice but to stop it.
Post-fight comments
Wilder was quick to thank Brooklyn for showing support in his corner, once again.
"This is my third time defending my title out here, I had to show that King Kong [Ortiz] ain't got nothing on me. He's definitely a crafty guy, he has fundamental skills and put up a great fight. We knew I had to wear him down, he did a wonderful job and can hold his head up high."
Although Ortiz was dominant in the first few rounds and on the scorecards, winning by a fair few points, Wilder admitted that he wasn't worried too much about losing his unbeaten record on the evening.
"He was hitting me with flurries of punches. Every time he'd knock me off-balance, I just had to get my range back and get the fundamentals right."
On his recovery from a precarious situation in round seven: "I showed I'm a true champion tonight, here I am."
Ortiz was one of those fighters that everyone ducked, even champions were ducking him. He was a great contender, I wanted to give him the opportunity to support his daughter. His daughter suffered with something, mine is the same, two fathers fighting one another – it doesn't get much better than that."
When questioned about Anthony Joshua, who he'll go and watch personally in Cardiff: "I always said I wanted to unify, I'm ready to fight whenever. It seems like they're in no rush to fight me, it's because I'm the most dangerous man on the planet, soon there will be only be one champion: Deontay Wilder."
So, now all eyes are looking forward to March 31. Anthony Joshua against Joshua Parker, another intriguing heavyweight bout between two of the world's top fighters – whoever prevails is expected to face Wilder at some stage this year to try and unify all belts.