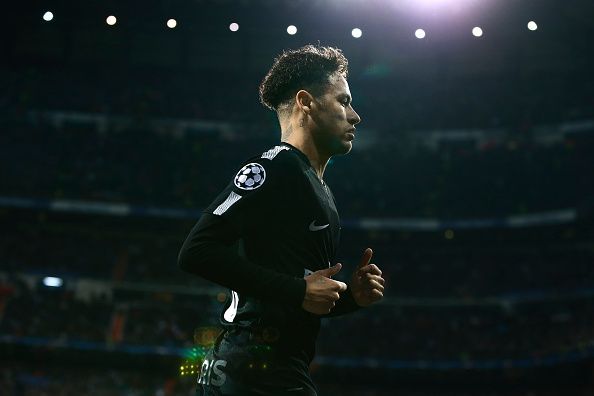 Neymar's pursuit of the Ballon d'Or took him to PSG last summer, but here are five reasons why the Brazilian will never win the accolade.
Unquestionably, Neymar is one of the world's best players. He continues to polarise opinion about his performances, particularly when it matters most for club and country, but the Brazilian is a world-class talent and has proved precisely that in European football for a number of years now.
Despite sustaining a fractured metatarsal last month, you naturally wish him the best of luck during his recovery – he'll come back stronger and look to silence some critics doing so.
There's never an ideal time to write a piece like this in truth and with the World Cup only a few months away, plenty of eyes will be on Neymar and Brazil – especially given their lack of success at major international tournaments despite high expectations recently.
At 26, he's gradually nearing the peak years of his career at the highest level and as a result, the Ballon d'Or accolade is definitely something that he should be aspiring to achieve, regardless of how trivial it may seem in a team sport like football.
Being named the world's best player, is something that has eluded Neymar in recent years: here are five reasons why he'll never do it.
#5 It's not just about goals and assists
Across all competitions, Neymar has scored 29 and created 19 assists for Paris-Saint Germain this season. He's already surpassed last season's tally of 47 goals and assists combined during his final campaign with La Liga giants Barcelona, having done so in 15 less matches.
Hypothetically speaking, his season could have already ended following the injury against Marseille on February 25 and with three months left, he's already conjured up these impressive statistics in the final third.
Having made his senior international debut as an 18-year-old, it's important to point out that he also has 53 goals and 36 assists in 83 caps for Brazil too. However, although the Ballon d'Or award is given to the world's best player over the span of a year, it also goes to the player who has had the most influence for their club (and country).
Despite some dazzling displays this term, it'd be unfair to identify Neymar as their most influential and significant player. Why? There are arguably more important figures on the pitch, such as Thiago Silva and Marco Verratti for instance, whereas Neymar's attacking brilliance can be replicated by the wealth of forwards that Unai Emery has at his disposal.
Edinson Cavani is on course for the best goalscoring season of his professional career at 31-years-old whilst Kylian Mbappé has impressed too, following his big-money switch (initial loan) from AS Monaco last summer.
#4 PSG and the "easy" league debate
Plenty of critics, supporters and neutrals alike were surprised when PSG activated his release clause last summer to take him to France. After all, someone of Neymar's quality and world-class capabilities, restricting himself to playing in a less competitive league such as Ligue 1?
How would doing that help in his quest to be considered the world's best? Six months have passed and already it has become apparent that making such a bold move is proving, well, unproductive from Neymar's perspective.
Whenever he does perform well in the league, many will just argue that he's flourishing against weaker opponents and is actually wasting his talent as opposed to truly challenging himself.
So much so that when PSG have come up against tougher opponents in the Champions League – Bundesliga giants Bayern Munich and defending champions Real Madrid this term – they have flattered to deceive, showing signs of quality but falling short when it matters most.
He was one-third of the famed MSN attacking trio in Spain and with that in mind, deciding to leave Barcelona seems increasingly counterproductive now they have more creative players who can play in deeper positions and help create chances galore.
Highly-rated playmaker Philippe Coutinho, Neymar's compatriot and long-time friend, signed as part of a big-money move from Liverpool in January while Ivan Rakitic has continued to improve in a variety of midfield roles this term.
Lionel Messi continues to prove why he's arguably the world's best player ever, while Luis Súarez – despite an early-season dip – has excelled in attack as usual.
#3 Despite the stats, he's still too selfish
As previously mentioned, it's not just about goals and assists, nor padding the stats sheet. Neymar appears to be the best at doing so, coincidentally. When he's not playing at his best, he always manages to get his name on the scoresheet, whether that be notching a late goal or creating an assist, even when he should have three or four on some occasions.
This is something which is naturally frustrating to watch, as a player of his quality should be producing better numbers given the level of goalscoring opportunities he and his team-mates do create in the final third.
His display against Real Madrid is the epitome of how he's been performing: signs of individual brilliance, which are overshadowed by his flawed decision-making.
During the game, there were plenty of promising positions that Neymar found himself in, where he could have looked up, scanned for options and created a chance by passing the ball towards a team-mate – Mbappé and Cavani were both working tirelessly to make themselves available in-and-around the Real penalty area.
However, he'd rather try and go it alone and find himself swarmed by Real's level of intense pressure on him as he accelerated forward on mazy dribbles into troublesome areas, which not only ruined PSG's counter-attacking speed but made it easier for the hosts to thwart him in his attempts to create chances.
The match statistics speak for themselves: Neymar completed more dribbles of anyone during the whole 90 minutes with a whopping 13, but was fouled on four occasions, had two unsuccessful touches and also dispossessed on FIVE separate attacks.
Although they conceded twice in the second-half, PSG did appear more threatening for a period following Emery's tactical changes, which allowed Mbappé to play in a central role and get more service than he was finding in the first 45. It also meant that Neymar utilised the ball less, passes were quicker and they actually fashioned more opportunities – despite their wasteful manner on the evening.
This is something that has been apparent across the season, not just during this game either. Neymar appears too focused on leading the line on his own when that's not solely his responsibility. If his decision-making had matured and taken more of a selfless route instead, who knows what could've happened during this tie?
Stats' source: WhoScored
#2 Messi-Ronaldo duopoly is not over yet
As the world's best players continue to age, there has been a collective enthusiasm for the next generation of super talents to breakthrough and prove their quality. That's all well and good but, Lionel Messi and Cristiano Ronaldo are still in the peak years of their respective careers.
Every time one or the other is doubted, harshly critiqued or faces questions about whether they're as good as they once were, they do their talking on the pitch.
Ronaldo turned 33 last month, while Messi will be 31 midway through this summer's World Cup in Russia. Between the attacking duo, they have won the last ten Ballon d'Or accolades since 2008, something previously never done before its inception in 1956.
There's no question that the pair is two of the greatest players of all-time and while we should appreciate them as they continue to play, breaking records along the way, the duopoly dominance at the top is not finished by any stretch of the imagination.
Messi has netted 34 and created 16 assists across all competitions this term, proving just how much of a valuable asset he is to Barcelona's aspirations for success while Ronaldo (33 and 5) struggled for consistency before the Christmas break.
However, the Portugal captain responded to his critics in emphatic fashion: having netted 17 goals in 12 matches since, popping up with important strikes when his team-mates need him most.
You see where I'm going with this, right? Neymar has been influential, of course, and PSG are keen to build their side around him for years to come, regardless of the speculation surrounding his long-term future in Paris.
But he's still got plenty on his plate to keep up with the Messi-Ronaldo duopoly, which could potentially extend a further few seasons. Then what happens, once Neymar is 29, 30 himself?
#1 Arguably, there are already young players better than him
Last but not least, this one was always going to come up. With the Messi-Ronaldo duopoly still not finished, it would be naive to suggest that Neymar would be classed as the next generation once they've finished or are usurped at the top. After all, he's already 26 himself.
So with that in mind, you have to question: Is there anyone currently, on the same level or better than Neymar currently? Difficult one to answer but in truth, yes there is.
It's unfair to compare players who do not feature in the same position, so goalkeepers and defenders cannot really be mentioned in the same breath but as for creative-minded players who excel in the final third, there are a handful of players younger than the Brazilian who can make a genuine case.
The French duo in the picture above, Barcelona's Ousmane Dembélé and Neymar's teammate Mbappé, for starters. Both highly-rated attackers have plenty of quality and potential to fulfil as time progresses, it comes as no surprise that the pair were sold for big money to two of Europe's top sides so early into their professional careers.
Then you move onto other players, including Real Madrid's Isco (25), Juventus forward Paulo Dybala (24) and Manchester City winger Leroy Sané (22), who has developed significantly under Pep Guardiola's tutelage in England.
It speaks volumes that it's taken so long for Kevin de Bruyne and N'Golo Kanté (both 26, same as Neymar) to be considered in the world-class bracket, as players who are not immediately seen to be flashy or eye-catching can often slip through the radar.
There are definitely a few others across Europe's top leagues that I haven't mentioned, but it's clear to see that Neymar is not alone in highly-esteemed company. Given his playing style and the rate at which they are all progressing, it's not hard to see them surpassing him to form a core group of players who battle for the world's best accolade in future.