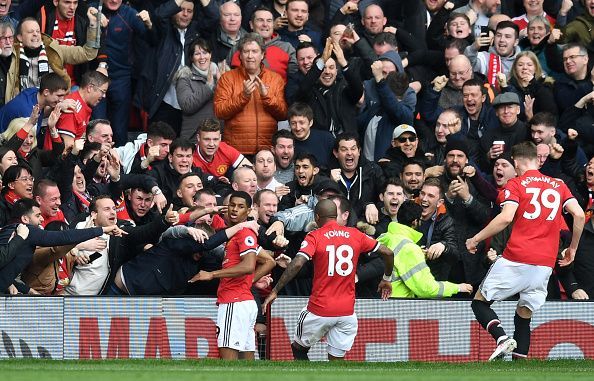 Rashford flourished upon his arrival two years ago, but now he should leave Manchester United in order to progress further.
Having burst onto the senior scene during a remarkable week with two goals each against Midtjylland and Arsenal in February 2016, it's been a refreshing rise to the top for the 20-year-old Englishman.
However, he's already made over 100 club appearances for the Red Devils and is at the stage of his development where he needs more: Can a change in scenery away from Manchester help him progress further in future to fulfill his full potential?
All things considered, it's not an easy question to answer. However, here are five reasons why the forward would be better off away from Old Trafford.
#5 United's spending power more a hindrance than a benefit
It's been a stumbling block in the path for a majority of United's talented youngsters in seasons gone by, and history is likely to repeat itself in Rashford's case. United feel obliged to compete with their rivals on all fronts, especially in the transfer market where they can naturally attract some of the world's best players.
However, by doing so, it actually hinders their existing talents who are yet to – or are in the process of – establishing themselves as first-team regulars.
In previous seasons players including the likes of Michael Keane, Andreas Pereira (loan spells), and even Paul Pogba have been left frustrated by the lack of first-team opportunities afforded to them, especially given their respective capabilities to do a job within the side.
It's fair to say that none of the trio would be as good and experienced as they currently are if they didn't make those tough choices in the past – a choice that Rashford may have to make sooner rather than later.
#4 Minutes played aside, Mourinho's treatment of him is poor
It's a well-known fact that Jose Mourinho struggles to develop young players and naturally, prefers to have ready-made, older and more experienced acquisitions at his disposal who can perform on a consistent basis.
He has been heavily criticised for a lack of patience when it comes to this, though everyone has their own managerial style and to his credit, his has earned plenty of success over the years.
With that being said, football is continually evolving and there's more emphasis on having talented youngsters in the ranks – not just for show, but providing them opportunities to develop among the more experienced heads. Sure, Rashford has played plenty of first-team minutes under Mourinho, but the way he has been treated by the 55-year-old is far from ideal.
After netting a brace on his first league start of 2018 against Liverpool, he was shifted out onto the right-hand flank during their surprise home defeat by Sevilla in the Champions League the following midweek.
What's particularly interesting about this is the fact that they'd struggled to create many goalscoring chances when he'd been previously played there – defeat to Bristol City and a goalless draw against Sevilla are two memorable moments from this season.
It has been made clear that Rashford was only playing there to accommodate Alexis Sánchez's presence in the side.
#3 At the wrong place at the wrong time
An analysis of Manchester United's squad and the balance within shows that the team's setup currently is wrong when seen from Rashford's perspective.
Despite bursting onto the scene in unexpected fashion the way he did two seasons ago, it always appeared as though his influence in attack would be a short-term solution.
The £75m acquisition of Belgian forward Romelu Lukaku last summer proved exactly that, as Mourinho's philosophy and style show that the Belgian would be the first choice regardless of how well Rashford performs.
It's evident that the team is predominantly built around two players – Lukaku and Pogba – and their individual brilliance has been the difference at times as the team has struggled for consistency across all fronts this season.
It's fair to say that both have higher expectations placed on them, after all, the pair cost a combined total of £165m so they naturally shoulder some responsibility for United's shortcomings.
However, the fact that Rashford is a homegrown player and one who has developed through the academy means there should be less pressure on him to perform. Instead, he is under a similar amount of scrutiny, despite not being deployed in the right positions with regularity to showcase his talent.
#2 He's old enough to be a focal point, not just another talent
The saying goes: "if you're good enough, then you're old enough". Rashford has demonstrated on a number of occasions since his senior breakthrough that he's capable of being the focal point of the attack.
As the previous point alluded to, he will struggle to establish himself as that at Manchester United – where big-money acquisitions are frequently bought and sold and competition for places is increasingly tough, especially in attack-minded positions.
There are examples to take from young players in the Premier League who have benefited from being the focal point of the attack. Lukaku was barely 21 when he'd flourished at both West Brom and Everton on loan spells there, mainly because it was clear that their sides were built around him – playing to his strengths, as opposed to just shoehorning him somewhere to play.
For all his critics, Tottenham's Harry Kane has benefited from the same pathway. He established himself as Spurs' main man in the attack at 21-years-old, netting 21 goals with a further five assists in 34 matches and hasn't looked back since. That was three seasons ago.
Rashford himself will turn 21 in October and although the possibility of a move away may surprise some, he'd have plenty of teams vying for his signature – many of which are prepared to build their squads around him.
#1 To play in his favoured position and flourish
This is the biggest reason why Rashford needs to leave United, and it dates back to his arrival from the unknown to wunderkind status in 2015/16.
It seems obvious, but despite all his attributes, he's not playing in his favoured position – the striker, goalscorer, and effervescent talent that he's praised for being.
During his debut campaign – which was barely three months long – he scored eight and created two assists across all competitions. People were skeptical as to whether he was just fortunate or genuinely good, as is the case with most youngsters who breakthrough unexpectedly.
Crucially, he arrived when it mattered most and played a pivotal part in United's season. If it wasn't for his excellent solo strike at Upton Park against West Ham, who knows what would've happened to the Red Devils' successful FA Cup run?
If he didn't turn match-winner against Aston Villa, Arsenal, and local rivals City during the Manchester derby, United would have missed out on European football altogether as Southampton, West Ham, and Liverpool finished within six points of them at the end of the campaign.
Since then, his statistics in the final third (across all competitions) don't make for impressive viewing. In 2016/17, 11 goals and six assists in 52 appearances. This term, 12 goals and nine assists in 41 games – improving but even still, he should be aiming for much better numbers.
That starts with him playing in his preferred role again, as the centre-forward. Whether that be a lone striker or alongside someone else in a two-man partnership remains to be seen.
Despite having the creativity to succeed on the flanks, he's better suited elsewhere. It's increasingly unlikely that he'll regularly get that opportunity with Manchester United.