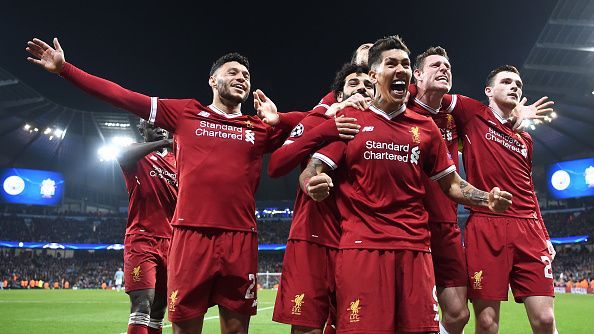 Goals from Mohamed Salah and Roberto Firmino sealed Liverpool's Champions League semi-final place, but how did they fare individually?
Liverpool absorbed some high-octane pressure in the first-half and were clinical once more to secure their place in the Champions League semi-finals.
Manchester City knew they had it all to do during the second leg at home against Liverpool, after a surprising 3-0 away defeat last Wednesday. Pep Guardiola's men started quickly, scoring after just two minutes when Gabriel Jesus was played through on-goal by Raheem Sterling and finished emphatically.
Despite their relentless attacking in the first-half, they went into the interval still needing more – after Leroy Sané had a goal wrongly ruled offside and Bernardo Silva struck the post.
In the second-half, Liverpool responded in clinical fashion and made the hosts rue their missed opportunities. Mohamed Salah scored his 39th goal of the season before Nicolas Otámendi's mistake in possession allowed Roberto Firmino to slot home and effectively end City's hopes of making a miraculous comeback.
With that in mind, how did the players individually fare? Here are the player ratings.
Manchester City
Ederson: 6/10
He could not be blamed for either of Liverpool's two goals, though he would've been disappointed with their first. He lost his temper needlessly in the first-half with Mané – probably still frustrated after their clash and his subsequent injury back in September – whilst his distribution left a lot to be desired once the visitors got themselves back into the game.
Kyle Walker: 5/10
This performance just emphasises the fact that Walker, at 27, has plenty of work to do if he's to truly become a dependable defender – as he struggles to deal with top players in one-on-one situations.
Aymeric Laporte: 6.5/10
Just like the first leg, was impressive in defence – this time in a more familiar centre-back role, he was accurate with his passing, which isn't a surprise given how comfortable he is with possession. However, the Frenchman would've been frustrated by the fact he didn't dispossess Mané in the build-up to Liverpool's equaliser. It went downhill from there.
Nicolas Otámendi: 4/10
I'm still unsure how he kept his place while Vincent Kompany watched on from the substitutes' bench, but that's beside the point – the rash Argentine was poor again here and having been exposed defensively twice in the space of a week, the same happened once Liverpool got men forward after the interval.
Fernandinho: 7/10
He won the most aerial duels of any player, with seven, had 96 touches and utilised possession well. Decision-making, when it comes to going forward, still leaves a bit to be desired, but he was unafraid to put in another defensive shift and was the energetic dynamo that City fans love him for being.
David Silva: 6.5/10
His combination play alongside Sané and Bernardo was excellent to watch in the first-half, but he ran out of energy and his influence waned as the second-half continued. Unsurprisingly the first to be replaced after the hour mark.
Kevin de Bruyne: 7.5/10
In the first leg, the silky Belgian was frustrating to watch because he was constantly occupying deep positions in midfield, playing as a deep-lying playmaker. Here though, he roamed forward, created space for himself and was a probing nuisance that Liverpool struggled to isolate – shame that the result wasn't a positive one though.
Bernardo Silva: 7.5/10
With displays like this one, it's annoying that we haven't seen much of the former Monaco man in big matches this season up until recently. Was lively during an action-packed first-half, unlucky to get booked for his troubles and was visibly frustrated after hitting the post from range – but faded as Liverpool got into the game.
Raheem Sterling: 7/10
He tried, in his defence. No-one can fault him for effort, though the talented Englishman didn't do enough for sustained periods to push them further ahead.
He frequently had the beating of Robertson, created the assist for Jesus' goal and his blistering speed was tough to stop. The only reason I can see why he didn't start at Anfield last week, was the atmosphere he'd have received…
Leroy Sané: 7.5/10
City's go-to man did his utmost to help fire them to a miraculous comeback, but to no avail. Quick feet and close-control dribbling made him seemingly impossible to stop on the run in the final third, though his eagerness to create saw him narrowly offside on a handful of occasions which could've resulted in goals. Had one wrongly chalked off though.
Gabriel Jesus: 7/10
Scored early on and would've hoped it set the tone for an eventful affair, but similarly to the first leg, cut a frustrated figure. Had only 33 touches during the match, was dispossessed twice and struggled with his passing (71.4%) too.
Substitutes
Sergio Aguero: 6/10
If fully fit and in form, who knows what Aguero's influence might've had on this two-legged affair? Unfortunately, though, we can only speculate as City's best striker was ruled out of contention at Anfield and a sub appearance here.
Liverpool packed their area full with players to keep the hosts at bay and Aguero was essentially stifled. By the time he was introduced though, the tie seemed over.
Ilkay Gundogan: N/A
Came on for the final 15 minutes, but didn't have enough time to do anything of note.
Liverpool
Loris Karius: 7/10
He couldn't do much about Jesus' early opener but was brave when he needed to be, making a few good punches and interventions in the box to clear in dangerous moments.
Andy Robertson: 7/10
Started slowly but the Scotland international gradually settled after City's fast start saw him initially struggle to contend with their pace and purpose down the flank. Less wasteful with his passing after the interval and a decent display.
Dejan Lovren: 8/10
He was solid and needed to be against City, especially in the first 45, where they created plenty of goalscoring opportunities. Three tackles, ten clearances, an interception, and three blocked shots – performances like these are encouraging to say the least from someone with his error-prone tendencies.
Virgil van Dijk: 7.5/10
Just like Dejan, van Dijk was fairly good, and again solid at the back for Liverpool. He made eleven clearances and was kept busy too. Crucially though, he started slowly and his involvement in City's goal – appealing for a foul instead of playing on – means he gets marked down.
Trent Alexander-Arnold: 7.5/10
After last week's display, it was always going to be intriguing to see how the youngster would hold his own against Leroy Sané and co once more. This time, he did well again under tougher circumstances, having received a first-half booking too.
Three tackles, six interceptions and two clearances aside, the teenager's progress has been key to Liverpool's improved defensive displays. On this occasion, he did – like others – start slowly and his passing left a lot to be desired (70.4% – one of the worst across both teams during the game).
Georginio Wijnaldum: 6.5/10
In place of the suspended Jordan Henderson, the Dutchman didn't have much impact in the first-half and struggled to assert himself early on. As the game wore on though, he was more comfortable and recovered well – having been overrun on numerous occasions, to begin with.
James Milner: 8/10
With every passing week, it seems City's decision to let Milner leave was naive at the time, not least to one of their league and European rivals! His display would not have caught the attention of many as he didn't get much of the ball, but was excellent out of possession.
Crucially, he provided an experienced head at a time where the Reds found themselves in a precarious situation at 1-0 down early on. Four blocked shots, two clearances and a tackle too, he worked hard and proved influential in a defensive sense once more.
Alex Oxlade-Chamberlain: 7.5/10
Admittedly, his decision-making is still questioned by critics, but it's impossible to question the former Arsenal man's determination and eagerness to contribute, irrespective of the circumstances at hand.
He made important defensive interventions out of possession when City were attempting to get ahead of steam and score again – whilst proving a dangerous attacking outlet too. He was unlucky not to score an equaliser just before the interval, having come close from a tight angle, and did his reputation no harm either.
Sadio Mané: 8.5/10
Liverpool's best player. Sure, Salah and Firmino will undoubtedly get the plaudits but Mané excelled when his side needed him most – that burst of energy, invention to create chances out of seemingly nothing, he does so well. Harshly booked early on, he did well not to retaliate when Ederson was angrily pushing him afterwards, and didn't let the occasion affect his performance.
Seven completed dribbles, fouled once, made three interceptions and made good use of possession throughout.
Mohamed Salah: 8/10
Given City's dominance in the early exchanges, you knew that they had to make it count otherwise they'd be punished, similar to the way they were in the first leg, as Liverpool's counter-attacking style has proven too much to handle.
Salah – who had the least touches (31) of any player starting – made no mistake from close-range after Mané's brilliant run, leaving Ederson and Otámendi in his wake to convert and essentially kill off their hopes of a comeback.
Roberto Firmino: 8/10
Industrious. Worked hard for his side and it showed, particularly when pressing from the front as he usually does. Two fouls committed comes with the territory given his playing style – but two tackles, an interception and blocked shot are stats which prove the relentless energy with which he plays has its benefits.
After all, if not for his pressure on Otámendi, he wouldn't have got the goal he deserved for his efforts.
Substitutes
Ragnar Klavan, Nathaniel Clyne and Danny Ings: All N/A, would be unfair to give them true ratings. The trio were introduced in the final few minutes with the result already confirmed and not much in the way of opportunities for them to do anything of note.