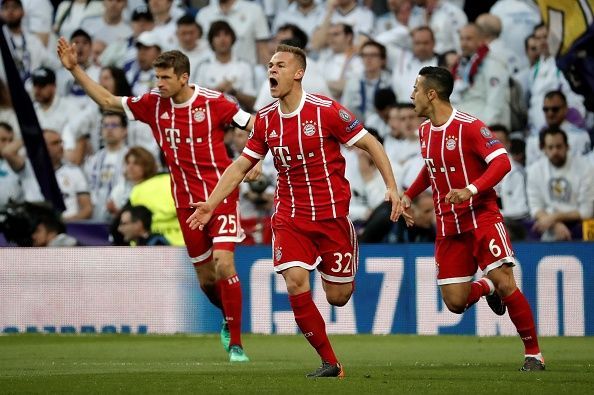 With the 2017/18 campaign now all but over across Europe's top leagues, only a few cup finals remain between now and next month's World Cup in Russia. Naturally, everyone's attention is fixed towards the international tournament – which only comes around once every four years, after all. 
However, following another enthralling season across all fronts, it's time to take a look at five players who have improved the most and thus, contributed significantly for their respective teams. 
Before doing that though, it's important to spare a thought for a few players who were close in contention but just missed out on making this list.
Here are the honourable mentions:
Goncalo Guedes (Valencia)
The future appeared bleak for Guedes, after a hasty – but no less lucrative – switch to Ligue 1 champions Paris Saint-Germain in January 2017. He only made a handful of appearances before being deemed ill-prepared to handle the rigours of playing for a side with such high expectation, so a season-long loan elsewhere in Europe was his best opportunity at redemption after showing promise at Benfica.
Valencia were the beneficiaries of this deal, where they acquired a highly-motivated Portuguese young forward who played with something to prove, critics to silence and more importantly, a World Cup squad to get himself into. With five goals and nine assists in La Liga this past season, he certainly did that and helped Los Che to a commendable fourth-placed finish.
James Tarkowski (Burnley)
Featuring alongside Ben Mee as Sean Dyche's first-choice centre-back pairing, the pair combined well and were consistent performers throughout the campaign too, irrespective of their opposition on a given matchday.
He won 70% of his aerial duels (138 successful), completed 46 tackles, made an impressive 50 interceptions and 43 blocks too. It can often prove tough for defenders to make the step-up in quality from Championship to England's top-flight, but Tarkowski has settled quickly and made a name for himself while doing so. Not bad going from the former Oldham youngster.
Philipp Max (Augsburg)
Max is another example of a talented player who has excelled with regards to significant contributions to his side. Over the past two seasons, Max made 32 (15/16) and 26 (16/17) appearances across all competitions – predominantly in the Bundesliga.
This season, he started and played the full 90 in all but one Bundesliga fixture – Augsburg's final one – as he was suspended after five yellow cards accumulated over the course of the season. Alternating between left-back and the left side of midfield, Max's production in the final third sky-rocketed.
He created 75 chances and from these goalscoring opportunities, earned an impressive 12 assists – only Thomas Muller's 14 was higher across the league than the 24-year-old.
Jonjo Shelvey (Newcastle)
Shelvey's omission from Gareth Southgate's World Cup squad for England was generally met with displeasure from supporters and critics alike. Rightly so. Questions are now being asked about the quality of Southgate's midfield options, which speaks volumes with regards to the former Liverpool man's ability.
His fantastic passing range and ability to create chances for team-mates with seeming ease has overshadowed previous disciplinary issues, which threatened to ruin Jonjo's potential. He has continued to mature and develop under Rafa Benitez's guidance, embracing his role as Newcastle's creator-in-chief – so long may it continue.
Leon Bailey (Leverkusen)
Bailey is another example of someone unfortunate to not get into the top five here, but there were simply too many options to choose from.
With 12 goals and six assists in 34 appearances this term, the Jamaican winger was one of Leverkusen's most dangerous attackers and caused havoc among opposition defences with refreshing ease.
Perhaps the most scary thing about him is the fact that he's still only 20-years-old. Only centre-forward Kevin Volland (14) netted more and Leon will naturally be looking towards a close friend for inspiration.
#5 Jamaal Lascelles (Newcastle)
Another player in this list whose exclusion from a World Cup squad had caused confusion, is Newcastle captain and influential centre-back Jamaal Lascelles. The 24-year-old leads by example on the pitch with consistent performances and crucially, his physical presence was needed during a tough campaign on Tyneside.
Newcastle finished a respectable 10th place this past season but the fact that only 11 points separated themselves from Swansea and Stoke – both of whom were relegated – speaks volumes. Lascelles himself scored match-winning goals against the pair in September, which stood them in good stead after starting the new campaign with back-to-back defeats.
However, the Magpies struggled in their search for a regular goalscorer who would help to fire their European ambitions under Rafa Benitez. So with that in mind, they had to remain defensively solid, especially against top sides as the battle for regular points continued to intensify as the season progressed.
It's easier said than done. While still as aerially dominant as he was in the Championship, Lascelles has looked to improve his tackling accuracy and subtly done so too. He won 19 tackles and committed almost 50% less fouls than the previous campaign, culminating in two fewer bookings as a result.
23 blocks, 25 interceptions, fewer mistakes and an improved total duel percentage against tougher opponents – it's clear to see that Jamaal is leading by example.
His centre-back partnership alongside Florian Lejeune still needs work, but the Frenchman's untimely injury saw their form dip from Christmas time to early February. As the better of the two, if Lascelles had sustained an injury, the effects would have been much worse.
With just under 3,000 league minutes under his belt, Jamaal was Newcastle's most utilised first-team player and importantly, silenced critics who suggested the return to Premier League footballwould prove too much to handle.
It's no surprise that FA Cup winners Chelsea and Tottenham have both been linked with his signature, despite Lascelles' insistence that he's happy at Newcastle.
#4 Luis Alberto (Lazio)
It's always good to see someone who previously struggled in one league, go elsewhere and flourish where they feel more comfortable. That goes for Luis Alberto, formerly of Liverpool, who has stunned many with his impressive displays in Italy for Lazio.
In the Spaniard's defence, he was rarely given a proper look into the first-team picture on Merseyside before being deemed not good enough and shipped out on-loan.
It's something that teams, particularly those with lofty ambitions, often feel the need to do as opposed to being patient and given their acquisitions time to settle. Not including 2017/18, Alberto's goal contributions from his last three seasons amount to 21 (8 goals, 13 assists).
This campaign has been the breakthrough year he'd been waiting for, though. 11 goals and 14 assists in Serie A alone, coupled with another goal and five assists as Lazio got to the Europa League quarter-finals, he has really improved his levels of decisiveness and creates more goalscoring opportunities too.
As a versatile forward, he can operate on either wing, as a secondary striker or in the number ten role. The reason behind such a drastic surge in terms of his stats is because he's playing more regularly, the opportunity to settle under one preferred position is there – that was the secondary striker role where he supplied Ciro Immobile regularly this term and their combination play worked wonders.
In comparison to his loan spell with La Liga side Deportivo two seasons ago, Alberto made three more appearances and you can spot noticeable improvements on both ends on the pitch.
Despite committing more fouls and consequently getting booked regularly, he made a conscious effort to help out team-mates defensively. His pass completion rate this term was 80%, compared to just 69% before, while he created a whopping 50 more chances with only 400 minutes separating the two seasons statistically.
He's more risky with his passing which has paid off, whilst managing to average just under two successful take-ons per game at a higher success rate than previously before. Perhaps he's a confidence player? After having moved to six different clubs in just seven seasons, Alberto can ignore interest from elsewhere and finally begin to make the Stadio Olimpico his home.
#3 Memphis Depay (Lyon)
Time heals all, some say. Memphis Depay, now 24, appears to have attracted widespread attention across Europe following an excellent season in France – just like the one which meant hype and over-expectation was placed on his shoulders as soon as a move to Manchester Unitedwas announced in the summer of 2015.
After a forgettable tenure at Old Trafford, he was sold to Lyon in January last year for £16 millionplus add-ons, with United inserting a buyback option within the deal itself. Given how infrequently regular minutes came in the Premier League, it's best to gauge his progression based on how well he performed in the Eredivisie prior to the big-money move.
During his final campaign at PSV, he scored 22 goals and created six assists in 30 games.
This past season, he scored 19 and created 13 more in 36 Ligue 1 games. Add another six goal contributions (3 goals, 3 assists) in Europa League action over the course of the campaign and it's easy to understand why he's beginning to attract attention from European clubs prepared to take a chance on him.
He is an explosive player, one who dazzles with skills and tricks but has developed his game and cannot be underestimated or tarred with the 'United reject' brush that hit many before the Dutchman's departure.
He has flourished this term playing in a range of different attacking roles, whether it be his natural left-wing position or as the centre-forward linking up with Nabil Fekir, Mariano and Bertrand Traoré.
His shot accuracy has improved considerably (56% in Ligue 1, 77% in Europa League) in comparison to his younger years, whilst he's not just aimlessly dribbling past opponents with no purpose either. He is more calculated with regards to attacking movement and an improved take-on success rate justifies this.
#2 Joshua Kimmich (Bayern Munich)
Joshua Kimmich is widely regarded as one of the world's best defenders and after the past twelve months he's experienced, it's certainly a justified statement.
As a versatile fullback who has been touted to play in midfield in future, Kimmich's attacking tendencies have been clear for everyone to see on a regular basis – both in the Bundesliga and Champions League, where Bayern ultimately fell short at the semi-final stage against Real Madrid once more this term.
Their 4-3 aggregate defeat was heartbreaking but no blame could be attributed towards Kimmich, who netted two important goals (one in either leg) and crucially, made sure to embrace his defensive responsibilities too against Los Blancos – which is more than can be said for Marcelo on the opposing side for Real.
His passing accuracy has remained above 90% for the second consecutive season, while he's made more of a conscious effort to offer support defensively where possible and provide necessary pressure on opponents, forcing mistakes and snuffing out dangerous situations in their tracks.
Having become more adventurous in attack, his average passing length has increased with time – as has the number of take-ons he has completed (21 compared to just five last year) and consequently, chances created. 72 successfully compared to 34 last term, these statistics only count the Bundesliga and Champions League fixtures.
With six goals and a whopping 17 assists across all competitions this term, it's becoming clear that Kimmich continues to blossom with regular first-team football under his belt at one of Europe's top sides. Not many would have predicted this.
#1 Raheem Sterling (Manchester City)
Raheem Sterling's ability and world-class potential has always been there for all to see, but the major criticism which clouds his game is inconsistency when it mattered most – failing to convert golden opportunities, questions over decision-making and the like.
Although there are still instances where this is prevalent, namely away against Burnley and Tottenham, Raheem has excelled when Manchester City needed him to over the past twelve months and has reaped the rewards of just that.
His blistering speed and close-control dribbling have made him a nightmare to defend against, but the purpose and speed at which City counter with Kevin de Bruyne, Leroy Sané and Gabriel Jesus, is frightening.
He combined for 18 goal contributions (7 goals, 11 assists) in England's top flight during the 2016/17 campaign. This past season, he scored 18 of his own – whilst adding another 11 assists.
Pep Guardiola opted not to start him against former club Liverpool during their Champions League quarter-final first leg, which ultimately came back to haunt the Spaniard.
You could understand the reasoning behind his decision but even still, once he was introduced, the injection of pace and attacking threat down the right-hand side seemed too much to leave on the substitutes' bench.
That's the one blemish on an otherwise fantastic campaign from City's perspective, as they'll be forced to watch their league rivals tussle with defending champions Real Madrid this weekend in the Champions League final – one they could very well be competing in themselves if things were different.
You can see from his body language in games that he's his own harshest critic and with the World Cup soon ahead, will be keen to avoid a repeat display from the Euro 2016 showing – where he was being tirelessly booed by home supporters, criticised endlessly and made a scapegoat for England's shortcomings.
Even at 23 with a Premier League medal in his cabinet, Raheem has plenty of potential left to fulfil which is exciting to say the least.
---
Agree with my list? Disagree? Which players have improved the most this season according to you? Have your say. Let me know in the comments below!