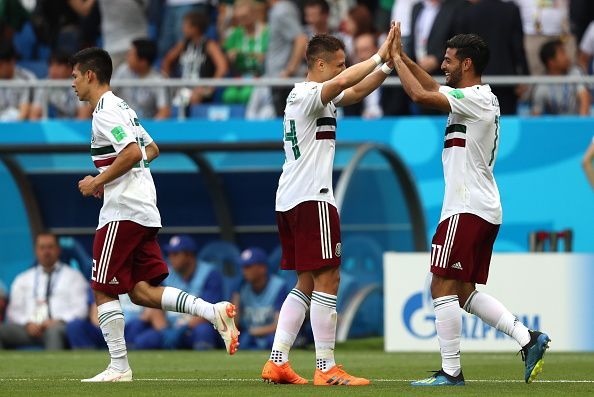 High-flying Mexico recorded their second consecutive group stage victory at this year's World Cupin Russia and by doing so, have all but confirmed their place in the last-16 with their crunch clash against Sweden to come next week. 
They made hard work of a spirited South Korea side who gradually improved but made far too many mistakes to justify a warranted comeback, having conceded a needless first-half penalty before allowing Javier Hernandez to double the scoring midway through the second-half.
Tottenham forward Heung Min-Son was able to grab a goal back in stoppage time for the Koreans after a tireless display from the 26-year-old, but it proved only a consolation as Juan Carlos Osorio's men held firm for all three points.
Here are the best and worst players from this match.
#5 Best – Hirving Lozano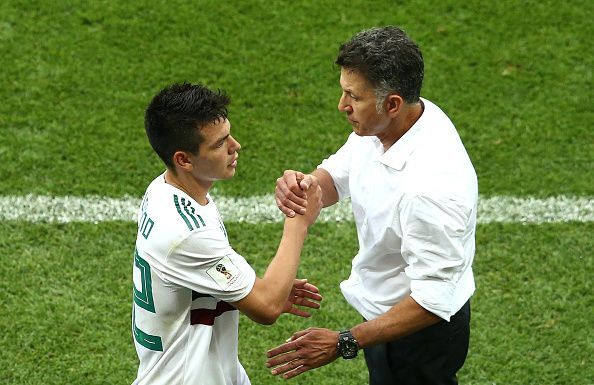 This was a decision made difficult by Javier Hernandez's display, but opting for Hirving Lozano proved the right choice as he was more of a handful for the Korean backline to deal with throughout – despite being unable to get a goal to show for his creativity here.
He completed two dribbles and was fouled on five separate occasions as Korea made a conscious effort to try and stop him from getting a head of steam. This had the opposite effect. His movement was good, regularly evading markers although teammates looked towards different forward options, aiming to avoid pass predictability.
He could have easily scored a brace of his own, having come close in both halves. After weaving past two players in the area, he fired over the crossbar before Ki Sung-Yeung made a sliding goal-saving block to deny the 22-year-old on the hour mark.
Crucially though, he created the assist for Hernandez's finish by displaying his impressive ball-carrying skills, advancing forward 40 yards before picking the right pass to double their lead.
#4 Worst – Kim Young-Gwon
The sheer fact that Kim Young-Gwon was not Korea's worst performer further highlights the fact they did not deserve to win this game.
Their defence lacked much conviction and conceded far too many opportunities – half chances and clear-cut – so defenders struggled to keep Mexico's frontline at bay and it showed.
Kim, 28, was one of only two starting defenders across the pitch not to have completed a tackle during the 90 minutes. That in itself is a damning statistic, not least during a game of this magnitude for Korea: win or go home. His three clearances were coupled with three fouls too, which saw him unsurprisingly greeted with a second-half booking. Disappointing.
#3 Best – Carlos Salcedo
Salcedo's display was an impressive, if not under-the-radar performance during Mexico's 2-1 victory. Naturally, critics do not tend to talk about defenders unless they make a significant mistake – so the 24-year-old will be happy not to have been mentioned on that front.
However, his no-nonsense style granted him plenty of success during dangerous moments where Korea appeared threatening.
Two tackles, one interception, four clearances and a whopping six blocked shots. It was a busy afternoon's work for the centre-back, who impressed on-loan at Bundesliga side Eintracht Frankfurt from Guadalajara and is expected to sign on a permanent deal after this tournament.
#2 Worst – Jang Hyun-Soo
The only other defender to not complete a successful tackle was Jang. This was painful to watch from a neutral perspective – not least after it was his handball which gifted Mexico a goal midway through the first-half.
That was his one and only foul during the afternoon, though the most significant in terms of shaping just how the match went from Korea's point of view. They found themselves behind during a crucial spell and struggled to cope as Mexico only improved and looked fairly comfortable while doing so.
Four clearances, two aerial duels won and 84.4% pass accuracy help the centre-back's stats look a little better, though it's clear from this performance that his decision-making leaves a lot to be desired.
Having committed the mistake which led to Mexico's first, he only went and compounded his woes in the second-half. Mexico's counter-attacking speed proved too much to handle but it was his naivety which potentially cost them the match.
Lozano's probing pass found Hernandez advancing into the area, still with a bit of work to do. Jang, instead of staying firm on his feet and jockeying, slid to ground – presumably expecting the West Ham striker to strike first time. Instead, he faked inside and left him sliding in his wake before squeezing past goalkeeper Cho Hyun-Woo. Talk about getting embarrassed.
#1 Best – Carlos Vela
Matchwinner. Vela, who was wasteful despite some flashes of promise against Germany, earned a more rapturous reception from Mexico supporters after an efficient display here.
When playing against weaker opposition, it's natural that better players feel the need to excel – boosting their confidence and improving form while doing so. Three key passes, four completed dribbles and fouled on five occasions just like Lozano, it's clear from the statistics that he too was a real nuisance that Korea struggled to contend with throughout.
What is arguably more encouraging, other than him getting on the scoresheet from the spot, is how he didn't need as many touches (49) to affect the game in the way he would have wanted.
Often, he has been criticised for over-complicating things. He combined well with his team-mates here, helping them to record another victory without ever really needing to get past third gear. Tougher tests lie ahead, so time will tell whether Vela improves upon this display or flatters to deceive again. Encouraging signs nonetheless.