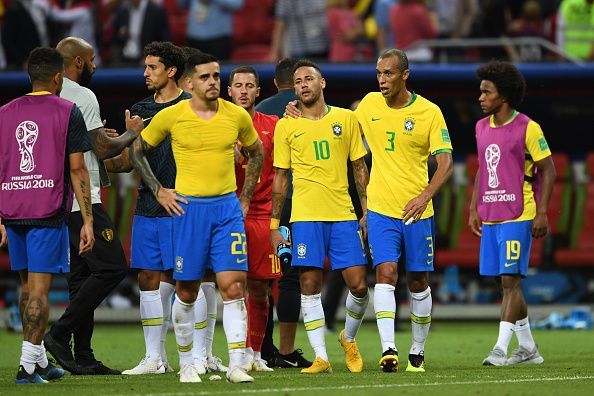 Despite being favourites, Brazil was knocked out of the World Cup at the quarter-final stage after a 2-1 defeat to Belgium. They did so ruing missed opportunities against a side who soaked up pressure well and hit them on the counter, a tactic that crucially exposed the Seleção's weaknesses without possession. 
Having drawn their group stage opener against Switzerland, three successive 2-0 victories over Costa Rica, Serbia and Mexico saw them face Roberto Martinez's side with a semi-final place up for grabs.
Goals from Kevin de Bruyne and an own goal from club teammate Fernandinho were enough to secure the Belgians' passage into the final four, although Brazil will count themselves unlucky – especially after missing goal-scoring opportunities and having a genuine penalty appeal waved away by referee Milorad Mazic in the second-half.
This loss means that Brazil have now been eliminated from the competition at the same stage on three of the last four instalments. So without further ado, here's the three players who let Brazil down the most when they were needed this summer.
#3 Fernandinho
The picture above effectively shows where Fernandinho's downfall was and why he deserves a place on this list. There were other names that could have otherwise featured here, but given the integral part he played in Manchester City's record breaking season last term, his performances in Russia were underwhelming for someone of his quality.
He made substitute appearances in all but one of Brazil's five World Cup matches, the quarter-final – where he started in place of the suspended Casemiro. On paper, this represented a like-for-like replacement and one which should not have been so significant. In reality, it definitely was.
Casemiro is by no means the perfect defensive midfielder, he too has flaws like any other player. He makes up for his lack of mobility by intelligent positioning and sitting deep, avoiding risks where possible before sweeping up danger accordingly.
Fernandinho meanwhile, is not the same. Keen to get on the ball where possible, he's unafraid to venture forward when required and equally happy to commit tactical fouls too.
You can forgive him for scoring the own goal, as he attempted to clear his lines but misjudged the ball's trajectory in mid-air. However, he continually found himself overrun in midfield and Paulinho's presence alongside him was not enough to resolve this. He made the most interceptions (5) of any player on the pitch, but crucially did not complete a tackle nor clearance and committed two fouls against a ruthless Belgian side.
#2 Gabriel Jesus
Despite occasionally displaying flashes of his individual brilliance, Gabriel Jesus was largely disappointing for Brazil at the World Cup. That's especially considering Tite chose him over Roberto Firmino as his first-choice centre-forward at the tournament.
Working tirelessly isn't enough to warrant more than recognition for your efforts anymore, not least for a striker – whose main responsibility is to score goals. Jesus didn't net once during his five outings (407 minutes) and the Manchester City forward's decision making let him down too often when the time arose.
It was clear from the offset that Neymar's star-studded talents meant he would be the main attraction while Jesus would be content as part of the supporting cast. With infrequent service into his path at times, all he could do was work hard when out of possession and try to win it back, forcing opposition mistakes and the like.
However, he consistently had limited touches of the ball in matches where you'd expect him to be adventurous and look to create chances to boost his confidence with tougher opposition to come.
It just didn't happen. Whether he was focused on appeasing Neymar is a question for another day, but when it was his time to score or make a decisive contribution in the final third, he either froze or made the wrong decision. He ended the competition with no goals and a solitary assist to his name. Given the promising opportunities that fell onto his path, he knows he should have done more.
#1 Neymar
Lionel Messi and Cristiano Ronaldo, both out. Neymar – supposedly the heir to their throne – consciously knew that this was his golden opportunity to step out of the shadows, silence critics and earn plaudits by spearheading the Brazil side to their sixth World Cup triumph.
Alas, it wasn't to be. Not for want of trying either. In terms of performances and overall contribution, only Philippe Coutinho did more for Seleção than the 26-year-old. 23 key passes, 22 completed dribbles, two goals and an assist in five matches.
It could be worse, but for a superstar those statistics are not as good as they may seem, not least because I haven't even begun to tell you how many times he was dispossessed or the total match time (14 minutes) that the PSG forward was on the turf, claiming to be injured.
Neymar's issue has never been talent, but applying it and displaying the necessary urgency in key moments is a reoccurring problem that is clear to see whenever he is called upon during big matches. PSG's Champions League knockout tie against Real Madrid this past season is a prime example where he was more than happy to dribble past opponents with ease but when it came to making the crucial goal-scoring decision in front of goal, he struggled to make the right ones.
Against Belgium, this was no different. 7 key passes and 3 dribbles, yet he was dispossessed on five occasions and lost the ball five more times elsewhere too.
His theatrics in the box were clear for everyone to see again, trying to earn a cheap spot-kick – which critics suggested made the referee's decision a clearer one when Jesus himself had actually been fouled by club mate Vincent Kompany.
"I can tell you that this is the saddest moment of my career. The pain is very big because we knew we could have gone far. It's difficult to find the strength to want to play football again, but I'm sure God will give me enough strength to face anything." – Neymar after their 2-1 defeat
If he genuinely harbours any desire to become the world's best player, his World Cup performances have justified why there's so much more work left for him to reach his ceiling before it's too late.