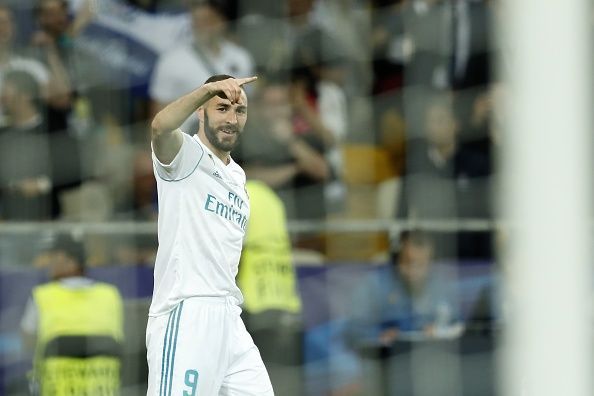 Cristiano Ronaldo's big money switch to Juventus was confirmed earlier this week and it begs the question: Why is Karim Benzema still a Real Madrid player? 
Karim, now 30, has been and remains a quality striker. The main criticism which hurts his credibility at times is his lack of consistency – as well as a tendency to score less than expected over the span of a full season.
In 47 appearances across all competitions last term, he netted 12 goals and created eleven more assists. For someone who should be regarded in the world-class bracket of European strikers, that's simply not good enough.
The season before, he scored 19 in 48. His scoring output has fluctuated wildly in recent years, which is surprising given he plays for one of – if not the world's best team. They create chances galore, so why does he not convert more often then?
Demanding Ronaldo has left Benzema in his shadow
The overriding factor here, is Cristiano. His quest to be the world's best player means that if he is open, or has a promising opportunity to score, he should take it. Forget about Benzema. That has been the case ever since the BBC trio – including Gareth Bale – was recognised as a fearsome attacking partnership.
It has only intensified as Ronaldo has aged, taking up positions in forward areas more regularly and reducing the workload from the flanks, where he was known for during the earlier years as a professional. Critics call it evolution, others say it's calculated but Benzema knows that it is to the detriment of his own goalscoring exploits.
So you could perhaps excuse the Frenchman for breathing a sigh of relief after Ronaldo's switch to Turin was confirmed this week, a break from endless speculation that surrounds those in Madrid.
Stats, goals and overall contribution are not always what they seem
With that in mind, statistics too can be deceiving. Ronaldo, who only scored four before Christmas, ended the La Liga campaign with 24 goals and five assists. He played three less matches but 300 more league minutes than Benzema, who netted five and created eight.
It seems cliché to say but there's truly more to Benzema's game than just goals. He created 37 chances, maintained an 82% pass accuracy rate and also bettered Ronaldo's successful take-on percentage by 8% (73.8%) in Spain's top-flight.
Yet, Los Blancos supporters have voiced their discontent towards his performances – because he has a tendency to appear clumsy in possession, miss promising opportunities or pick the wrong decision in the final third.
Unconvincing replacements linked, will he leave this summer?
Real are always on the lookout for talent to improve their squad, none more so than in attack following Ronaldo's departure this summer. Eden Hazard and Kylian Mbappé have both been linked with big-money moves to the Bernabeú in recent months, though they are more likely to play from the flanks if either is signed.
So, who would be their first-choice centre-forward? 21-year-old Borja Mayoral may not be deemed ready for a regular starting berth next season, having spent last season out on-loan at Bundesliga side VfL Wolfsburg.
Bale, just like the aforementioned duo, is likely to play on the flank. It leaves Benzema as their best option under new boss Julen Lopetegui – though his future remains uncertain ahead of next month's curtain-raiser.
Serie A side Napoli have been linked with a €40m (£35.3m) switch, which could see him reunite with former boss Carlo Ancelotti in Naples. Valencia's Rodrigo is reportedly nearing a Real move this summer, after netting 19 goals and creating seven more in 44 appearances for Los Che last term.
The question is, does Benzema want to complete his peak years at Real or another European team, where the side could be built around him and he'd consequently earn more credit as a result – a la Edinson Cavani and Gonzalo Higuaín at Napoli. With that being said, it'd see him go from teammate to league rival with Cristiano in Italy's top-flight.