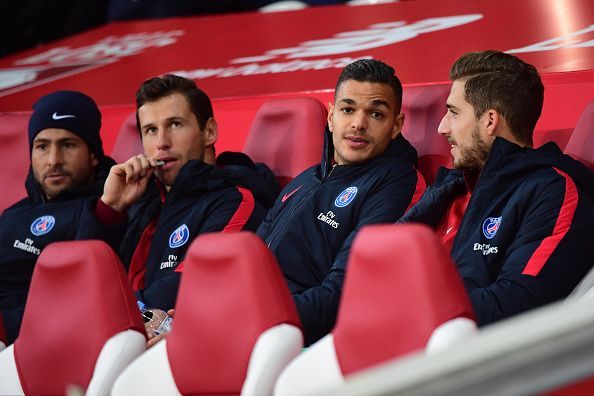 Paris Saint-Germain has been busy this summer, but need to sell more players if they are to effectively balance the books and keep UEFA content that they're actually abiding by Financial Fair Play (FFP) rules. The Ligue 1 champions have been linked with numerous top players who could all be lured to Paris before the new campaign starts next month, though this will only be successful if they allow for more departures. With that in mind, here are five players that PSG should sell this summer: 
#5 Jean-Christophe Bahebeck
Bahebeck, now 25, spent last season out on-loan at Eredivisie side FC Utrecht. The plan there was, if his spell there was successful, PSG would benefit from seeing him leave on a permanent deal – and earn a fair transfer fee for his services too. Instead, though, his tenure in Holland was cut short having sustained a serious injury – rupturing his Achilles tendon in late October last year.
Prior to that, he netted three goals and created one more in six Eredivisie appearances. Reports in France suggest they'd be open to giving the Frenchman another opportunity, especially as it was unfortunate that he suffered a long-term injury just early in the campaign.
Whether they'd be prepared to sign him on a permanent deal now, remains to be seen. However, it makes sense that PSG would be looking to offload him anyway, as he's not in Thomas Tuchel's first-team plans.
#4 Jese Rodriguez
Jese's spell in Paris has been nothing short of disastrous, following a £22.5m move from Real Madrid two years ago. He has only made 14 appearances for PSG since, netting two goals. Surprisingly, he has only played 368 total minutes – which is less than during loan spells at La Liga side Las Palmas and Stoke City over the past two seasons.
The winger, 25, is in desperate need of a permanent home and it's obvious to see the club's coaching staff do not rate him highly enough to be any more than a lowly substitute option.
Jese, who has 33 international caps with Spain's various youth sides from under-17 level, is yet to earn a senior call-up and will struggle unless given the opportunity to impress elsewhere. PSG need to offload him, though it's unlikely they can recoup more than £15-20m for his services.
#3 Kevin Trapp
It's been a difficult year for Kevin Trapp, not least given how drastically things have changed at PSG for him. Having impressed as Eintracht Frankfurt's first-choice goalkeeper, PSG completed a shrewd piece of business to sign the Germany international ahead of the 2015/16 campaign.
He made 77 appearances (across all competitions) during his first two seasons in Paris, keeping 43 clean sheets while doing so. However, over the past twelve months, he has only played on 15 occasions – Alphonse Areola has emerged as the club's new first-choice 'keeper and he has been tirelessly linked with the exit door in recent months.
He has publicly insisted he'd like to stay at PSG despite claims that first-team football awaits elsewhere, while Gianluigi Buffon's arrival has only added fuel to the fire that he will be sold.
He's a solid goalkeeper and one that a handful of European sides will be interested in, given his vast experience. He just turned 28 this month and still has two years remaining on his existing deal in Paris, so if they do sell, they should expect to recoup more than the £8.5m spent to sign him three years ago.
#2 Gregorz Krychowiak
Krychowiak is another example of a player who, previously, appeared to be a decent acquisition for PSG – but times have changed since then and the Poland international doesn't seem to be part of Thomas Tuchel's first-team plans ahead of the new campaign.
Signed for £25m from La Liga side Sevilla two summers ago, Krychowiak was precisely the type of player that PSG was longing for as part of their midfield.
At least, that's what they hoped. Someone to accompany Marco Verratti in defensive midfield, or if they opted for a 4-3-3, then as part of a midfield trio. Adrien Rabiot could also play there, despite his desire to play further forward in the number ten role.
Giovani Lo Celso returned from a loan spell in 2017 and has impressed over the past season, while the experienced figure of Lassana Diarra signed an 18-month contract in January – predominantly adding depth to their midfield.
The writing is on the wall, as far as Krychowiak is concerned. He only made 19 appearances before being loaned out to West Brom, who were relegated from the Premier League last season, so it's clear they looked to grant him first-team opportunities elsewhere before selling him.
#1 Goncalo Guedes
Last but not least, Goncalo Guedes. The timing could not be better from PSG's perspective, as Guedes is coming off the back of an impressive campaign in La Liga with Valencia – where he netted six goals and created 11 more.
He played an integral part in Los Che's frontline throughout as they finished fourth, claiming UEFA Champions League qualification in the process. Predominantly a winger, who can play in various attack-minded positions, Valencia are very interested in completing a permanent deal for the Portugal international.
With that in mind, other clubs are also interested. Premier League sides Arsenal and Wolveshave both been linked in recent weeks, while Manchester United was said to be put off by such an expensive valuation of €80m (£71m).
It's unlikely they will get that much for him, though at 21, he has plenty of potential to fulfill and will presumably do so – provided he is given an opportunity, unlikely the lack of chances granted at PSG prior to his Spanish loan spell.
The club was naive to spend £27m and immediately expect big things from such a raw youngster, who barely had half a season's experience in Portugal's top division beforehand. Now though, they're likely to benefit from his personal achievements over the past twelve months – as well as potential to succeed in future.