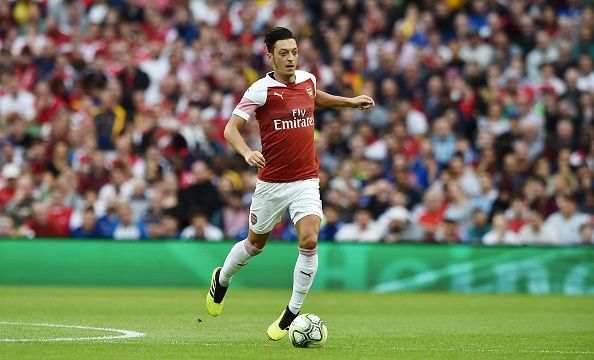 With the new Premier League season set to kick off this weekend, it's easy to forget that Mesut might not have even been an Arsenal player a few months back… so did he make the right decision to extend terms and become the club's highest-paid player at the Emirates? 
September 2, 2013. That was the day that Arsenal completed a £42.5m move to sign Real Madrid playmaker Mesut Özil – and the start of expensive transfer fees becoming the norm in North London.
The move itself was relatively unexpected as there were seemingly few rumours or much speculation regarding the German's future in Spain. As we're on the cusp of a new Premier League campaign, it's even easier now to forget that he could be anywhere but Arsenal heading into the new season.
Last year, his existing contract had six months left to run with clubs keeping close tabs on the situation. Arsenal supporters were torn: would the club cash in on one of their most creative players in recent history? Or continue to double bluff, leaving everyone waiting impatiently for news on a settlement.
They did the latter, Mesut was pictured beaming alongside Arsene Wenger and everyone was happy. Signing a three-and-a-half year contract extension on January 31, he agreed to terms and become the highest-paid player in the clubs history with a reported £350,000-a-week before tax wage. He also became the league's biggest earner at the same time.
At the time, Mesut said:
"It's been one of the most important decisions of my footballing career and that's why I had to think hard and talk with everyone who's important to me… Good things take time. In the end I let my heart decide. As I always said, I feel at home here and I'm highly motivated to achieve big things in the next few years. Once a Gunner, always a Gunner!"
---
Critics changing their tune as time passes
It's remarkable how quickly things can change in football. Özil, despite his world-class abilities, has unfairly been branded a luxury that Arsenal could not afford to carry on a weekly basis if they genuinely had hopes of challenging for major silverware.
Now that Wenger has departed the club after 22 years in charge, the German is being heralded as their most influential player and one that is tasked with carrying Unai Emery's new-look side – for this season and beyond.
Alexis Sánchez's January departure to Manchester United was somewhat softened by the arrival of Henrikh Mkhitaryan in a swap deal, although it's unrealistic to suggest the Armenian will replicate Alexis' influence in the final third.
While the Chilean international claimed his decision to leave was predominantly José Mourinho's lure, you can't help but feel as though he would have signed similar terms to Özil had the club invested more convincingly in attacking areas before he had left.
Sanchez worked tirelessly both in and out of possession, harassing opponents with a relentless nature that very few team-mates could match. His quality, when it came to providing service for others, was second to none – though you could tell he wanted more as goalscoring opportunities were regularly squandered.
From that angle, you can understand his desire to leave for pastures new but would hope something similar doesn't occur with Mesut, who is almost a polar opposite in terms of playing style.
His languid body language and demeanour may suggest he doesn't care at times. He also might not appear to run as hard or fast as others. Therefore, its naturally easier to single him out for criticism when the team collectively underperform.
---
Looking forward to the future under Emery
The German playmaker, too, needed to be surrounded by more quality attackers, which both Wenger and now Emery have taken steps to ensure going forward.
£110m deals to sign Alexandre Lacazette and Pierre-Emerick Aubameyang over the past twelve months, tying Alex Iwobi to a long-term deal and promoting the likes of excellent attacking duo Reiss Nelson and Edward Nketiah is promising for the future.
It's easier said than done, but he must embrace those who question his big-game displays. It highlights just how good he really is, after all.
Announcing his international retirement last month, given such difficult circumstances regarding racism and unfair discrimination, was brave. You can't help but feel that story is yet to reach its own conclusion. However, Arsenal's love and support for him are sure to add extra motivation as he looks to silence critics under new management this term.
It's not going to be a smooth ride but is one that better suits Mesut going into his peak years. It is certainly more preferable than the other European offers suggested – including Barcelona and Manchester United – where demands and his responsibilities would be vastly different.