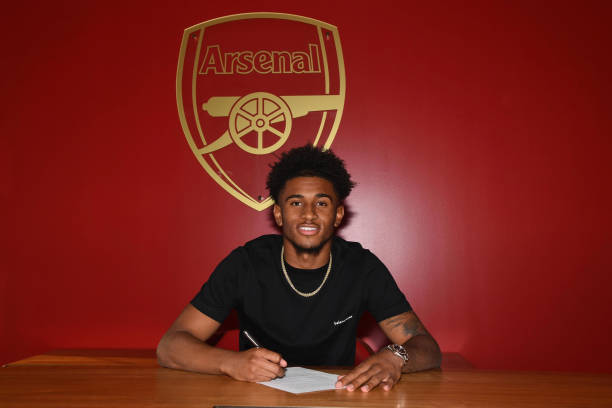 Reiss Nelson's proposed loan move to Hoffenheim is all but complete and given the ever-increasing trend of talented English youngsters heading abroad in search of regular first-team minutes, this one is more promising than most. 
Nelson, 18, has been heralded as Arsenal's brightest youth prospect since the days of Cesc Fabregas in north London. It should come as no surprise then, that he is being loaned out now.
Already deemed too good to be playing under-23 football and under new management in Unai Emery, competition for places is fierce – particularly in attack, where the Englishman thrives.
Like Mason Mount, Jadon Sancho and more, he is part of an elite group within England's youth system and is considered an important part of the Three Lions' next generation in years to come.
He will only succeed if granted regular first-team opportunities in one of Europe's top leagues. So instantly, this move is beneficial for his development and will add invaluable experience abroad.
Gunners' disappointment a blessing in disguise
Arsenal's Premier League shortcomings in recent seasons has been a blessing in disguise for their academy prospects, as the Europa League and cup fixtures served a useful way of them earning minutes without being loaned elsewhere in England's football pyramid to do so.
However, Nelson agitated for more minutes and this drew parallels to Jadon Sancho's unhappiness in Manchester the year before – making the matchday squad and training amongst the senior players only lasts so long before Reiss and co wanted their opportunity centre-stage.
Granted his league debut under Arsene Wenger during their 4-1 win over Crystal Palace in January, he made two further starts – Southampton and Manchester United in April as the Gunners' league form faded drastically and youngsters were selected to showcase their ability.
He was energetic, impressive, looked comfortable in possession and crucially, performed like he belonged. No wonder he was so keen for first-team minutes, after all.
A breath of fresh air in an otherwise gloomy season from the club's perspective, he ended up making 15 appearances (7 starts) across all competitions.
Just like Ainsley Maitland-Niles and others before him, Nelson was shifted to right wing-back frequently to accommodate Arsenal's 5-2-3 formation.
It helped solidify his defensive awareness and improve positioning, but also left him frustrated as he had to pick his moments to accelerate forward more carefully.
It's unfortunate but serves as part of the process at top clubs that talented youngsters rarely get opportunities to showcase their ability, unless multiple injuries and limited squad depth force them into the deep end.
Strengths and weaknesses, how will he suit the Bundesliga?
Nelson's playing style is direct and as a creative-minded player, he is often unselfish when it comes to distributing possession among teammates.
He has worked hard on improving his goal contributions in recent seasons – scoring more frequently and equally, creating more assists while doing so.
He possesses blistering speed, the ability to torment defenders and crucially, can create chances from seemingly nothing if given the ball at his feet enough. The one issue with his style is, when deployed on either flank, there are times in matches where he can go missing.
Mainly when he's not in possession himself or the team are defending for sustained periods, it's something that will undoubtedly be worked on as he too has worked on embracing his defensive responsibilities, helping his fullback and nearby midfielders more.
He has displayed the capability to play in the number ten role, given his unselfish nature and under-rated passing range, while close-control dribbling gives him an edge over most competitors in that position.
It's important trust is developed with his new teammates because otherwise, he could be tempted to go it alone at times in attack if things are not going well and his team are chasing a game for example, as it's something that has previously paid off at youth level.
As he knows already, competitive football is a completely different experience and one where he'll have to be mindful that, for all the fouls suffered and potential opportunities spurned, there will be plenty more waiting for him.
He's a tricky player to defend against and one that defenders typically have no time for – so bracing himself for even more attention from opponents is something he'll relish.
Why he should look to emulate Gnabry's success there
Reiss is certainly one that Arsenal hold high hopes for in the future, given their insistence on him signing a new four-year contract extension (option for another year) before leaving on-loan.
It's an insurance policy, not least with only a year left on his existing deal and they don't want to let another top talent slip through their grasp – like Serge Gnabry did this time two years ago.
After an impressive campaign with Germany's Olympic team, where Gnabry scored six goals in six games, clubs circled. He joined Werder Bremen for £4.5m, did well there and Bundesliga champions Bayern were quick to snap him up for just less than double the transfer fee.
They quickly loaned him out to Hoffenheim last season, where he flourished even further under Julian Nagelsmann's guidance – scoring ten goals and creating seven assists in 26 appearances, the best goal contribution tally of his career.
When questioned about the Nelson deal, the 31-year-old said:
"Reiss has similar traits to Serge, which is his pace in one-on-one situations.

These are qualities that we don't have much of in the squad – it was my wish that we replenish those qualities again. If it [the deal] works, we get a player with a lot of speed, who can do a lot of things."
This is an exciting deal for both parties – Hoffenheim acquire an excellent talent while Nelson gets to learn from a highly-rated manager and one who will help him make 2018/19 the real breakthrough campaign he's been yearning for.