Naomi Osaka became the first Japanese international, male or female, to win a Grand Slam title tonight after a dramatic straight-sets victory over Serena Williams.
Serena was looking to equal Margaret Court's all-time record of 24 Grand Slam titles, but controversy struck early in the second set and continued to spill over as she had an ongoing incident with umpire Carlos Ramos, which saw her harshly punished on the scoreboard at a pivotal stage of the match itself.
Many critics suggested pre-match that nerves would play a significant factor in this match. Serena playing in her first Grand Slam final since a 6-3, 6-3 defeat by Angelique Kerber at SW19 just three months prior, she was desperate to make history herself.
Osaka meanwhile, had never progressed past the fourth round of a major (Australian Open, 2018) since turning professional in 2015. Still 20 until next month, it speaks volumes for the women's game that a hard-hitting youngster like herself was able to surpass all expectations to win her first Grand Slam at such a tender age.
Naomi starts quick, Serena struggling
If either woman was feeling the pressure, it certainly was not Osaka early on. She began quickly and was able to match Serena's power from deep to force her into multiple unforced errors.
Tactically astute, she played bravely and Williams struggled for consistency throughout. Her first serve in play (38%) was severely underwhelming, to say the least during the first set. It often allowed Osaka to dictate the pace of rallies, even when Serena usually would force her opponents into manoeuvring from side-to-side to contend with her forehand power.
Unfazed by subtle intimidation tactics, Osaka raced into a double break at 4-1 and the fact the first set flew by was alarming from Serena's perspective.
Conservative, she rarely went to the net as much as she did against Anastasija Sevastova in Thursday's semi-final. Perhaps weary of Osaka's ability to match her for power and being frustrated herself, opting to come forward towards the net was a risk she was unprepared to take. 6-2, first set Osaka.
Fireworks as controversy begins in second set
Then, the controversy began. Serena, who has been coached by Patrick Mouratoglou since 2012, was looking to fight back and grab a foothold in the match. Given a code violation by umpire Carlos Ramos, after he saw Patrick gesticulating in her box, this fired her up.
She said: "I don't cheat to win, I'd rather lose," before stressing the fact that she had not been cheating or looking to gain an unfair advantage.
The violation was added motivation for her, having raced into a 3-1 second set lead. It was clear that despite Osaka's fast start, Serena was finally awake and certainly in this match. Excellent drop shots and dogged determination, despite squandering four break points, to continue in the same ferocious vein and earn a two-game lead, was encouraging.
Then just as quickly as her second set lead had arrived, it soon evaporated. Two double faults, having been 30-15 up, cost her a game on serve. Then she was deducted a point for another code violation having broken her racquet, the scores were level at 3-3. Soon enough, Osaka restored her advantage. 3-1 up, Serena was 4-3 down and fuming.
She reacted angrily at the change of ends and made her feelings clear to Ramos – a historically tough disciplinarian – who was unhappy with tone and deducted her a game penalty for verbal abuse.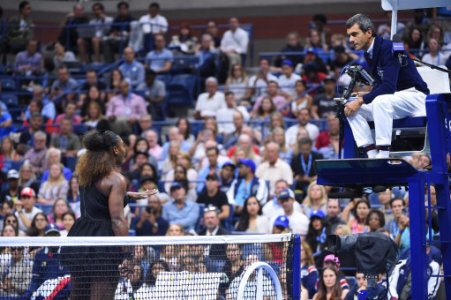 It was a dramatic and unnecessary end to what had been an intriguing watch, though you could tell this was the last straw from Serena's perspective.
6-2, 6-4, Osaka won her first Grand Slam but naturally, all the headlines will be centred around Serena and an unsavoury meltdown which originated from her coach.