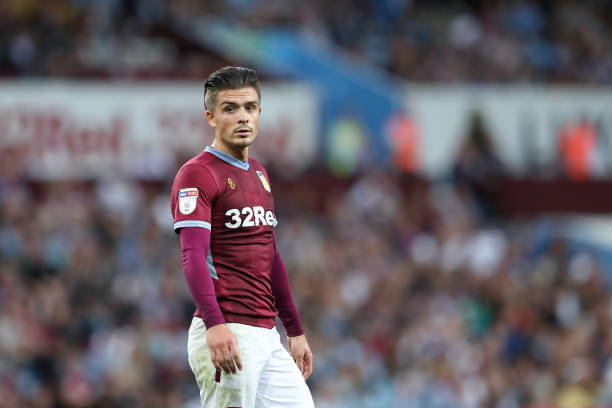 Over the past few months, Jack Grealish would have been a frustrated man. It was clear he wanted to join Tottenham, they too were interested in his services but failed to agree a fair transfer fee with Championship side Aston Villa. 
It's perhaps unsurprising, given the fact Villa herald the creative midfielder as their prized asset. Spurs, meanwhile, are notorious for driving hard bargains in negotiations with players at their respective clubs, despite holding such lofty ambitions for success themselves.
They were the only side not to make any summer acquisitions this past window, becoming the first team to do so since its introduction back in 2003.
Ridiculed and criticised for it, arguments were also made that Mauricio Pochettino was more concerned about retaining his main squad core – which they did.
At the very least though, Grealish would have added extra quality in depth.
He's already played in the Premier League before, with two years' experience under his belt as a fearless teenager in the West Midlands. It came with its fair share of controversy and inconsistent spells, too, which is typical for talented youngsters once they're exposed to the scene.
He has matured plenty since then, spending time alongside priceless role models like Chelsea's legendary defender John Terry, who spent last season with Grealish at Villa and impressed.
The Villains were 90 minutes away from making their top-flight return. instead, a 1-0 play-off final defeat by Fulham was a damaging blow for a squad not many previously tipped for promotion.
Grealish worried as teammates and friends continue to progress
Earlier this week, Grealish celebrated his 23rd birthday. When compared to close friends and international teammates in a similar situation to him, he's in danger of falling behind the pack.
Premier League football was something he was so close to, while several players in his age group are playing at the highest level.
Harry Winks, Rob Holding, Demarai Gray are all 22 and currently earning, or have earned valuable experience with their respective sides in the Premier League.
Fulham's Calum Chambers (on-loan from Arsenal) is perhaps the most experienced, while creative midfielder Will Hughes is a good example of patience and persistence ultimately paying off, as he's been tipped to flourish with Watford. Both are 23.
Leicester's £25m summer signing James Maddison has impressed already this term and is being tipped to follow Ben Chilwell and the aforementioned Gray into England's senior set-up sooner rather than later. Both are 21.
There's a pattern emerging and with that in mind, you can understand Grealish's urgency to return to England's top division. It's not that straight-forward, though.
Why he'd struggle for regular Spurs minutes
Even with Spurs' injury doubts, it'd be a surprise that Grealish would be through into the deep end from the offset under Pochettino.
After all, there's a clear pecking order and the general consensus that time would be needed for him to settle into a new system, playing style and responsibilities at Tottenham.
If he really wanted this move, he should have pushed harder over June and July.
The deal would have been completed in time for him to benefit from a full pre-season campaign, allowing his new teammates an opportunity to quickly bond with him, learning his strengths and weaknesses.
Dele Alli and Christian Eriksen are Spurs' two attacking midfielders, yet both – particularly Alli – has had to adapt his game and perform regularly from central areas in different formations.
Grealish lacks both experience and discipline to effectively play there yet, which is why he has played on the flanks when not in the number ten role for club or country.
He excels with the ball at his feet and completes numerous dribbles per game, though questions over his productivity have decreased in recent times.
Crucially, Heung-Min Son and Lucas Moura are both converted wingers who largely operate in more direct attacking positions under Pochettino's guidance.
Harry Kane has longed for an effective goalscoring partner to accompany him and lessen his own load, while their flying full-backs are a change from traditional wingers.
Érik Lamela (hip, hamstring) is recovering from troublesome injuries too and Pochettino rates him highly, so it's unlikely that Grealish would start over the Argentine when both are fit.
Why this season should be Grealish's best
In 34 Premier League appearances, Grealish has just one goal and assist. For someone of his capabilities, those numbers are just not good enough. However, it was not for want of trying.
He created 29 goalscoring opportunities during that time, where his own minutes were never really consistent in a Villa side that struggled to score themselves. Christian Benteke was the club's only bonafide goalscorer, despite enjoying a goal glut in the latter stages of the campaign.
Since their relegation to England's second tier though, he has thrived. Admittedly, his goal contribution stats are nothing to write home about. 31 appearances (all comps) last term, he scored three and created six more. The season before? Five goals and another five assists.
However, stats can be deceiving: the absence of quality attacking teammates meant that his individual moments of creative brilliance were not effectively utilised.
Nonetheless, he was Villa's most important player last season during their promotion push and appears to be embracing his role as the club's star man – precisely at the right time. Last season, he created 47 chances and completed 64 take-ons, (70% success).
Steve Bruce and his coaching staff have done some excellent business in the loan market.
Acquiring Lille's Anwar El Ghazi, Everton's Yannick Bolasie and completing a deadline day move for Chelsea striker Tammy Abraham are shrewd deals but will provide Grealish with the proven quality he has craved to play alongside.
With opposition defenders affording him more attention, now is precisely the right time for Grealish to flourish with scouts and critics alike focused on his performances now that there is serious interest in him.