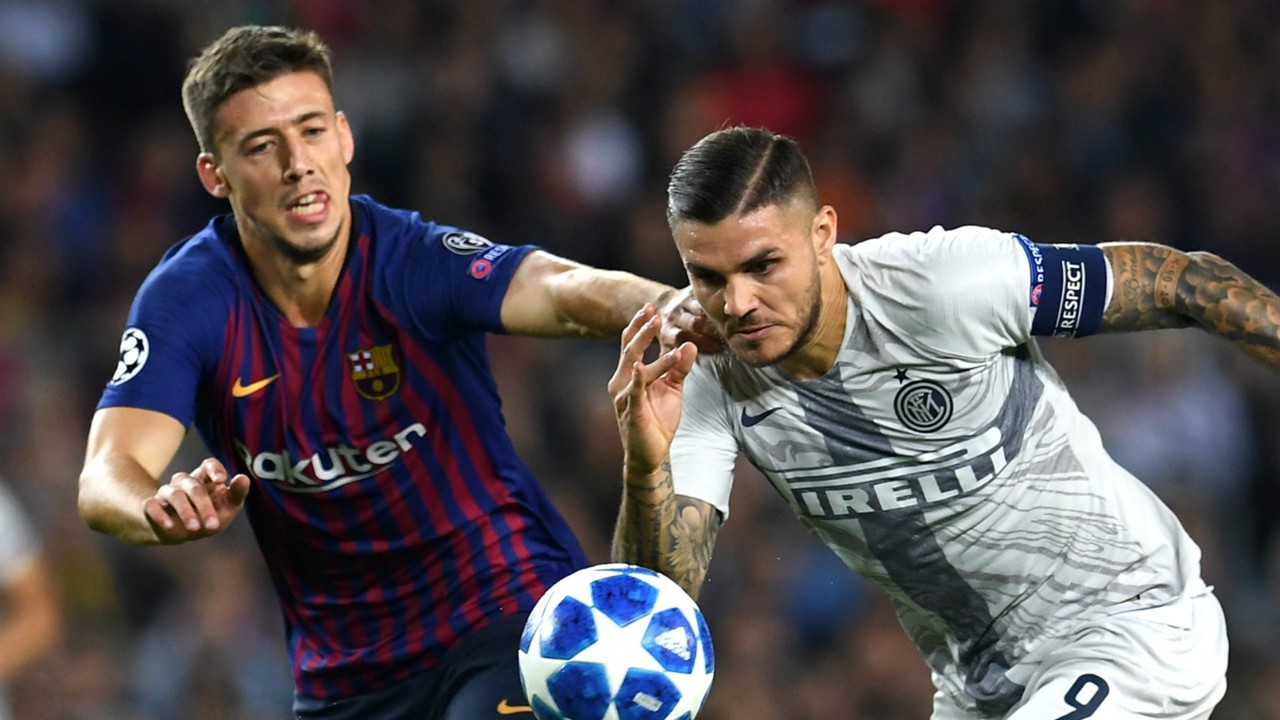 With critics and supporters alike praising Mauro Icardi for his key goal-scoring contribution at Inter Milan, it's easy to forget the Argentine is not yet good enough to justify such hype. He doesn't deliver on club football's biggest platform. 
It seems a bold statement, especially after Icardi netted 29 Serie A goals last season. But how many were against the division's top teams? Ten days after he scored a stoppage-time winner against fierce rivals AC Milan, then hit two past Lazio in Inter's most recent clash, the timing of this piece could not be much more inconvenient on my part. However, his display at the Nou Camp last Wednesday proved that although he's a potent striker with quality aplenty, there's certainly room for future improvement.
After all, this is the same player who has been continually linked with a £80-million plus move to both Chelsea and Barcelona, among others. He opted to leave Barca after three years in their youth academy, seeking first-team opportunities elsewhere. That decision ultimately proved fruitful for his development.
Why did Icardi fail when the light shone brightest?
Performance in the recent defeat to Barcelona highlighted the flaws within Icardi's skillset. Such can be preyed upon by tougher opposition. Like Blaugrana for instance, a side which clearly prepared for his threat in the final third.
Icardi was lethargic with his off-ball movement. He rarely threatened, mainly due to Gerard Pique and a more mobile Clement Lenglet effectively isolating him. The service into the 25-year-old was largely disappointing, but he's capable of carving out his own chances with the same frequency as world-class frontmen such as compatriot Sergio Aguero. Overall, then, it made for a frustrating watch. Wasteful in possession and denied any real opportunity to score, this proved the wake-up call needed. Against elite teams, Mauro can do more.
For fear of being reactionary, this is only one game. But aside from Icardi's goals this campaign, it's fair to say he has not been at his menacing best during the past three months. In addition, the Nerazzurri captain netted four times in eight appearances against Italy's top-four sides last season. Lazio, having finished fifth on goal difference, are included.
How can Icardi's stats deceive like this?
In truth, Icardi is a good, reliable striker. The stats support this belief. However, lavishing praise must be tempered given the quality of opposition faced in recent seasons compared to now.
European exposure can only be a positive. Clubs aplenty are monitoring Icardi's progress. With top-level goalscorers increasingly hard to find in an inflated transfer market, his impressive goal tally is impossible to ignore. That he was pivotal in ensuring Inter return to the Champions League after seven years away has no doubt helped the team improve collectively, too. It's an acid test for him competing regularly against Europe's top players.
Icardi's comments following the Barcelona defeat were underwhelming, though. It suggests he doesn't have the big-game experience to deliver what many have come to expect.
"We didn't play up to Inter standards in the first-half. I am not very happy with the performance, because we could've done well from the start and instead were pinned back. We knew that we were up against world-class champions who have won everything over the years. If you allow them a goal, it becomes difficult to recover."
It's almost as if Icardi believes his team can afford to start slowly and not get punished in Serie A. Although goals against Tottenham Hotspur and PSV Eindhoven would've provided him with a morale boost ahead of the return encounter against Barca, neither side can compare to La Liga champions.
For that reason, there are similarities between Icardi and Manchester United's Romelu Lukaku. Both are quality goalscorers, 25 years old and started respective careers at a young age. Lukaku made Champions League debut last season, netting five goals in eight matches, but he flattered to deceive at times where United were calling out for his attacking influence.
Made a scapegoat for Man United's shock last-16 exit to Sevilla, it's no surprise Lukaku has started the new campaign slowly despite a memorable World Cup with Belgium. That's perhaps reason enough for Icardi's reluctance to leave Italy just yet. He realises there's work to do before setting his sights on a lucrative move abroad.