Former world number two Agnieszka Radwanska has surprised many by announcing her retirement from tennis aged 29. But why now, from a player so brilliant and intelligent on court? 

The first Polish player to reach a Grand Slam singles final during the Open Era, she became the first to win the WTA Finals in 2015 – while being voted the fan favourite in six successive years (2011-2016).
In a statement, she said: "I'd like to share with you one of the most important decisions of my life. Today, after 13 years of playing competitively, I have decided to end my career. This was not an easy decision – I'm grateful to have so many special memories, including 20 WTA titles, the WTA Championships in Singapore, a Wimbledon final, and so many others.
"Unfortunately I am no longer able to train and play the way I used to, and recently my body can't live up to my expectations. Taking into consideration my health and the heavy burdens of professional tennis, I have to concede that I'm not able to push my body to the limits required."
Shock retirement: should it be that surprising?
Radwanska withdrew from last month's China Open as a result of her injury struggles, ending her season early with a 14-14 singles record. It essentially typified her issues of late, where persistent injuries and a lack of consistent form saw her drop to 78th in the WTA rankings – the lowest since 2006, when she made her debut.
With that in mind, perhaps it's not that much of a surprise after all? Other than the fact she will not turn 30 until next March, it's similar to Ana Ivanovic's situation which saw her retire in 2016.
When you reach the heights that both had previously, it's increasingly difficult to lower expectations. In Radwanska's case, she's unhappy that she cannot compete at the highest level any longer – that's a byproduct of her consistent success, even without winning any Grand Slams.
When you've invested so much time and energy into something, it usually remains ever-present even after your professional days. For Aga, she's not leaving tennis either: "Tennis is and always has been special in my life. But now it's time for new challenges, ideas, equally as exciting as those on the tennis court, I hope."
Achievements, stats, criticism and reaction
Overall, Radwanska won 20 career WTA singles titles. Although there will always consciously be frustration at her failure to win a Grand Slam, facing an inspired Serena almost always results in a defeat for her opponent.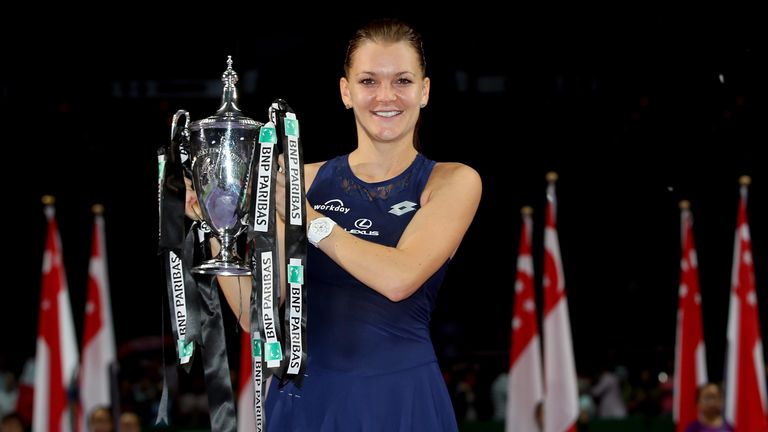 In addition to being a Wimbledon runner-up, she reached the semifinals twice in Australia, quarter-finals of Roland Garros once and was regularly featuring in the US Open's second week.
Her record against some of the tour's top power-hitters doesn't make for good reading, either.
0-10 vs Serena, 2-13 with Sharapova, 4-14 against Svetlana Kuznetsova, 5-13 vs Victoria Azarenka. All four women mentioned are capable of mixing power with an aggressive style when needed – meaning a stylistic matchup against Radwanska, given her defensive tactic, would usually see them prevail.
The best visual example is probably this video:
Stats: She finished with a 69% win percentage, which has been severely affected by her results over the past two seasons (58% and 54%). In four of her seven quarter-final Grand Slam defeats, she lost to the eventual winner.
"I always did my best to represent my country in the best possible way. I hope that my tennis matches were the source of emotions and joy for you all. Your support, warm words and faith in me were with me in every single match I played and this is what I'm thankful for. Thank you for every sleepless night in front of the TV and all those Fan Favorite awards – that was the biggest honour and best reward for my hard work. I am truly grateful for having the best and most loyal fans in all of tennis."
After Novak Djokovic's straight-sets victory over Alexander Zverev at the ATP Finals earlier, he was asked about Aga's retirement. He praised her intelligence, shot selection variety and revealed he too was surprised. That speaks volumes.
Final thoughts
Although men's tennis is more appealing to me personally, it's important to watch the women's game too. In a division dominated by the Williams sisters – players like Aga provided a refreshing change from the power-wins-all norm.
It's difficult to say if – not when – more players like Radwanska will emerge. The women's tour is unpredictable, with eight different Grand Slam winners over the past two years. Why?
Players struggle to stand out without any special weapons – a Stan Wawrinka backhand or Serena's scary serves. However, Radwanska made up for that very well and quickly earned a fan in me.
These types of highlight reel videos over the years will never get old:
Just watching the way she would manoeuvre across the court, pulling off difficult shots with ease at times, was mesmerising. Being able to anticipate opponents' moves are easier said than done, not least at the highest level.
The disguised drop shot, so clever yet so subtle. Mixing up slices and lobs, forcing her opponent seemingly everywhere. Those crouching shots in a squat position: so unorthodox, but effective nonetheless.
Just like Novak said, her "lack of big weapons" in the game were a clear weakness. Weak serves allowed opponents a way to dictate points on her serve, making them longer than needed. But she embraced that, knowing that her body was just not going to allow her to generate such power. Precision, deft moves, grace and masterly performances were a welcome replacement.
"Well, that's a surprise to be honest – I didn't see that coming. I remember her and I think many of us in tennis [do], as one of the smartest women's tennis players that I have seen."

It's a shame that she's retiring, and her presence on tour will undoubtedly be missed. Thank you, Aga.