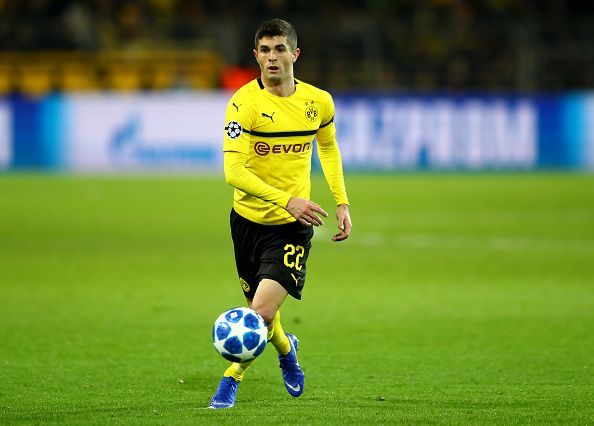 Transfer speculation surrounding Christian Pulisic's long-term future has been a feature for a few seasons now, ever since he broke through at Borussia Dortmund in 2016. 
It seemed inevitable that at some stage, he'd make a move to the Premier League – with the player himself revealing that he's anticipating a move to England's top-flight at some stage in his professional career. 
The question has always been about which team he'd join – Jurgen Klopp's Liverpool, one of the Manchester clubs, perhaps developing under Mauricio Pochettino at Tottenham or becoming another talented youngster across the road with north London rivals Arsenal. 
According to recent reports, Chelsea are frontrunners for the American's signature. He's a highly-talented winger and would improve the squad's overall attacking quality upon arrival, but here are three reasons why the Blues should not sign Pulisic – even if it's a tempting proposition.
#3 If he must leave Dortmund, it shouldn't be for Chelsea
With his existing contract set to expire in the summer of 2020, it's nearing decision time for Pulisic. Playing a part in a high-flying Dortmund side who have surpassed expectations so far this term, does he bide his time or angle for a move abroad – a fresh start in another of Europe's top five leagues? After all, he only turned 20 in September. 
His preferred role on the right-hand side is being occupied by Jadon Sancho, whose emergence isn't a surprise to me, but has been to those who were unaware of him prior to his switch last summer. 
With that in mind, it'll be interesting to see if Pulisic can usurp Jacob Bruun Larsen in the pecking order down the flanks and operate from the opposite side – something he's capable of doing. He's versatile enough to play in the number ten role too, but as that is predominantly where captain Marco Reus has started this season, it's difficult to see an immediate starting berth for him at present. 
With all of that in mind, the last thing he should do is decide to join Chelsea. The Blues find themselves in a delicate transition period of their own, under new management in Maurizio Sarri – who has suffered his first bump in the road as manager over the past fortnight. 
An increasingly-demanding side who expect nothing less than the best from their players, it's not exactly the ideal environment for Pulisic right now – not least with the lack of regular starts he's made this season. Although he'd be arguably training among better players and learning a new system, it could ultimately damage his progression. 
I'm not saying he should leave them either! However, you have to ask yourself the question: Which top sides could he join that he'd start for on a weekly basis? Some Serie A and La Liga sides – all of whom compete in the Champions League – spring to mind. Atletico Madrid and Napoli are among those who would potentially be interested, but again there's no guarantee he'd start there every week either. Even still, it beats Chelsea, which links to the second reason…
#2 With such an excellent academy, why not utilise your own youth?
This reason is fairly self-explanatory – Chelsea have one of, if not the world's best youth academy set-up and enjoyed success at various age groups in recent seasons. Yet none of the graduates ever tend to kick on and feature heavily for the first-team, why? 
They're not being granted the opportunities to justify their worth. It's rare to see a youngster playing for Chelsea that they have not gone out and spent money to sign. Even with capable prospects patiently waiting in the wings, their chance center-stage never seems to arrive. 
Ruben Loftus-Cheek joined the academy while still in primary school, yet just a month before his 23rd birthday, he's only now being granted chances to play regularly! 
Even this can be argued, whether it's just a method to avoid him wanting to leave on-loan in January. He's not the only one. Tammy Abraham, Ola Aina, Fikayo Tomori, Reece James and Mason Mount are just a handful of youngsters excelling on their respective loan spells – though none of them appear any closer to a first-team breakthrough. 
Hudson-Odoi has been doing well on a consistent basis, both in the youth ranks and when given a chance as part of Sarri's Europa League plans this term. Why not give him a chance in the Premier League then? 
"I don't know if he is able for the Premier League at 18, especially in a big team. If hes already ready now to make a difference in the team, he would be Europe's best player in two years." – Sarri on Hudson-Odoi after his first senior goal against PAOK
He's two years younger and naturally rawer than Pulisic, who has first-team experience in abundance under his belt now. However, how are players going to learn if chances are not given? 
Pulisic's development has stagnated somewhat recently, partly due to troublesome injuries as well as the aforementioned competition for places. In a side which boasts Dortmund's attacking depth, not everyone can always play – so the American has had to settle for cameo appearances from the substitutes' bench or stints where he wasn't even involved altogether, like their 3-2 win over reigning champions Bayern Munich last month.
If Chelsea buys him, it'll essentially be simulating the same situation to the one he finds himself in now. That also delivers a statement – they're looking toward the future, yet still unwilling to invest in their own attacking talents.