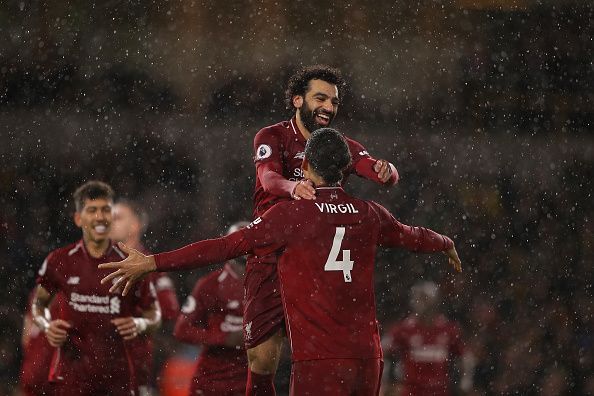 The Reds may be top at Christmas, but here are three reasons why Jurgen Klopp's men will not be lifting the Premier League in May…
Liverpool find themselves top of the Premier League at Christmas, which is thoroughly deserved on their part. After all, Jurgen Klopp has his side grinding out results, importantly keeping clean sheets whilst boasting one of the world's most feared attacking trios too.
They currently hold a four-point lead over defending champions Manchester City, whose 3-2 home defeat by Crystal Palace this past weekend has sent shockwaves across England's top tier. Could this finally be the Reds' year for ultimate success?
We're a game away from officially being at the halfway point in the 2018/19 campaign and with that in mind, it's interesting to see Liverpool's progression under Klopp – after significant transfers – in recent seasons.
First-choice goalkeeper Alisson and influential central defender Virgil van Dijk, who have both joined the club over the past year, combine for a whopping £142m. Should they win the league, their financial outlay will be worth it.
But just like their collapse in 2013/14, here are three reasons why Liverpool will eventually fall short in the title race once again:
---
#3 They've been fortunate without many key injuries; that could change
During a title-winning season, you need to have some form of luck. Whether that be rivals all struggling at the start of the campaign, top players finding form quickly or a lack of injuries to your important players.
Now, it would be cynical for me to claim Liverpool's success is solely down to having their best players fit and available every matchday. However, when you compare it with top opposition, that's the case. Joe Gomez (foot) is their only notable absentee that would be starting on a weekly basis, with the 21-year-old expected back sometime next month.
Joel Matip (collarbone), Adam Lallana (groin) and new acquisition Naby Keita (muscle) have been struggling with niggling injuries, but none of them were heavily involved last season and it's not as though their absence has been a significant blow either.
Tottenham have had Davinson Sanchez, Jan Vertonghen, Dele Alli and Christian Eriksen sidelined, Chelsea even had to deal with an Eden Hazard injury scare in October this term. But no rival has suffered from injuries as much as Manchester City this season.
Benjamin Mendy (knee), David Silva (hamstring), Sergio Aguero (groin), Fernandinho (thigh) and most notably – Kevin de Bruyne's ligament injuries have seen him only play 124 Premier League minutes this term.
He – alongside Aguero – are undoubtedly City's best players. With that in mind, could you imagine a Liverpool side in attack without Mohamed Salah and van Dijk for example? Their overall presence, even if not scoring (in Salah's case) or performing well defensively?
#2 Balancing Champions League once it returns – easier said than done
As the heading says, balancing Champions League knockout competition with Premier League fixtures is easier said than done, once it arrives in mid-February. Playing against Europe's elite clubs and trying to balance that with your match preparation in England's top-flight – not to mention other competitions – is difficult.
It's why English sides that get further in the Champions League usually see their league form suffer as a result.
Liverpool surprised many critics by getting to last year's Final in Kiev, only to lose 3-1 against Spanish giants Real Madrid. They finished fourth in the league with 70 points, five ahead of Chelsea and another seven more than sixth-placed Arsenal.
Both those London clubs struggled last season and have since recovered somewhat under new management in Maurizio Sarri and Unai Emery, but if you delve deeper into the statistics from Liverpool's form last season, you'll understand why they didn't achieve better in the league.
12 draws in 38 matches was only bettered by newly-promoted Brighton, Southampton and West Brom – the latter of whom were ultimately relegated, finishing in 20th place. Seven of Liverpool's draws, and three of their five league defeats, came either in or after the Christmas period. That speaks volumes.
If you compare it to Leicester's unexpected title win in 15/16, it makes sense. All of their rivals were occupied with Champions League competition in midweek, while they watched on at home and prepared for the next Premier League game. Not being involved in any other cup competitions also helped, allowing their players adequate rest and recuperation after Saturday or Sunday fixtures, looking forward to their next opposition.
Liverpool don't have that luxury, and given just how close they were to lifting the Champions League last term, they'll be equally bullish about their chances this season. Drawn to face Bundesliga champions Bayern Munich, who've been far from their best – but always tend to pick up after Germany's winter break and will not fear Liverpool either.
#1 Manchester City have been unlucky but will return stronger in 2019
As previously mentioned, City have been the unluckiest of all teams involved in this season's title race. That was with regards to injuries suffered by key players. As far as results go, Liverpool remain the league's only unbeaten side – but City were a converted penalty away from ending their run in October – and genuinely should have more points than their existing 44.
Their 1-1 away draw against newly-promoted Wolves in August was marred by Willy Boly's opener, which the French defender bundled over the line with his hand from Joao Moutinho's cross into the box. Now, if VAR was introduced at the start of this season, the goal would have been correctly disallowed. Instead, it wasn't. The goal stood as the linesman on the far side didn't spot Boly handling it, so couldn't actually give a free-kick the other way.
Aymeric Laporte netted an equaliser to ensure Pep's men avoided defeat, but that's two points City have dropped where they shouldn't have.
It's unlikely but not entirely impossible, so let's say the title race goes down to the wire and Liverpool pip City by a point or two. At present, the Citizens have a superior goal difference (+5). It wouldn't matter though, because of one result all the way back in August which had a significant bearing on City's final league position.
Perspective ahead of a telling year
Pep Guardiola's a perfectionist and is aware of the challenges which lie ahead in City's quest for more success in 2019. After all, they lost to Liverpool on their route to last season's Champions League Final – so know just how dangerous the Reds are.
However, Kevin de Bruyne's absence and Sergio Aguero's ongoing groin struggles cannot be understated. Both play a pivotal role in City's frontline, even with all of their squad depth and attacking quality – Raheem Sterling, Leroy Sané et al. Kevin the creator-in-chief, Aguero the clinical finisher, they combine to leave defenders in their wake and create chances aplenty.
Last season, Aguero scored 21 goals and created six more in 22 league starts. He has already showcased his worth once more this term, with important goals in the Manchester Derby and Champions League group stages too. de Bruyne topped the assist charts with 16 and only Arsenal's Mesut Özil averaged more key passes per game than Kevin's 2.9.
Stats' source: WhoScored