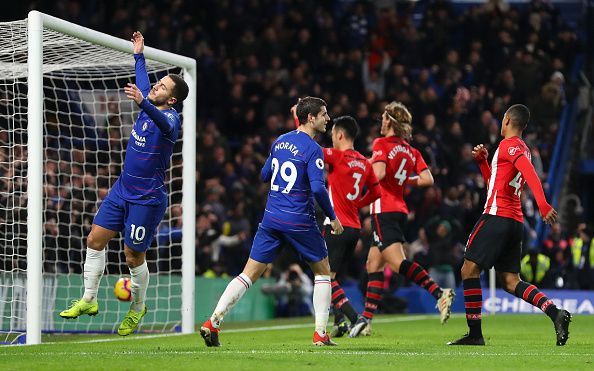 Chelsea failed to win at home for the second successive game, as Southampton kept an important away clean sheet at Stamford Bridge. Who struggled while others impressed?
Chelsea dropped points for the second successive Premier League home game as Southampton earned a valuable away goalless draw against Maurizio Sarri's Blues on Wednesday evening.
Álvaro Morata's luck in the final third hasn't changed, as the Spaniard continues to misfire in front of goal. The one he did convert, was adjudged to be offside, while other attempts were squandered during a frustrating evening's work from the hosts.
Eden Hazard too tested Angus Gunn, though the 22-year-old impressed and earned a deserved clean sheet on his top-flight debut. Last-ditch defending by Maya Yoshida and Yan Valery proved pivotal in a tough second-half where the hosts intensified their pressure but ultimately couldn't find a goal to show for their efforts.
Although Burnley's 2-1 win over Huddersfield sees Southampton back in the relegation zone, Ralph Hasenhuttl has now earned seven points from his first six games as Saints boss. To put it into perspective: they only had nine from their first 15 league matches before the Austrian's appointment last month.
With all of that in mind, here's an extended look at five performers – impressive and strugglers – from the 0-0 draw at Stamford Bridge.
#5 Flop: Jorginho
There were players on the pitch who didn't necessarily perform as well as Jorginho, yet the Italian finds himself in the flop section here because he's capable of much more than what was on display.
Heralded as the passing king, he unsurprisingly looked to receive possession wherever possible – particularly against a patient Southampton defence who were content in letting them have the ball, but dispossess them as soon as they edged towards dangerous areas.
Antonio Rudiger (126) was the only player that had more touches than Jorginho's 118 on the evening, yet his 102 passes were met with 83.3% accuracy – one of the lower across their starting eleven.
Eight players created a key pass, but he wasn't one of them. Over the 90 minutes, he completed four dribbles and successful tackles – but that's not something you'd necessarily attribute to his game. These stats are important because it shows Southampton were aware that allowing him possession in those deeper areas wasn't as dangerous as it may seem.
Cesc Fabregas, who has been used sparingly this term, came on and immediately produced a creative impact: one which Jorginho has yet to showcase as often to justify such faith.
#4 Hit: David Luiz
His defensive qualities and error-prone nature make him a scapegoat for scrutiny, but the Brazilian's fearless attitude, excellent passing range and sheer audacity to try the things he does, is awe-inspiring at times.
At 31, he's in the stage of his career where regular minutes is a necessity. So questions over his future are always going to intensify nearer transfer season, like now. But when he's delivering performances like this one against Southampton, it's difficult for Chelsea to let him leave. At least without the presence of a top-quality replacement.
He won four aerial duels – only Jan Valery (5) was more successful for both teams in the air. He made one tackle, one interception and six clearances while maintaining 86.2% pass accuracy on 94 passes throughout.
As previously mentioned, it's the fearless attitude that often sees him either in the firing line or praised for keeping teammates out of it. The latter was regularly the case here, whether he made an important block or defensive intervention, Luiz excelled.
His passing is what sets him out from most defenders – delivering some excellent over-the-top passes to create attacks from seemingly nothing as he did for N'Golo Kanté's winner against Crystal Palace last weekend.
The real question mark is whether he can sustain this level of performance consistently, especially against the better sides. As harsh as it may sound, keeping Danny Ings and Shane Long at bay is an easier task than if he was up against some of the league's better forwards.
#3 Flop: Danny Ings
After being an unused substitute during their 3-1 defeat by Manchester City to end 2018, Danny Ings should've come into this fixture with more verve, determination to succeed – particularly against the type of side that Southampton need his attacking influence against.
Instead, the 26-year-old struggled and was replaced by a more experienced Shane Long at half-time. The change didn't have any bearing on the full-time result and Long, 31, wasn't impressive either. But to his credit, he put himself about and did more than his attacking teammate's contributions in a sluggish first-half showing.
Ings has failed to score in all four meetings with Chelsea as a player, only West Ham (5) have eluded him more during his professional career. Hasenhuttl's still trying to establish his strongest – and most reliable – starting eleven, so performances like these aren't going to provide him with confidence that Ings is their number one option.
14 touches, 50% pass accuracy (lowest of any outfield player), caught offside once, dispossessed and fouled once, one shot – off-target – what more can be said?
#2 Hit: Angus Gunn
If Ings shrunk under the pressure against one of the league's top sides, Angus Gunn certainly rose to the occasion. The talented 22-year-old goalkeeper has long been heralded as one of England's bright prospects since his academy days at both Norwich and Manchester City – which culminated in a £10m move to the south Coast last summer from Eastlands.
After excelling back on-loan at Championship side Norwich last season, it was inevitable he'd get an opportunity among the Premier League's best and this display was quietly a fantastic one.
Gunn was prompted to make six saves and some important claims too. A skill of his is managing to make shots seem easier to stop than they actually are – which stems from excellent positioning, anticipation and body movement. His reactions were razor-sharp as usual, so whenever Hazard or Morata, in particular, was bearing down on goal, he was never fazed.
Hasenhuttl praised him post-match and rightly so. Alex McCarthy, 29, is a solid goalkeeping option but with displays like this, it won't be long before Angus retains the Saints' number one shirt on a permanent basis.
#1 Hit: Maya Yoshida
Gunn kept a clean sheet on his Premier League debut and looked right at home, but if not for Maya Yoshida's important interventions, Southampton might be travelling back with nothing to show for their efforts.
Yoshida, 30, has been a model of inconsistency at times in recent seasons and despite his experience, doesn't always command the faith of his defensive-minded teammates. After an excellent defensive display on this occasion, they'll certainly be listening to him.
Manchester United's attackers, even under Jose Mourinho, relished the thought of running at him last month. Away against Chelsea, he adopted a different approach and this proved more effective, to the point where Chelsea's attacks were regularly nullified before they had a chance to test Gunn.
Three completed tackles, eight interceptions, 11 clearances and two blocked shots: he regularly looked to shut out Hazard and co, halting attempted passes in their tracks or remaining patient and sitting deep alongside his counterparts whenever Chelsea were patiently attempting to probe.
An inch-perfect sliding tackle to dispossess N'Golo Kanté as he shaped to shoot in the box proved crucial too, as he would often mistime that challenge and give away a spot-kick. This was a defensive showing to remember – the first time Chelsea have failed to score against Southampton since December 26, 2002!
His passing and distribution (64.3%) were disappointing, but proved his only blemish during an important away display for Southampton – earning their first clean sheet under Hasenhuttl. Just like Luiz though, the real test is whether or not he can maintain these high performance levels throughout the remainder of this campaign. If he can, the Saints should have no relegation thoughts to worry about.
Stats' source: WhoScored