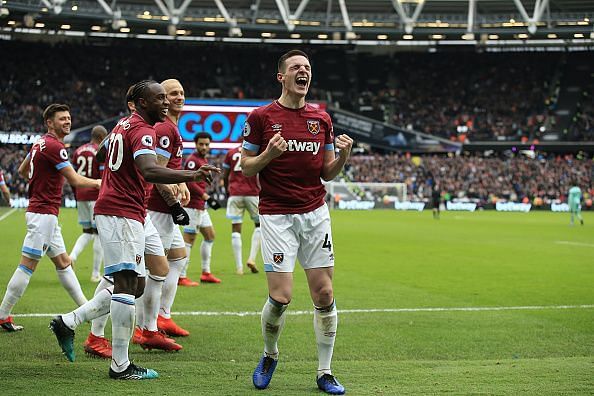 West Ham earned a surprise slender victory over London rivals Arsenal, but what were five talking points from the London Stadium?
The Gunners' latest Premier League defeat means they've fallen further behind in their attempts to apply pressure on Chelsea for the final Champions League qualification spot. With Manchester United up against Tottenham today, the Red Devils can go level on points with a win of their own.
With a record 59,946 in attendance, it was almost as though Hammers fans knew a surprise was on the cards. Rice, who had squandered a promising header opportunity while unmarked just before half-time, certainly made up for it as the hosts benefited from a rapid second-half response.
Arsenal failed to take advantage when they were comfortable in possession and created a few promising chances, while West Ham soaked up pressure well and did their utmost to frustrate their London rivals. A hard-fought victory for Manuel Pellegrini's men, here's a look at five talking points from a surprising result:
#5 Marko Arnautovic poses more questions than answers
Marko Arnautovic's days in east London appear increasingly numbered, not least with speculation linking him with a £35m move to China this week. The comments of his brother and agent Danijel aren't doing him any favours either, claiming that he wants to win trophies and should leave to progress his career – though it raises the question: Can West Ham continue to improve even without their talisman?
The Austrian forward, 29, scored 11 goals and created six more last season. Unsurprisingly, he won all of last season's accolades at the club's awards ceremony. Yet they finished in 13th place and were 12 points behind Burnley, who earned the final Europa League spot.
Since the last time he featured in Europe was during the 2010/11 campaign with Werder Bremen (Champions League), it's natural that he harbours ambitions to play among Europe's elite once more.
After all, he's firmly in the peak years of his professional career and flourishing in England's top-flight. Despite some encouraging signs, pieces of intricate play and link-up alongside Samir Nasri and Felipe Anderson, he certainly didn't have his best game against Arsenal.
Pellegrini replaced him with 20 minutes left, a lead to protect and fresh legs waiting for their introduction. We saw him react in a similar manner to what we've become accustomed to: slightly frustrated, subtly annoyed at being subbed but interestingly, he waved goodbye to the applauding fans as they watched him trot off towards the substitutes' bench.
At full-time, he swiftly walked down the tunnel, rather than to celebrate with his teammates after a memorable victory. Regardless of his situation, it doesn't look good does it?
#4 Samir Nasri watch, on his PL return
After three years away from England's top-flight, Samir Nasri marked his return with an assist and impressive performance against one of his former sides. Arsenal, who signed him from Marseille for £15m in 2008, were forced to endure a tricky test against the creative Frenchman.
He's been training with West Ham for a month and even despite not having 100% match sharpness, you could tell his teammates trusted him with possession whenever they had an opportunity in-or-around the final third. Slaloming runs with the ball seemingly glued to his feet meant he retained possession with ease, while enticing oncoming defenders towards him.
It allowed him to link-up well alongside Arnautovic and Felipe Anderson, though he could've had a goal and another assist for himself on another day. The subtle intricacies with which he plays were evident to see too and allowed him to create promising chances from seemingly nothing – like teeing up Rice after Arsenal's failed clearance in the box.
A free-roam creative role in the number ten position is one which suits him most, particularly as he's now older and more experienced. It allows him to conserve energy and pick his moments to attack and cause havoc more carefully.
Understandably tiring as the match wore on, he earned 70 minutes under his belt and was generally impressive in a slender – but deserved – win against Arsenal, the fourth of his career.
#3 Declan Rice excels as Manchester City watch on
After news broke this week that Manchester City are tracking the teenager's progress as a potential heir to Fernandinho's throne, it was interesting to see how he'd deal with the added attention and scrutiny during a televised fixture on Saturday lunchtime.
He passed the test with flying colours from minute one, composed in possession and equally effective without it. Able to regularly snuff out attacks, forcing Arsenal players – particularly Pierre-Emerick Aubameyang – into deeper positions to try creating opportunities and intercepting loose balls with ease.
Able to thwart moves in their tracks whenever the visitors looked to approach him in one-on-one duels, they'd much rather attack the spaces in-behind than dribble anywhere near him.
He made a crucial goal-saving interception to deny Alexandre Lacazette after Sead Kolasinac's clever cutback, before missing the hosts' best chance of the half with an unmarked header. He reacted angrily, knowing fully well just how good a goalscoring chance it was. Arsenal hadn't conceded from a corner this season, though the 19-year-old's luck was about to change.
As Nasri teed him up in space, he let fly with a first-time strike which flew beyond a helpless Bernd Leno – marking his first Premier League goal in style. It was an excellent finish but one marred by a messy defensive effort from the visitors, who failed to clear their lines.
His overall display was an excellent one and earned him the Man of the Match award, on a day where coverage of his performance was always going to be heightened. He turns 20 on Monday and having been released by Chelsea aged 13, his determination to prove them wrong has been a joy to watch in recent seasons. Long may it continue!
#2 Mesut mystery continues as Gunners miss his creativity
Arsenal started brightly here and combined well to create a few half-chances, but ultimately this was to no avail. Lacazette, Aubameyang and Matteo Guendouzi all had opportunities to score, though their early dominance wasn't reflected in the scoreline – which was still goalless at the interval.
West Ham were providing them far too much time and space in midfield to venture forward with, though they were not being punished for indulging their opponents. This was something the Gunners were later made to regret.
Ainsley Maitland-Niles, who performed fairly well, was replaced by Hector Bellerín in Emery's final change for extra attacking impetus – though their best creative player in Mesut Özil was nowhere to be seen. Left out of the matchday squad by Emery altogether, it was painfully clear that they missed the German's invention in attacking areas and instead, we saw plenty of sloppy play with possession being relinquished far too easily at times.
Introducing both Lucas Torreira and Juventus-bound Aaron Ramsey to provide more energy in midfield could've had an instant impact, if Aubameyang was not wasteful with his two chances in quick succession on-goal.
Granit Xhaka tried with his excellent passing range, while Alex Iwobi fluttered in-and-out at times with his surging runs forward, but both are easier to defend against than Mesut's intricate movements. This game was the type crying out for Özil to take control of, leading his team to victory. Instead, it has resulted in yet another winnable game that Arsenal have lost this season.
#1 Serious warning signs for the Gunners ahead
After their 22-match unbeaten run was ended abruptly by Southampton last month, it's been a frustrating few weeks for Arsenal. Here presented a winnable game, one which would have provided them with some much-needed momentum with tricky fixtures to come in the next few weeks. Instead, they lost and did so in a worrying manner – the type that will pose questions for both Unai Emery and his players, not least given their immediate need to strengthen the squad.
West Ham may have edged out a slender win here, but they'll be the first to admit they were not on top form. Arsenal were wasteful with their opportunities and punished. As previously mentioned, they started quickly but failed to score in the first 20-25 minutes. This was a key turning point: once again failing to turn their dominance, or the opposition's slow start, into an advantageous position for themselves.
It's happened plenty of times already this season, as well as prior under Arsene Wenger. It'd be naive to suggest that everything can be changed under Emery in months. It takes time, but these types of performances highlight why that aforementioned run of favourable results papered over the cracks which are deep-lying within the club.
They don't have money to spend. Emery said as much earlier this week. It's clear to see they need reinforcements across the pitch, but especially in defence, where the players themselves are inconsistent and seemingly pick their moments to struggle.
Further forward, they either don't apply themselves regularly enough or do so in flurries. That's not good enough for a team with Arsenal's lofty ambitions. Emery's team selection was poor – he should have started Torreira and Mesut's absence is baffling too, after he trained fully this week.
With rivals Chelsea next, Manchester United in the FA Cup and Manchester City to come in the coming weeks, the immediate future appears bleak. If you're going to attract top players, you should be playing in the Champions League. No top-class transfer targets are going to join the Gunners, particularly if they are playing in the Europa League. Kalidou Koulibaly or Matthjis de Ligt? Julian Draxler or Isco? None of the players mentioned above would join Arsenal in their current state, because they are aware that better clubs are interested.
Winning away games like these is a start. Their record against the top six is poor, that much is a well-known fact – but it's against the lesser sides that they should be consistently delivering victories. Draws against Brighton, Crystal Palace and Wolves – as well as Manchester United and the aforementioned Southampton defeat – are all matches that the Gunners should have won this term. It's just not good enough.