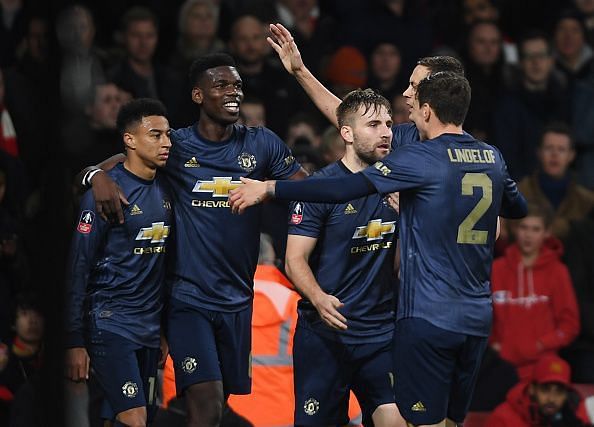 Manchester United's winning streak extended to eight after a 3-1 win over Arsenal in the FA Cup Fourth Round on Friday evening. Here are 5 talking points from an intriguing clash at the Emirates.
Manchester United extended their winning run under caretaker manager Ole Gunnar Solskjaer to an impressive eight after a ruthless display of counter-attacking excellence against Arsenal at the Emirates – earning their FA Cup fifth-round berth with efficiency on Friday evening.
Alexis Sanchez broke the deadlock after 31 minutes against his former employers, converting beyond Petr Cech from a tight angle. Jesse Lingard's intelligent movement and composure proved decisive as the Englishman doubled the visitors' lead just two minutes later, leaving the Gunners' backline stunned.
Pierre-Emerick Aubameyang halved the deficit just before half-time after good work from Aaron Ramsey saw Alexandre Lacazette tee up his strike partner. Despite dominating in the first half-hour, this goal was as good as it got for Unai Emery's men – Alex Iwobi, Aubameyang, Lacazette and Ramsey all came close with efforts before United substitute Anthony Martial provided the hammer blow with eight minutes plus stoppages to play.
Lacazette's loose pass saw compatriot Paul Pogba maraud forward unchallenged on the counter-attack. Striking from distance, Cech could only parry his effort directly into Martial's path, who made no mistake to silence the crowd and seal United's place in the last-16.
There were nervy moments despite an impressive away display from Solskjaer's men, who continue to excel under a new lease of life. Arsenal, who beat Chelsea 2-0 last weekend, started brightly but ultimately failed to take their chances and were left exposed defensively in another big game that has passed them by. Without further ado:
#5 Despite his goal, Aubameyang causing yet more frustration
The prospect of an Aubameyang-Lacazette combination in attack is something that Arsenal fans have been craving since this time last year, when Auba's £60m move from Borussia Dortmund was first announced.
However a year on, it's increasingly clear that they do not work together as well as one might've hoped – though shifting Aubameyang out wide doesn't help him either. He should be playing in a more central role, or at least closer to Lacazette, so the pair can link-up together and create intricate build-up moves.
Instead, he has regularly been deployed on the right-hand side when Lacazette is involved from the start and it's detrimental to the team's success in the final third. That was evident on this occasion, where Aubameyang was often finding himself having to drop deeper into midfield to try and earn possession there. When he did have the ball, his decision-making was regularly poor and passing let him down at times when the hosts appeared threatening on counter-attacks of their own.
His goal on the stroke of half-time was a trademark one: In the right place at the right time to prod home from close-range after Lacazette's pass, though it ultimately masked another ineffective display from someone who hasn't shown enough to warrant such faith in his performances by Emery in wide areas.
Lacazette – whose decision-making wasn't perfect either – adopted an infectious pressing game. Tellingly, Aubameyang didn't replicate that same desire out of possession and always seemed a step too slow against United's backline, with Victor Lindelof in particular marshaling him well. Arsenal's need for better wide players is clear and Aubameyang is certainly not one of them.
#4 Ramsey vs Pogba battle – a game of two halves
 Ramsey, just like the rest of his Arsenal teammates, started brightly in the first 20 minutes but drifted somewhat as the match progressed. It's synonymous with how he's been performing all season long and why at £300,000-a-week, you can understand Emery's reluctance to offer him a new deal after all.
The Gunners' period of dominance was not rewarded with a goal, although Ramsey proved instrumental in the build-up to Aubameyang's goal before half-time. Having weaved his way beyond two challenges, he passed across the box to Lacazette, who in turn found Auba – to convert from close-range.
Despite this though, his impressive moments were increasingly scarce as the match wore on. Some flashy dribbles and mazy runs towards the United box aside, he relinquished possession too easily at times and was frustratingly quick to go to ground at times too.
As for Pogba, it was the opposite – he started sluggishly, just as United collectively did. As the match continued, his involvement increased significantly and ultimately delivered the type of performance we're used to seeing from him: when called upon, standing up and making his presence count for all to marvel in the centre of midfield.
His marauding run forward was excellent and you can tell he's gradually starting to cut out the needless tendencies in his game. It will only help him to become a better all-round performer, while he linked up well with Alexis and if not for quick reactions from Cech, he would've broken the deadlock.
A forward-thinking nature is precisely what United crave and although Mourinho seemed keen to tame his creative tendencies at times, Ole and his teammates are now embracing it.
#3 Arsenal susceptible on the counter yet again
Despite crashing out of the FA Cup, the main frustration from an Arsenal perspective regards injuries. Sokratis (ankle) and Laurent Koscielny (facial), the club's first-choice defensive partnership, is no more – both had to be replaced after succumbing to their respective injuries.
Even still, the manner in which the goals they conceded was painful to watch. The first one was created by an excellent Lukaku pass, but why did both Koscielny and Shkodran Mustafi rush out to try and block his shot instead of holding their positions? It left a gaping hole for Alexis to capitalise upon, which he certainly did.
The second was a counter-attack and Arsenal players were caught far too high up the pitch, though Lingard had acres of space to run into and crucially time to pick his spot beyond Cech too. Lacazette's misplaced pass set United on their way to a match-winning third but why was no midfielder in sight to try and stop, or at the very least delay Pogba's driving run forward?
After such an encouraging display against Chelsea, they've gone and conceded three preventable goals against another top-six rival on this occasion. Arsenal, particularly in defence, are the epitome of inconsistency.
#2 Alexis with a point to prove, impresses
For a player who had only scored four goals in 32 appearances for Manchester United before this game, it felt inevitable that Alexis Sánchez would score against his former club at the Emirates. Doing exactly that, it proved only the start in an impressive performance from a player with something new to prove under Solskjaer's watch in Manchester this season.
Every touch and opportunity that Arsenal fans had, they let Sánchez know exactly what they thought of him. Their former talisman, who unceremoniously departed for the Red Devils twelve months ago, had struggled considerably with troublesome injuries and poor form under Jose Mourinho.
Oh how Arsenal fans wish they still had him now. Despite initially having troubles dealing with Ainsley Maitland-Niles down the right, his intelligent movement, attacking positioning and awareness proved key as he continued to stretch the Arsenal backline.
The finish beyond Cech was well-executed and a difficult one to pull off as the onrushing goalkeeper attempted to close down the angles. It proved futile, against a world-class player who certainly hasn't lost his ability overnight.
He worked hard throughout – as he so characteristically does – before being substituted for Martial with 20 minutes to play. United will be hoping that this is the start of a rejuvenated Alexis as their momentum continues to rapidly build.
#1 Romelu Lukaku shines with memorable passing display
For a player who is notorious for receiving criticism aplenty from supporters and analysts alike, this was a performance to savour for Romelu Lukaku. It's perhaps why he chose to celebrate solo after playing his part in Lingard's goal to double their lead after 33 minutes – having created two goals in quick succession and leaving a disheveled Arsenal backline stunned.
An unimpressive first touch and tendency to underwhelm in big games has given Romelu a reputation for being a vastly overrated forward, especially when United were so content in parting with £75m for his services two years ago.
However, the part of his game that is so often overlooked is the ability to create and build-up play in the final third. It's something we've previously seen in flashes during loan spells at Everton and West Brom – where he would be unselfish and contribute more from wider areas, which regularly proved successful.
Sead Kolasinac's attacking tendencies were exploited on this occasion and Lukaku's intelligent positioning down the left-hand side proved influential: causing indecision as to whether Koscielny or Mustafi should come across to cover him.
If they did, it would have allowed more space for Alexis and Lingard to break quickly – so he regularly had joy down that side of the pitch and showed his eye for an excellent weight of pass to tee up the pair well. Two key passes and tackles, three aerial duels won, two match-winning assists and 32 touches – only goalkeeper Sergio Romero (23) had less.
Since Ole's arrival in December, Romelu had only started one match: their 2-0 FA Cup win over Reading on January 5. These types of performances are worth their weight in gold and will provide the manager with a welcome selection headache going forward. The real question now is, can he continue to replicate these match-winning performances more regularly?
Stats' source: WhoScored