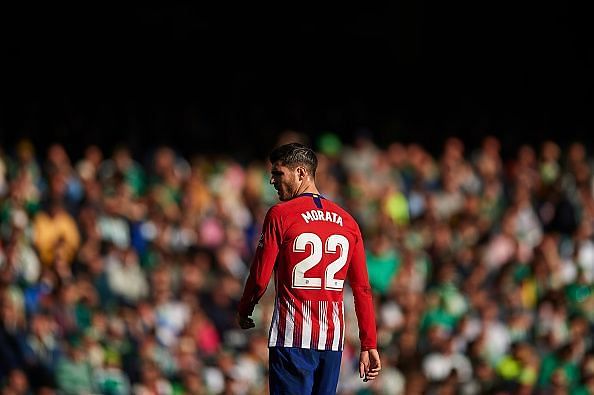 Here's three reasons why Alvaro Morata can resurrect his career at Atletico Madrid – to finally leave a struggling spell with Chelsea firmly behind him.
Chelsea striker Alvaro Morata started his loan spell with Atletico Madrid in the worst way possible: a 1-0 away defeat by Real Betis last weekend. Having completed an 18-month loan deal to join the Rojiblancos last month and end his frustrating spell in west London behind, the 26-year-old revealed his happiness while stressing the desire to silence critics once again.
Naturally though, most of the English media branded his arrival a precursor to underachievement for Diego Simeone's side this season. Especially when Atleti had gone on a 19-match unbeaten run across all competitions following their surprise 4-0 thrashing by Bundesliga leaders Borussia Dortmund in late October.
So with that in mind, here's a look at three reasons why Morata can resurrect his career back in Spain:
#3 Motivation to prove doubters wrong, again
Now is not the first time in Morata's career that questions have been asked of him, whether he has what it takes to succeed at the highest level. After all, he was the forward Real Madrid were content to let depart for £18m in 2014 – yet after impressing in Turin with Juventus, they bought him back two years later.
Ultimately, the Premier League isn't cut out for every striker. You only have to look as far as Iago Aspas, Lucas Perez and Roberto Soldado as three recent examples of strikers who flourished in Spain, but struggled in England's top-flight.
Some players thrive in different situations that aren't always suited to England's relentless style, him included. After all, the country where he's scored the most and created more chances is, unsurprisingly, that of his homeland.
At Juve, he was admired by supporters and not even close to being their best player – they had Paul Pogba, Mario Mandzukic and Paulo Dybala all flourishing. 15 goals and 13 assists in 63 Serie A matches, those are just not good enough statistics for a player who wants to be regarded in the top echelon of strikers in the world. Nonetheless, he was still an important complimentary piece in Massimiliano Allegri's jigsaw.
At Chelsea, especially with a £60m price-tag, more was expected of him. 16 goals in 47 league games, alongside three in 11 European fixtures (seven in the Champions League, four in Europa League), the Spaniard was never able to take his production to new heights.
Gonzalo Higuain, the Blues' shiny new toy, isn't too dissimilar to him, but an opportunity has nonetheless emerged for redemption. None of Atletico's forward line have a guaranteed place long-term at the Wanda Metropolitano. With an option to buy (£48.5m) inserted as part of his deal, there's no reason why he cannot flourish and earn a permanent deal after all that has happened. Only time will tell.
#2 Antoine Griezmann and co, more quality attacking teammates
At Chelsea he had some good teammates and settling into new surroundings, there will be more of the same for Morata to enjoy. It was never a case of him lacking service in west London, but a glaring tendency to miss big chances when presented to him meant patience quickly wore thin at Chelsea.
It links back to the pressure that comes with being the Blues' focal point in attack, their main goalscorer who is relied upon to finish chances with ruthless efficiency. Other than a goal glut in the first month of the 17/18 campaign, he scored less and individual performances were also on the wean – missing more and struggling became more evident as time continued.
Antoine Griezmann is easily one of the world's best players and the combinations are endless between the pair – playing alongside him in a 4-4-2, or as part of a 4-3-3 formation, they could link-up well together and already displayed flashes against Betis.
Koke and Saúl Niguez – both struggling with muscular injuries – usually control the midfield, boast an excellent passing range while providing balance between attack and defence. While winger Thomas Lemar hasn't settled quickly from Monaco, there's no questions over his ability, while Thomas Partey and summer acquisition Rodri are improving all the time in midfield.
Further forward both Vitolo and Angel Correa are inconsistent, Gelson Martins joined Monaco on-loan last month and centre-forward Nikola Kalinić is patchy at best. Nonetheless, there's genuine quality within but Morata has a golden opportunity to assert himself in Diego Costa's (foot surgery) absence.
He needs a run of consistent displays, where he doesn't necessarily always score but is actually playing well. Atletico's fanbase are largely unconvinced by his arrival – after all he played for their crosstown rivals – so starting positively will do wonders for his confidence. I cannot remember the last Chelsea game where he impressed in recent months, because of the indecision and negative body language he so often showed in the final third.
#1 The Diego Simeone effect
It's a well-known fact that Simeone improves his players over time – double training sessions and emphasis on taking responsibility for individual roles in his system ultimately go a long way.
That level of guidance and encouragement is perhaps what Morata needs, as a player who could react positively to tough love. Ever since the encouraging start to life at Chelsea, he's always seemed withdrawn, frustrated and showing a severe lack in confidence.
"Morata is an important player for us – he's compatible with the other three [strikers] and he gives us different possibilities since he's a finisher striker." – Simeone during a news conference last weekend.
When that's the case, especially for forwards, it has an adverse effect on performance levels and can send the wrong signal to teammates. You could see they quickly lost faith in his finishing ability after a highlight reel of glaring misses accumulated over time.
He's a proven striker in Spain and can prove a much-needed arrival from Griezmann's perspective – the World Cup winner is their creative fulcrum but has his off-days too. Their playing style suits him in a similar way to Costa, where he'd be the outlet that can either be utilised to link-up play with his back to goal, or finish off moves on their counter-attacks.
Atletico, despite their reputation for being overtly defensive, do create clear-cut opportunities and just now need to piece it altogether. Simeone may have a selection headache to ponder in a few weeks' time, as Correa's improved form of late coincides with Costa's proposed return.
It could mean he uses a 4-3-3 to accommodate all three forwards, or use Correa and replace one of the bonafide strikers down the flanks. It all combines to make for some interesting potential, ahead of a key stage in Atletico's campaign.
Six points behind leaders Barcelona in the title race with a tough test to come against Serie A champions Juventus in the Champions League last-16: it doesn't get easier from here. Morata and co must embrace it.