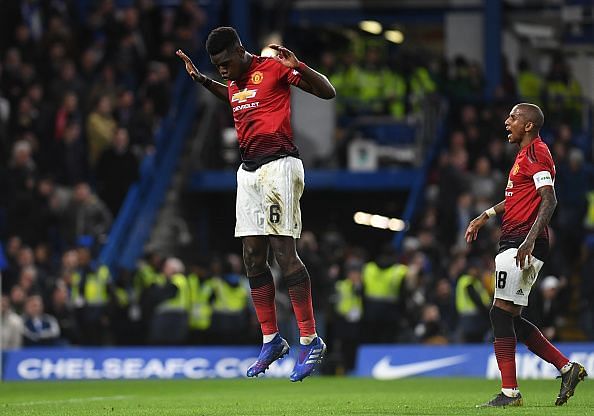 Here's a look at five talking points as Manchester United earned a hard-fought 2-0 away win over Chelsea, to seal their FA Cup quarter-final place against Wolves next month. 

FA Cup holders Chelsea have been knocked out of this year's competition, after a 2-0 home defeat by Ole Gunnar Solskjaer's Manchester United in a rematch from last year's showpiece.
First-half goals from Ander Herrera and Paul Pogba sealed the visitors' progression into the quarter-finals, where they will travel to fellow Premier League side Wolves next month.
The manner of this latest defeat, coupled with puzzling tactical decisions and a poor collective performance has left many supporters calling for Maurizio Sarri to be sacked in west London.
It's their fifth defeat across all competitions in 2019 and their inconsistent form doesn't seem to be changing anytime soon: a Carabao Cup final against Manchester City, followed by a London derby against Tottenham next week awaits the Blues. With all of that in mind, here's a look at five talking points from United's latest win: 
#5 Hazard and Higuain focus as Chelsea falter again
In a frustrating encounter where Chelsea dominated possession but had no goals to show for it, they lacked penetration and a real cutting edge – something that has been said for a while now. Even still, it didn't stop Gonzalo Higuain and Eden Hazard in particular from trying as the hosts created half-chances and probed in bursts over the 90 minutes.
In the first half, Higuain missed two chances in quick succession. The first was a sign of hesitation before fluffing his lines as Sergio Romero rushed out to smother the danger, watching the ball fly over the crossbar. Just minutes later, he headed wide of the far post from distance.
As far as Hazard was concerned, his Chelsea teammates couldn't cope with the rapid intensity changes and the Belgian was left shackled by poor service when it really mattered.
Huffing and puffing his way towards the box with his usual slaloming dribbles, it was easier than it should have been for the returning Chris Smalling and others to isolate him. They could sense his urgency and looked to double up on him quickly, to reduce his effect while regularly dispossessing him. Unfazed, he still managed to complete a game-high eight dribbles, but the hosts lacked the finishing touch to recover in a tie they could've won.
Executing the intricacies well – neat flicks and deft touches – but you could sense he was getting increasingly frustrated as time wore on. His excellent passes into Higuain went without reward, with the Argentine clearly still not at 100%, while neither Pedro nor Willian could match his levels.
#4 Relentless Rashford impresses again
In case you were wondering, Marcus Rashford's display on this occasion proved he can provide much more than just goals in games like these.
United struggled to retain possession against a patient Chelsea side and naturally, had to defend in an organised manner. Rashford, who has netted 10 goals and created eight assists in all competitions this season, was more than willing to contribute.
Winning fouls and free-kicks high up the pitch often relieved pressure off his teammates, which is a facet of his game that often goes unnoticed.
He crucially worked tirelessly off the ball and stretched the hosts' backline whenever United broke with speed. Antonio Rudiger, Marcos Alonso, and co were being pulled in each and every direction as his pace in-behind caused all sorts of problems.
This was further evidenced by his role in Pogba's headed finish at the stroke of half-time. Intelligent movement and good decision-making saw him dart down the channel after the Frenchman's pass, before dragging David Luiz out wide and fizzing in an excellent cross for Pogba to head home.
It was a wonderful assist but his performance didn't stop there either – regularly chasing after loose passes and proving a real nuisance for Chelsea to stop on both ends, his tenacity and purposefulness made it tough to predict what he'd do next.
#3 Sarri's puzzling tactical decisions and subs
Sarri's stint as Chelsea manager appears like one that will be short-lived, not solely because of his team's results – but the lack of cohesion nor sense placed in his tactical decisions.
Pedro, who came close to breaking the deadlock early on and would've pulled one back if not for a crucial Luke Shaw intervention, was replaced after 58 minutes. Although he did more defensively, Willian was even less involved than the Spaniard going forward and barely had a significant opportunity.
Mateo Kovacic being replaced for Ross Barkley appears a like-for-like alteration, but it's clear from Sarri's instructions that the Englishman is being told to play safe and sit slightly further in midfield. What's the point? Kovacic can do the same and does it better, so why not replace the ineffective Jorginho or N'Golo Kante, who was on a booking?
With both Olivier Giroud and Callum Hudson-Odoi patiently waiting on the bench, Sarri opted to use fullback Davide Zappacosta, who has played just once this year, to replace Cesar Azpilicueta late on with his team needing to overturn a two-goal deficit.
If that doesn't tell you anything, nothing will. Boos reverberated around the ground as Azpilicueta, the club captain, was replaced and you could already sense the fans beginning to turn on their head coach: not for the first time in recent seasons. Chelsea needed an effective second-half response and although they avoided conceding again, it was disappointing from both the players and their manager on a night where a victory would've done a lot of good.
#2 Pogba puts forgettable PSG display behind him
After a forgettable performance against Ligue 1 champions Paris Saint-Germain last week, Paul Pogba produced the perfect response with an impressive display when called upon against Chelsea on this occasion.
He flattered to deceive against Thomas Tuchel's men before being sent off after a high challenge on Dani Alves late on. Here though, there was no questioning whether he was playing or 'missing" again, as critics love to term it.
Matchwinner: one goal and assist, a disciplined midfield display where he excelled from start-to-finish, there's no question of who United have built their team around. This is Pogba's team.
His passing was largely poor statistically by his high standards (70.6%), but it also showed his willingness to take risks and watch them pay off in the way of created chances. Two key passes and completed dribbles, three tackles and clearances, one interception recorded.
The passing range he possesses has never been in question, but it's still a marvel to watch at times when he spots teammates in space and finds them with cutting-edge precision. That was the case for Herrera's opener, as he left Rudiger in his wake on the edge of the box before lofting an excellent pass for the Spaniard to convert.
From something as innocuous as a throw-in near the centre-circle, Pogba ended up playing the key pass to Rashford – then racing into the box – to head home before half-time. His defensive awareness, engine and marauding runs were all on show for those who constantly criticise him – perhaps Jose Mourinho didn't know how to utilise him properly after all then?
#1 Ander Herrera the ultimate winner
There's no option of a contract extension inserted in Ander Herrera's Manchester United deal, but after another excellent performance like this, they'll be keen to negotiate a new one for the experienced Spaniard.
In big games against Chelsea and the like, he always seems to turn up – relishing battles against Eden Hazard in particular. He completed six tackles, five interceptions, three clearances, one blocked shot and scored the opening goal after timing his intelligent attacking run to perfection. What more can you ask for?
Herrera, 29, was everywhere across the pitch as Chelsea struggled to contend with his relentless energy. Pairing him alongside someone as frustrating as Nemanja Matic to attack against, is a nightmare at times and Ole Gunnar Solskjaer is right: Ander is undroppable in his current form.
I mention his age, being 29 and into his peak years, as one key consideration that United might be pondering with regards to contract talks. Being the tough-tackling midfielder he is, the attitude he adopts when winning the ball back is infectious. He leads by example and is constantly looking for ways to improve, citing post-match that Chelsea's gulf in possession was concerning but ultimately one they were able to deal with.
In different circumstances, Matic's early booking and Herrera's positional discipline could have proven United's Achilles heel. Instead, his defensive qualities gave Juan Mata and Pogba a licence to glide forward in support of Lukaku and Rashford, to devastating effect.
Whether he remains at United beyond his existing deal this summer is still uncertain, though displays like these do his reputation no harm while attracting interest elsewhere in Europe too.
Stats' source: WhoScored